Siri: The Things You Should Know About It
iPhone 4S is obviously better than iPhone 4 on the whole as it boasts faster hardware, improved battery life and a better camera, but all these things were no surprize as everyone had already expected these changes. The real surprise for everyone was the voice-activated technology called Siri. If Siri sounds familiar, then you might have used the free Siri Assistant app that let you find restaurants, movies and taxis but this app is no more in the App Store.
Siri is basically from the CALO (Cognitive Assistant that Learns and Organizes) project started in 2003 by SRI International and other researchers. The basic aim was to allow intelligent, context-aware, question-and-answer interaction with humans using advanced technology. Then SRI mainstreamed this technology.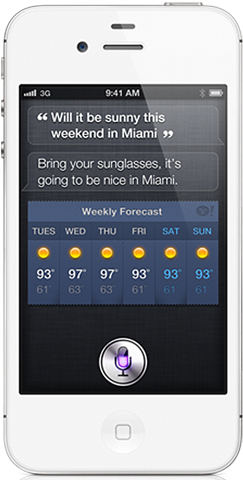 If Siri is as good as it seems, then this will be a big game changer for Apple.
According to Norman Winarsky, Ph.D., a vice president at SRI International: "What Siri brings to the table is the ability to accomplish tasks using a variety of different services simultaneously, with an intimate understanding of context and intent,". "It's a groundbreaking effort."
Siri was created in late 2007 and its app was released for the iPhone 3GS in February 2010. And then within 3 months, Apple bought Siri for a rumored $200 million!
We saw Apple's Siri demo video, which obviously is quite impressive. This technology, seems very advanced and magical, but basically it uses some web services and APIs to do most of the work. The Siri Assistant app partnered with OpenTable and Nuance Communications, the speech-recognition experts who did Dragon Dictation. And the Siri technology in iPhone 4S partnered with Yelp, Wikipedia, and Wolfram Alpha.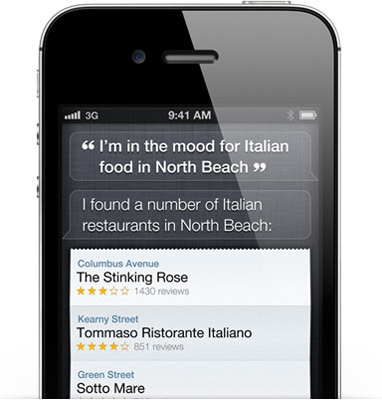 One thing that must be mentioned here is that Siri is not like Voice Control, which was released for iPhone 3GS in 2009. Voice Control could be used for playing music, reading the time, and calling a contact — it could act on a limited number ofcommands. While Siri can do a lot of things. All you have to do is to hold down the Home button for just for two seconds and then your iPhone 4S will be ready to listen to your voice commands.
This was demonstrated when Apple Senior VP of iOS Software Scott Forstall asked Siri to, "Find me a great Greek restaurant in Palo Alto," and then Siri provided Yelp results of 14 Greek restaurants, five in Palo Alto. This list of restaurants was even sorted by user ratings. It also displayed the NASDAQ stock quotes, and current time in Paris, and even answered differently worded questions about the weather.
Another amazing thing about Siri is that it is even capable of learning over time, it can remember people, places, and things in your life in order to improve future interactions. For instance, when Forstall asked for a reminder for calling his wife, Siri did not need him to say her name. This the type of artificial intelligence that makes Siri stand out from the rest!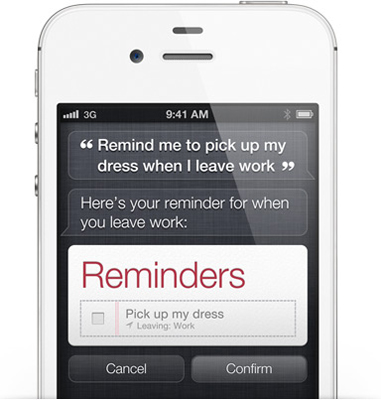 Because of the fact that Siri needs a great deal of computing power, including a great bandwidth for its data cache, for teh time being it is only available on iPhone 4S.
Siri has just been launched so it is still in its beta version. It has the ability to understand English (U.S., U.K., and Australian variants), French, and German. You can also give it dictation, using a small microphone icon showing up wherever the iOS keyboard shows up. Simply speak the text you wish to enter, tap Done, and then Siri will convert your speech to text, putting it at the cursor. Another awesome feature of Siri is that it can also work with hands-free devices such as Bluetooth headsets!