How to Automatic WordPress Database Backups to Email
Backup is an important part for everyone. Most of times, we are quite lazy when it comes to making daily backups of our database. It's too much irritated for taking backups daily. It is quite amazing if your backup system happened automatically every day, stored the backup strongly on another server, and you never had to look near it?
1) Register a New Gmail Account
Gmail is handy for this job. It is giving 7GB storage and up to 20MB file attachment. You can registered yourself free and make your backups secure. If your host company loses your data, you would not have to lose your backups.

Try Gmail
2) Install the Plugin
There are many plugins available for wordpress. I personally use WP-DB Manager.
Download the plugin, upload it to your plugins folder, and activate it as usual.
Then you need to browse to the wp-content/backup-db folder, and upload the .htaccess file from the plugin folder.
If the backup-db folder doesn't exist, create it and CHMOD it to 777 (In most FTP clients, you can CHMOD a folder by right clicking it and choosing "CHMOD" or "File Attributes" etc).
3) Configure The Settings
You can setup a plug-in according to your preference. A "Database" link will be added to your admin panel's main navigation. Click it, and then click the "DB Options" tab.
In the Automatic Scheduling section, choose every day, Gzip Yes and enter your Gmail address. Now hit "Update Options" and you're done.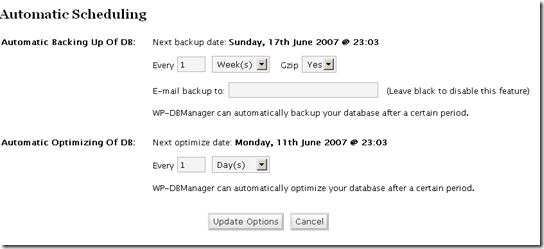 4) Problem of Exceeding Size of a Backup Database
Gmail allows you 20MB maximum database size attachment. You can try Lycos as free storge, it offers unlimited attachment of your files. It is restricted on 3GB free storage.


There is one problem using Lycos, They delete all your emails after 30 days. In case of avoid the Lycos deletions by purchasing Account Preservation, which costs $5.95 a year (Still extremely cheap!).