Need a faster phone? Try the DU Speed Booster app
Just like PCs, smartphones are also susceptible to slow-down from time to time, which can lead to a worse application usage or gaming experience. DU Speed Booster is an Android application that helps you deal with this problem quickly and with fantastic efficiency, as it makes it really easy for you to clean the up Android OS and get rid of all types of unwanted files that you might have on your phone or tablet. This can lead to a large number of benefits, with one of the most important being the increase in storage space.
DU Speed Booster is a powerful device manager that provides full control over your device's memory space, apps, background tasks as well its battery power, using intuitive touch controls.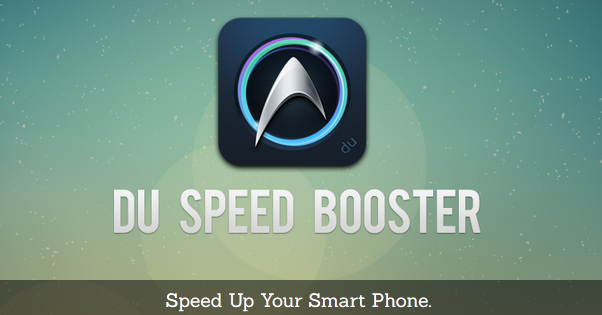 Interface
The interface of the application is quite appealing, as it provides a lot of cool visuals and descriptions that will help you find the menu you're looking for fast. What makes DU Speed Booster really special is the fact that it combines the powerful tools of a RAM booster, an app task killer, a clean master, a storage analyzer and a speed tester in a single, very reliable toolkit that can be used on the go.
Secure and fast
DU Speed Booster was specifically designed to provide an increase in speed of more than 50%. The optimization process is as simple as touching a single button. We enjoyed the fact that DU Speed Booster delivers complete protection against mobile malware, as this can prove to be quite a problem for lots of users.
Automatic detection of games and apps
Additionally, another feature that we found quite enjoyable is the fact that the app automatically detects the games and apps you have installed on your phone. This way it will remove only the unnecessary files without deleting something that you might still need. With both accuracy and ease of use, DU Speed Booster always manages to impress thanks to its one-of-a kind interface and its great accuracy in deleting junk files.
Deletes files fast and boosts important apps
In our experience, the device has freed up more than 1GB of space by deleting temporary and unnecessary data that simply wasn't helpful at all. We enjoyed the fact that once the application is active and you want to play a game or use an app, DU Speed Booster will automatically enter a booster mode that specifically targets your current app or game and elevates it to the highest priority level.
Freeze mode
Your unwanted apps can also be put in a freeze mode if you want, with the main purpose being that you can increase memory as well as speed up your phone. Thanks to its abilities to manage processes in the background, boost the speed of the system and disable auto-start applications, DU Speed Booster manages to bring a one-of-a kind experience that you definitely won't forget.
Extra features
DU Speed Booster worked flawlessly during our tests and the results speak for themselves. We received a 50-60% boost in speed on an Sony Xperia L, which is very impressive. The trash cleaner, uninstaller and system manager work seamlessly, which make them really suitable for helping your Android device work fast again, as it did back when it was new.
Conclusion
If you need a reliable speed booster for your Android device, be it a smartphone or tablet, then the best solution is definitely DU Speed Booster. The app is committed to helping your smartphone deliver only the best app and game experiences, so all you need to do is to install the app and check it out to see if it suits your needs. And did we mention it's free?