35 Amazing Full-sleeve Tattoo Designs
Tattoos are increasingly becoming an art and a really painful one at that too. Well, not for the tattooist but for the one who gets a tattoo. Just so you know, getting a tattoo can be really expensive of course it depends on what you are getting. It is a really intricate art, a really careful one at that, one that requires extreme precision and skill. Full sleeve tattoos are the new thing. They cover all or most part of your arm, either one or both.
There are many different Design that you can get and you can find on the internet. Of course it is basically drawing so if you are imaginative enough, you can get whatever you want on your arm. Your imagination could be imprinted on your arms right there and then. There are tribal tattoos, Japanese characters, Celtic and even floral patterns that you can have drawn on your arms or pretty much anywhere on your body.
In case you are wondering what sort of a tattoo you get, which can be really confusing but it is painful enough for you to get one tattoo that should and will stay there forever unless of course you decide to go through an even more painful method of removing them, this particular list is here to help you. This list details the pictures of 35 amazing full-sleeve tattoo Design that you should at least refer before going out there and getting one for yourself. Hope you enjoy the list.
35. Scary FULL-SLEEVE TATTOO Design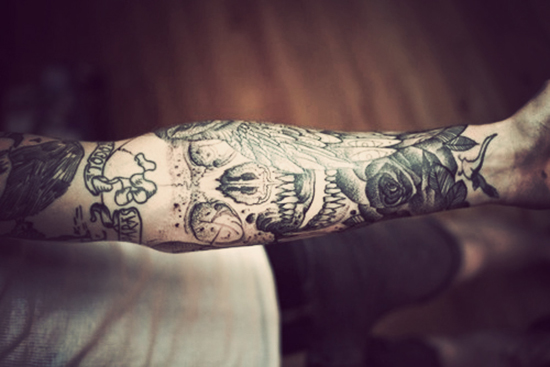 You can interpret this tattoo in a million different ways. This is one of the most common Design of a tattoo. This tattoo shows a skull with roses; kinda scary if you ask me. But it does look intimidating as well.
34. Mono-Color Tattoo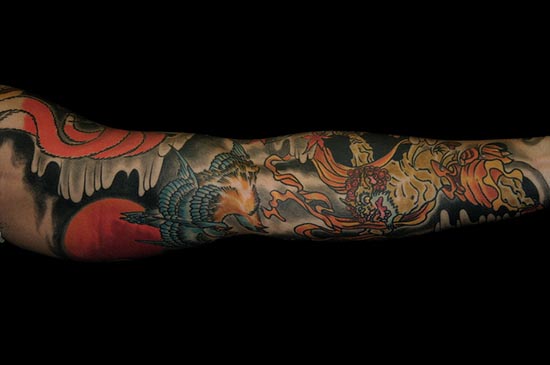 There's always a choice between a mono-color tattoo or a colored one. This is one of the Design for a colored tattoo featuring mythical creatures probably with huge birds and a dragon is it?
33. Awesome FULL-SLEEVE TATTOO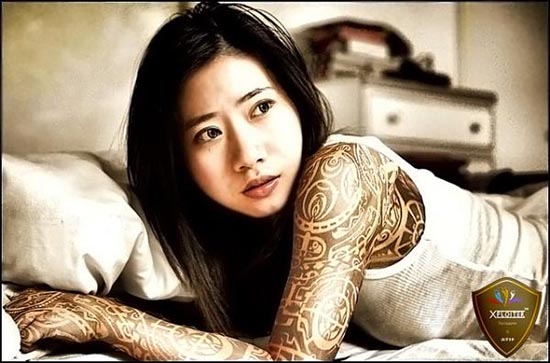 This particular Design falls under the tribal category. It does look different and really awesome in its own way. But know that it will not suit just everyone. It depends on your body type and the Design as well.
32. Roll of Parchment Full-Sleeve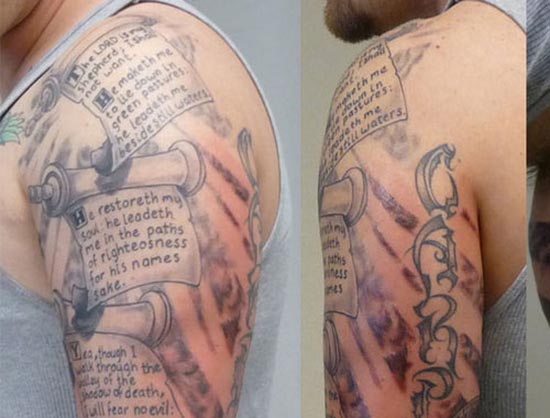 This is one of the newer categories of tattoos that have come forth. This tattoo is basically a script. There are many different ways that you can choose from to put a script on your arm, a roll of parchment being the most common one.
31. Rock Full-Sleeve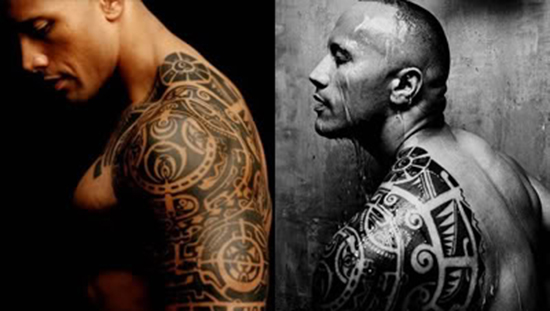 There is absolutely no way that you talk of arm tattoos and leave this guy out. The Rock has probably one of the most amazing tribal tattoos of all. You can even get the exact same Design if you want although you might want to work out before getting this one.
30. Shoulder Tattoo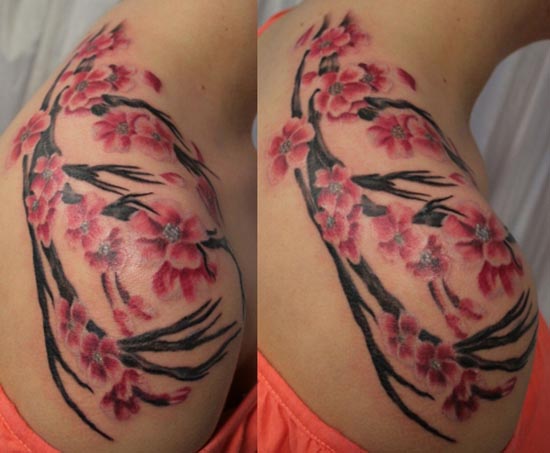 As mentioned the introduction, there are floral Design one can opt for when getting a tattoo. Of course this is not the best option, but this is just to give you an idea of how it might look. You can be as creative as you want these Design no problem.
29. Chinese element Full-sleeve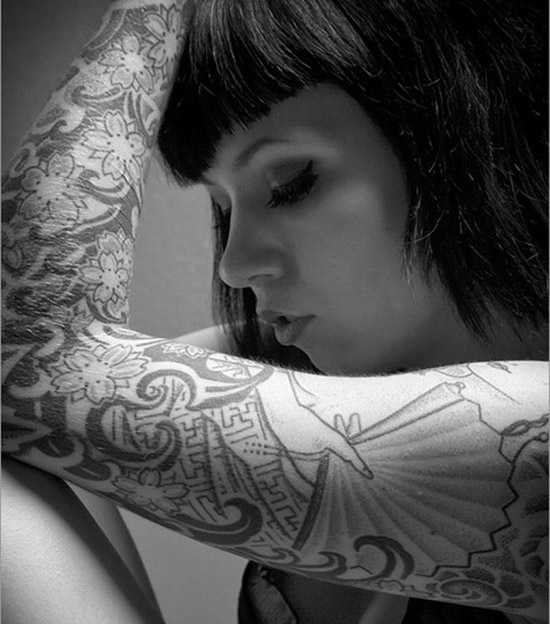 This particular tattoo has a Chinese element in it. Anyone care to venture a guess? You probably guessed it right. Look at the fan. Other options to consider if you are getting a 'cultural' tattoo is Japan.
28.  Escher design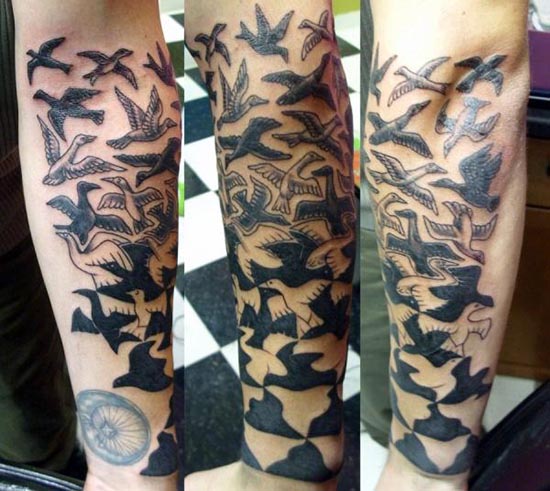 Do you guys watch Naruto? If you look at this particular tattoo who comes to your mind? It reminded me of Itachi Uchiha which is why it is posted here. One of the most basic tattoos but it gives a nice creepy look.
27. Egyptian Touch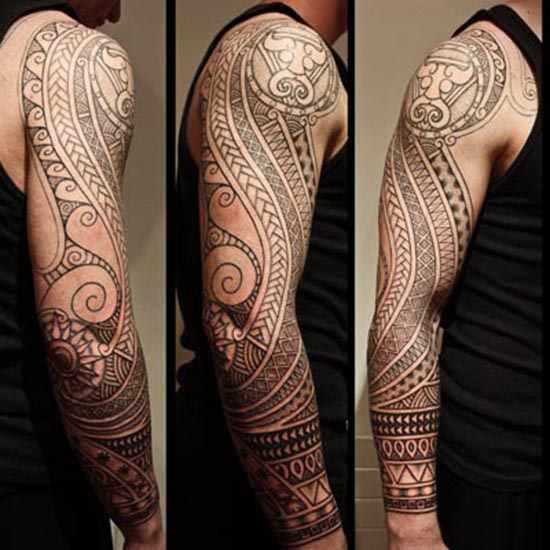 This particular tattoo has an Egyptian touch to it. It will not suit a lot of arms so make sure you really want this one if you want it. Your arms need to be bulging huge for this one to look nice.
26. Pirates Tattoo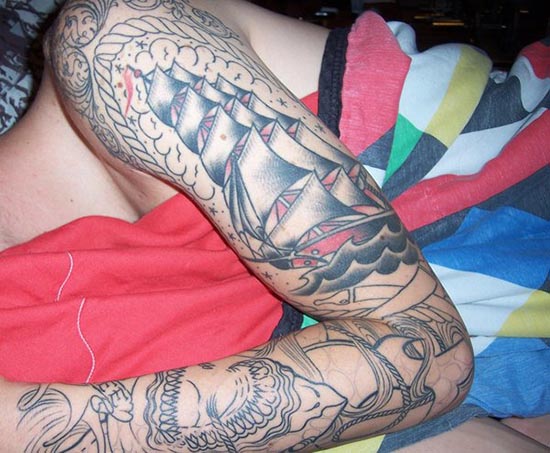 Do you guys like pirates? This is probably a sort of tattoo that pirates wouldn't mind getting. Or someone who loves sailing and has a bit of dark character as well. look at the boat, that's where our interpretation comes from.
25. Abstract Shapes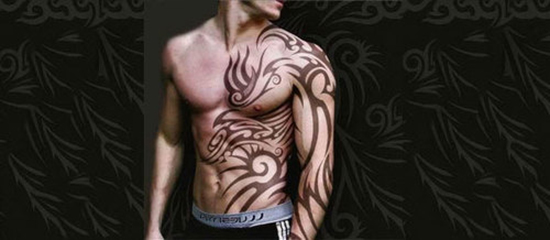 This is the most basic form of tribal art and to be honest, these abstract shapes look the best if you are considering to get your entire arm tattooed.
24. Outline Tribal Tattoo Design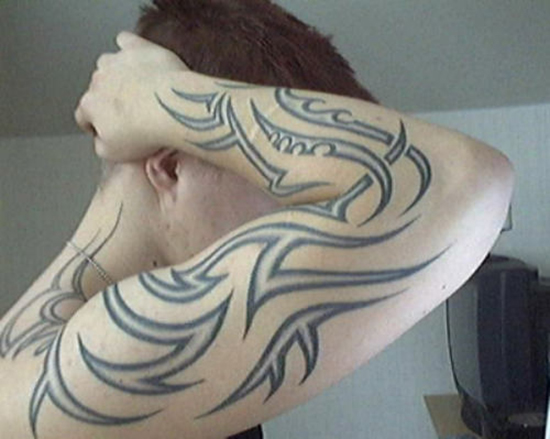 This is a much simpler version of a tribal tattoo. It's just outlines and a little shading. They come alive when you fill in the hollows with solids. It gives a much deeper expression then.
23. Koi fish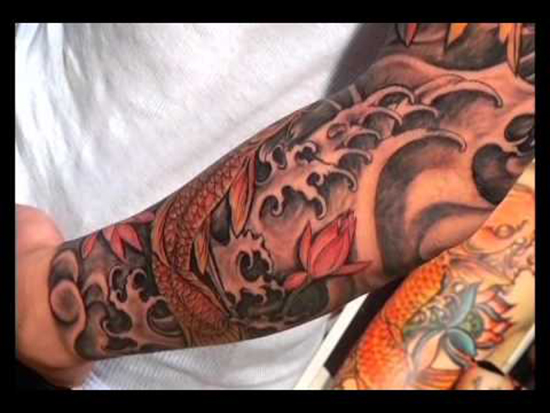 This particular tattoo has a dragon on it as you can make out. Dragons are mythical and that's the charm about them. Also, they hint at danger, which is why it is one of the most common choices for tattoos.
22. Floral Design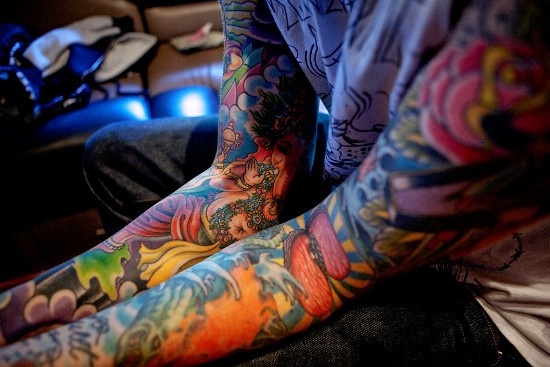 Talk about floral Design. There's many different things you can do with floral Design  and they don't necessarily have to be girly. Please don't think for even a second that floral Design are something what girls would get although they will alter your image a little
21. Chinese Foo Dog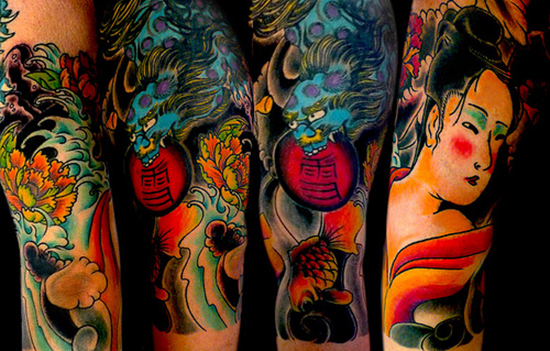 As I mentioned earlier, people go for Design that represent some sort of a culture as well. This again represents a culture and probably Japanese, or even Chinese. Chinese would be more accurate given the dragon and a red ball in his mouth.
20. Weird TATTOO Design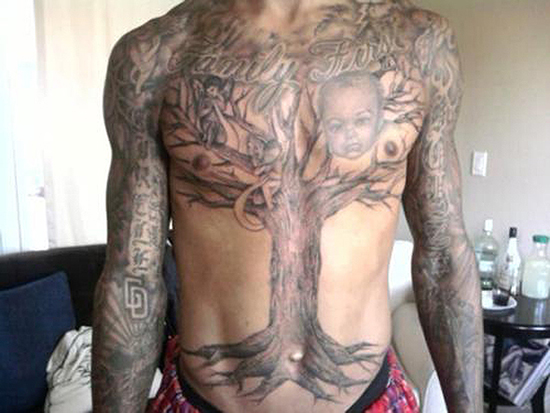 This tattoo is all kinds of weird and strange. It has a picture of a baby on the chest, some characters and symbols on either arms. I even see a face on the right arm.
19. Amazing FULL-SLEEVE TATTOO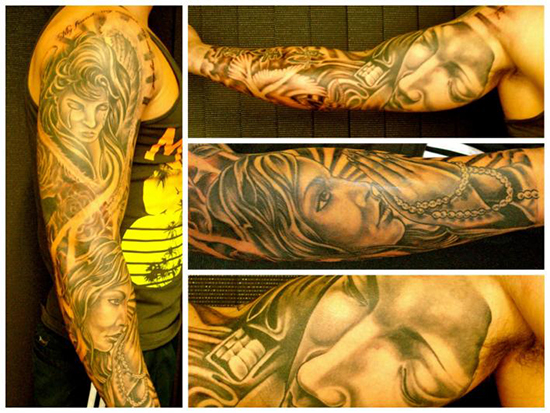 This is one of the more amazing tattoos that I have seen so far. It has a picture of a woman who is praying. God knows what it represents, but it sure does look amazing.
18. Terrifying Snake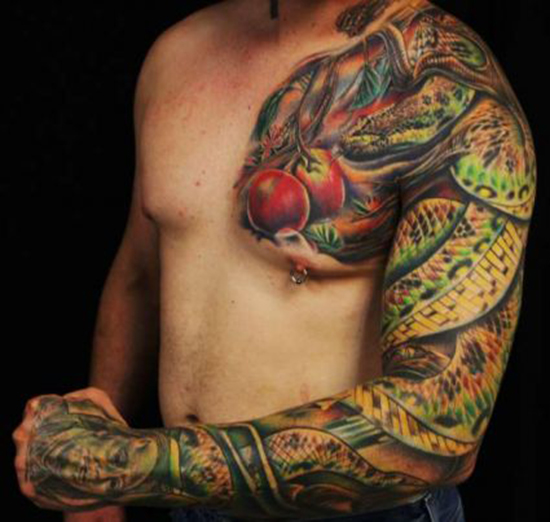 This particular tattoo starts with the face of a man. Moving up we have a terrifying snake and a tree in the end. Apparently the snake is going for some sort of a fruit. I wonder where these guys get their ideas from.
17. Arm Tattoo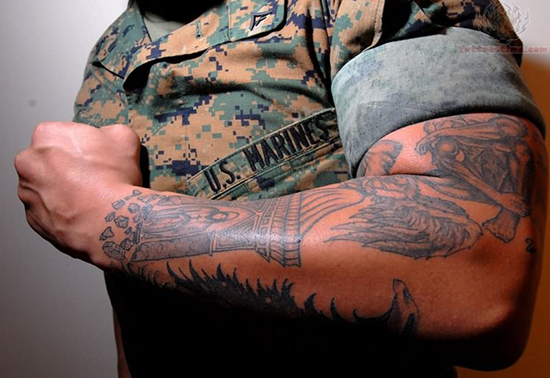 This particular tattoo probably represents unity and faith and it goes perfectly given the fact that the guy is a soldier. The praying man and the three arms locked in together.
16. Scriptures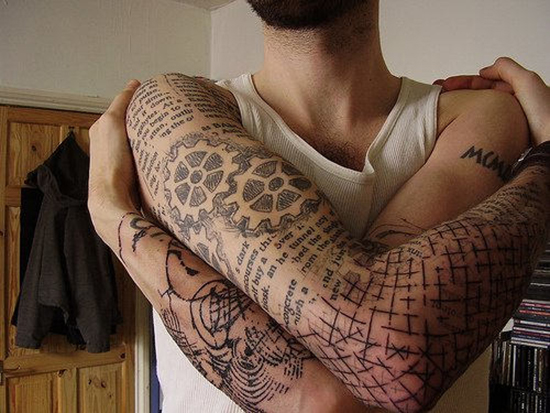 One of the more common things to do when it comes to a tattoo is to get your favorite saying tattooed. Same concept comes alive if you talk of scriptures as well.
15. Floral Tattoos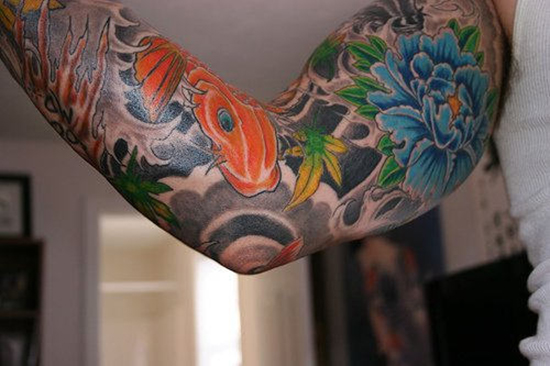 This is another example of floral tattoos. I am sure by now you guys understand exactly what I meant when I said that floral Design don't necessarily make you look girly.
14. FULL-SLEEVE TATTOO Design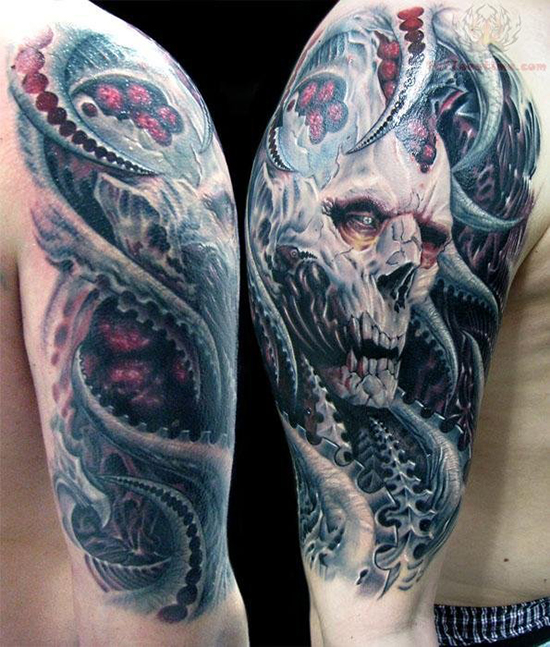 This tattoo has my liking. It shows a skull which is drawn in with a lot of detail. You travel down the arm and you see more bones that probably represent tails or something. These bones belong to a serpent.
13. Digitally Arm FULL-SLEEVE TATTOO Design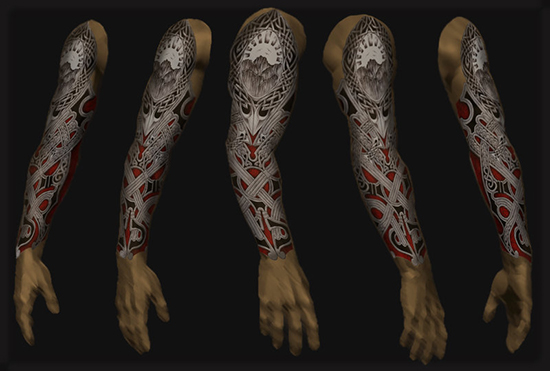 As you probably already noticed, these are not real tattoos but at least now you know that you can get a graphic Designer to paint something on your arms digitally before actually getting a tattoo.
12. Boticcelli's venus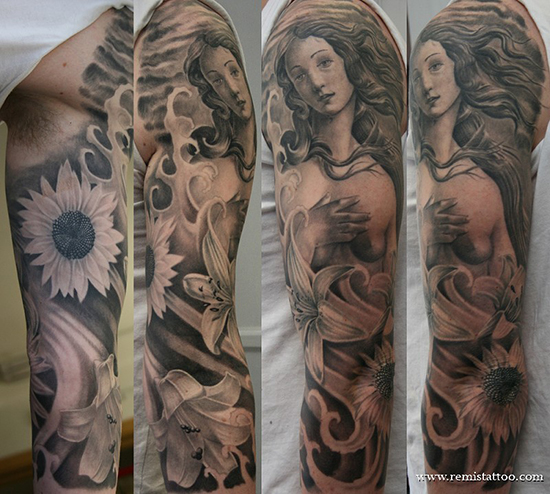 This particular tattoo shows a a woman wrapped around in flowers. I want to take a shot at who the lady is but I would rather not.
11. Tribal Tattoos FULL-SLEEVE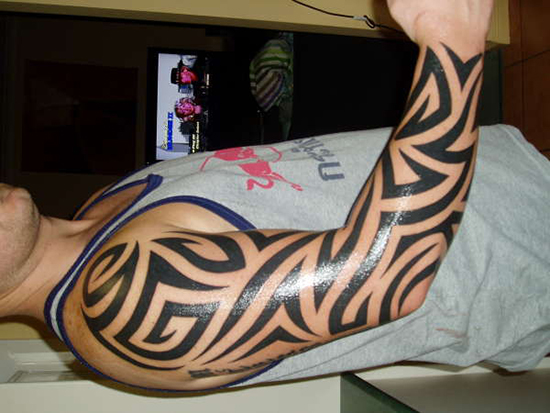 Remember when I said that the tribal tattoos come alive when the hollows are filled in with solids. Well, this is exactly what I meant but this one is missing the shadows.
10. Butterflies, cherries and flowers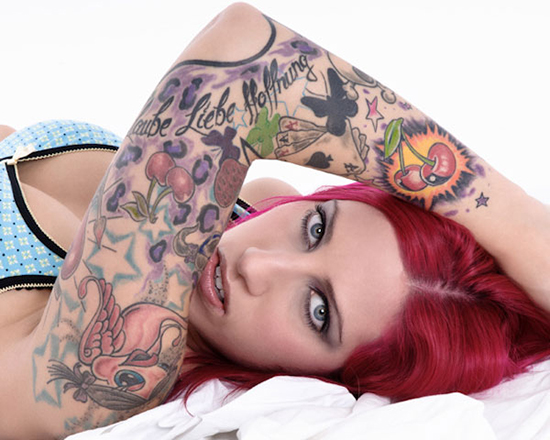 With butterflies, cherries and flowers this tattoo is really diverse. Did anyone guess that the sentence or phrase written on the arm is German. Of course the Germans guessed it.
9. FULL-SLEEVE TATTOO Design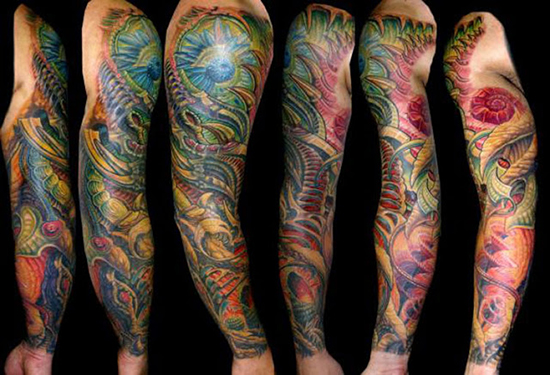 As most of you probably already guessed, this is more of an oceanic Design. This is pretty colorful though it doesn't fulfill the purpose of a tattoo. It does leave a clear message that you love the ocean though.
8. Norse God tattooed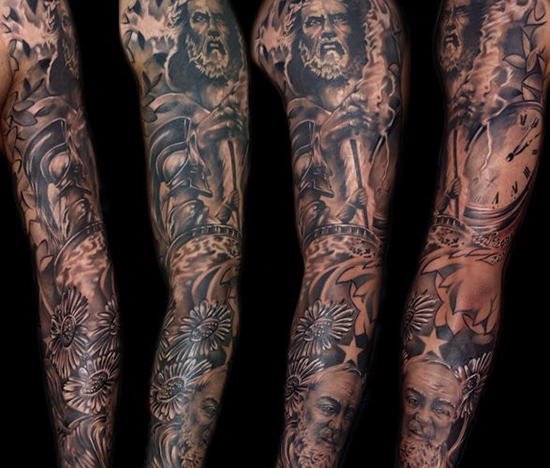 Another interesting tattoo Design is getting a Greek or Norse God tattooed. This particular one has a very obvious face of the human rendition of the Greek God Zeus.
7.  Traditional tattoo style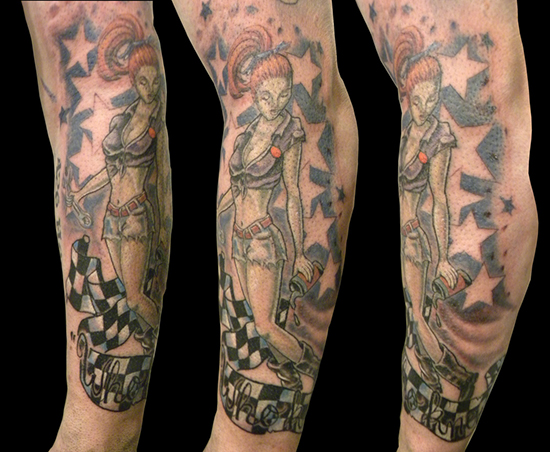 We are sure you like cars. What do cars need? That's right, in order to maintain your cars there are mechanics and what's better than a mechanic who's a girl? Nothing! This is another one of those ideas.
6. Faces and Flowers FULL-SLEEVE TATTOO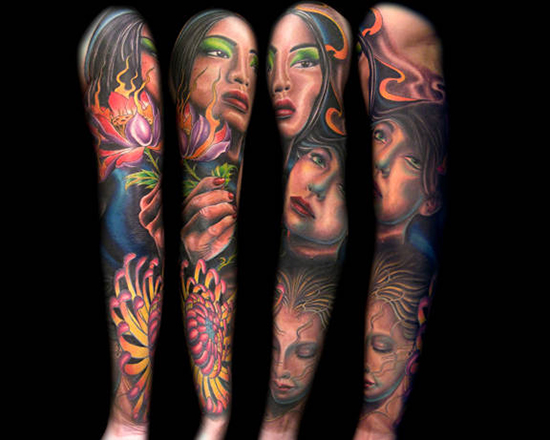 Here's another idea for you if you are going for faces and flowers although of course it is entirely up to you exactly how many and whose faces you want on your arm.
5.  Floral Art FULL-SLEEVE TATTOO Design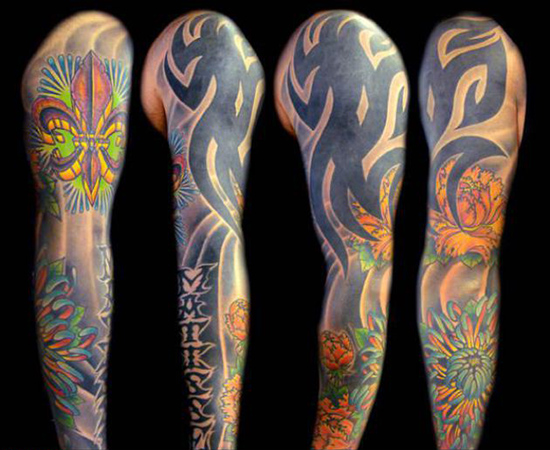 This is a tribal tattoo mixed with floral art and word Design. Another interesting Design concept as long as it is visually acceptable.
4. Oceanic Design FULL-SLEEVE TATTOO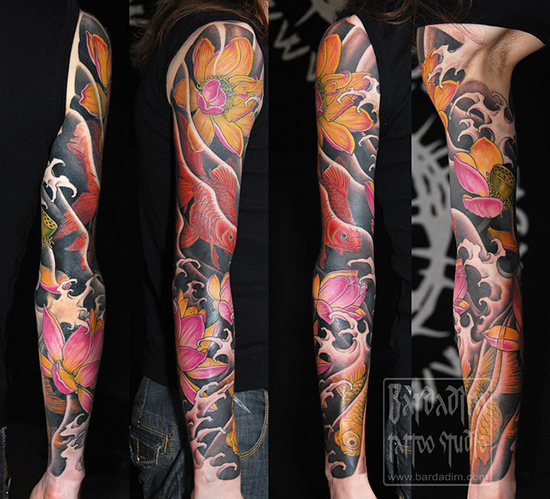 This is another example of oceanic Design when it comes to tattoos, but this one is much better placed on the arm and it makes a lot more sense when it comes to the aesthetics.
3.  Alice in Wonderland theme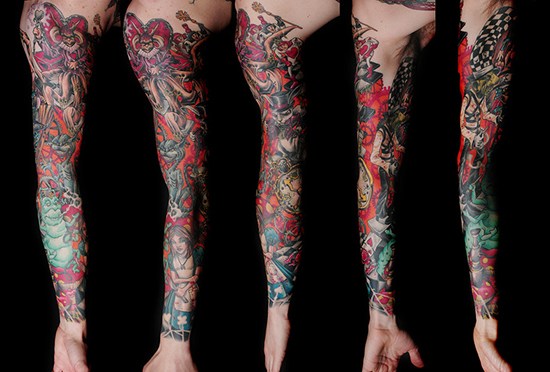 This particular tattoo has a lot of crazy going on which makes it a little hard to decipher as well. But that also serves as plus point. It stays unique to you only and only you get to decide who knows what it means.
2. Tribal Art Tattoo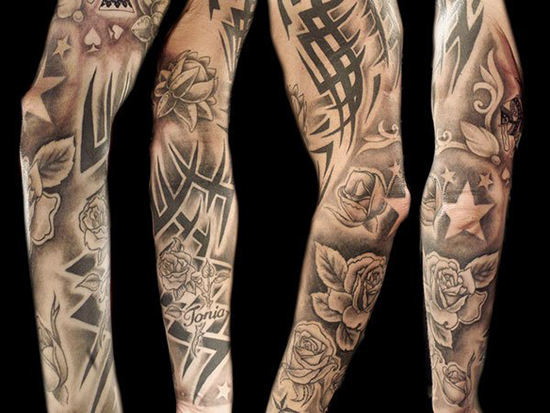 This is a mono-color example of tribal art mixed with flowers and a whole lot of other concepts including a name of someone close to you.
1. Mushroom and Bunny Rabbits Combination Tattoo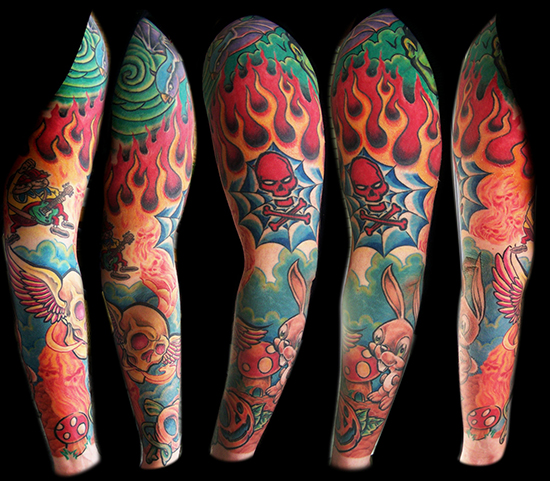 This is weird combination if you ask me but hats off to the creativity. We present to you a tattoo with mushrooms, bunny rabbits, a flying skull and another skull resting on a web all in the same place. Beat that.