How to create the perfect prototype for your app
Before staring any actual development work on your future project, you should take time and develop a wireframe for it. This is the logical first step in the development process and it should neither be overlooked, nor taken lightly. If you take the time to create an adequate wireframe and get your whole team involved, your project will surely benefit from it. You will always have a very good overview of your project, everyone will know what the next step in the development process will be and, by working together, you'll all benefit from each other's experience.
Pidoco is a great web-based prototyping software that offers every tool you need in order to create a wireframe for your project.  By using Pidoco, you can create wireframes and UI prototypes for web, mobile and enterprise applications. The best thing about Pidoco is that it's intuitive and easy to use to its maximum potential.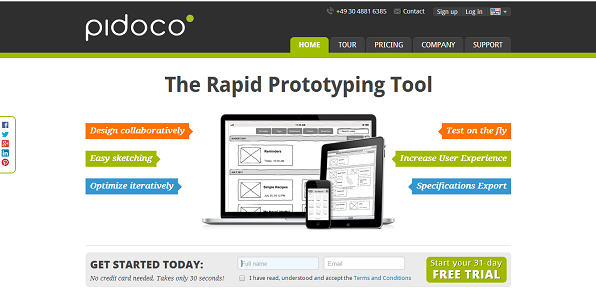 Pidoco provides you with a simple interface that will help you navigate effortlessly through your projects and create new ones (for web or mobile). Within the start page you can view the versions of each of your projects, the collaborators currently working on the project and the reviews you've received on the project so far. We'll tell you more about the collaboration and feedback feature a bit later.
Once you select your project you will view all the elements within it divided into categories: Pages, Screenflows, Layers and Custom Stencils. Every item has a quick menu that encompasses basic characteristics, like, for pages: Page name, Parent Folder, Width, Height, Background and Notes.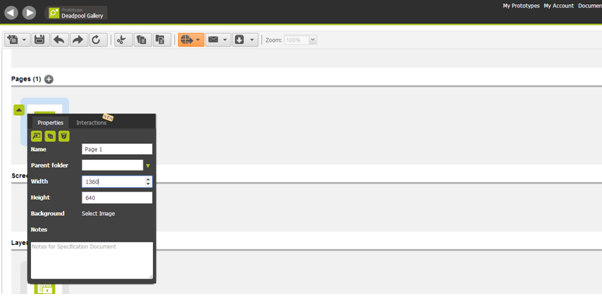 The page editor comes with a varied collection of stencils that you can add to your project by using drag & drop. You're then free to customize them using the same quick menu you had for your page.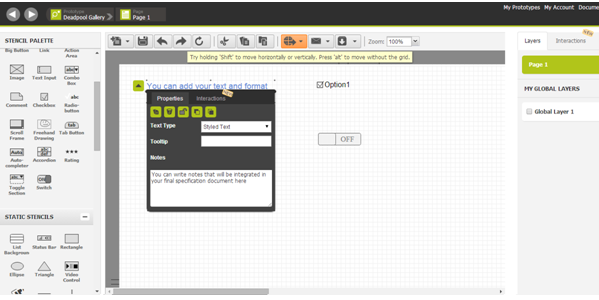 Pidoco offers you is the possibility to make Notes about all the objects you define in your page. These notes will later on be used when you choose to generate your wireframe specification.
The newest feature Pidoco has released is Interactions. Using this new feature you will be able to simulate touch gestures, device movements, location information, system reactions and more. You can define interactions for your page as well as for each individual stencil. To add an interaction you just have to open the Quick menu and choose the tab called Interaction. Then you set your interaction type and define its parameters and you're ready to go.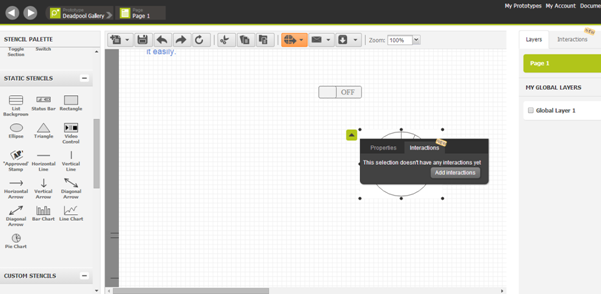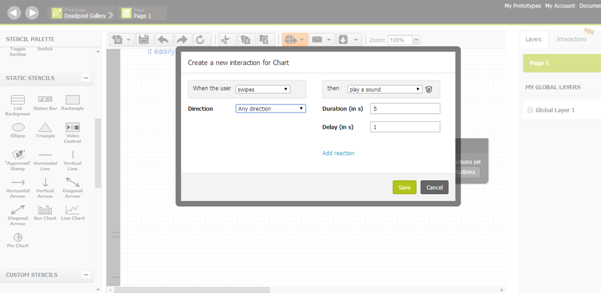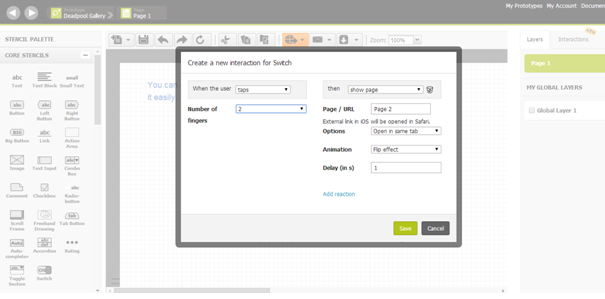 After you're done adding elements to your page, you're going to want to see how your future application will look. All you have to do is go to Simulation and choose the Simulation method you want from the following options: Simulate sketched (Comic Sans), Simulate sketched (Arial) or Simulate plain.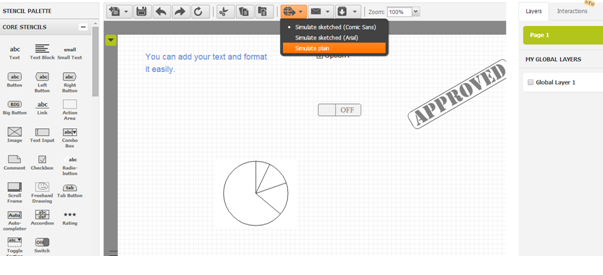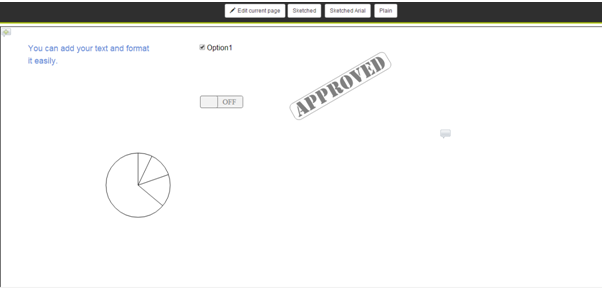 Even if you're on your laptop, Pidoco allows you to simulate the Interactions you've defined for mobile apps as well as the basic behavior of desktop applications or websites. Even so, if you want to see how the screens or pages you've defined will look on phones or tabs, just choose to option "Send 'Mobile App' Invitation Mail", log into the Pidoco application using your account and password and take a look.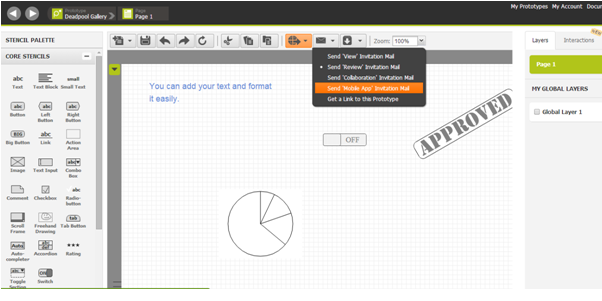 If you're working with a team on your project, you'll find Pidoco's feedback and collaboration tools very useful. You have a number of options: you can ask someone to View your wireframe, simulating a perfect user experience for them, you can ask them for a Review or to Collaborate. Once you've chosen your option, you will be able to select which pages they have access to, what type of sketch they'll see and define the text of the email you're sending them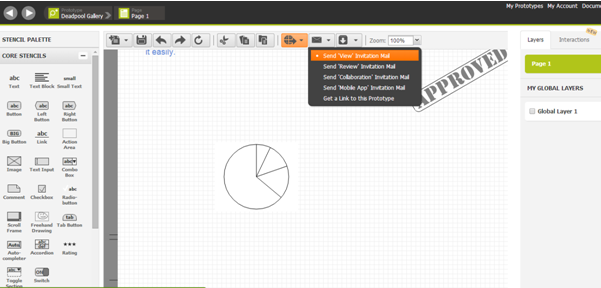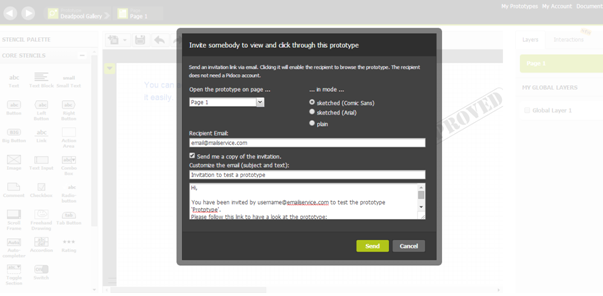 All you have to do in order to receive feedback on your wireframe is choose the "Send 'Review' Invitation Mail" option from the drop down and then go to the feedback section of your project. All reviewers are identified by email and all comments are recorded with a timestamp.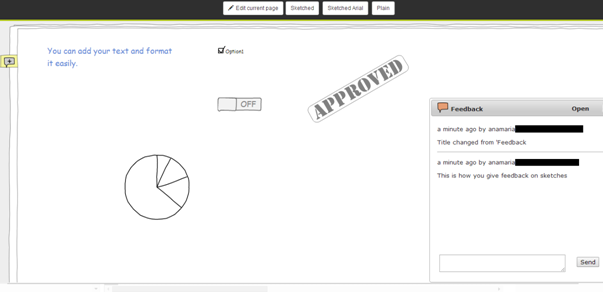 We've already told you about the Notes section that appears for each object. The information you enter here will be used to automatically simulate your specification with just a few clicks of your mouse. This feature is extremely important as when more developers are working on the same wireframe, it's easier for them to write down their notes as they go along and have Pidoco gather all of them and create the specification. To generate your specification you have to choose one of the following: HTML Export, Vector Graphics Export, Word Export, PDF Export, PNG Export or Screenflow PNG Export. Once you've made your choice, all you have left to do is define some basic characteristics and press Send.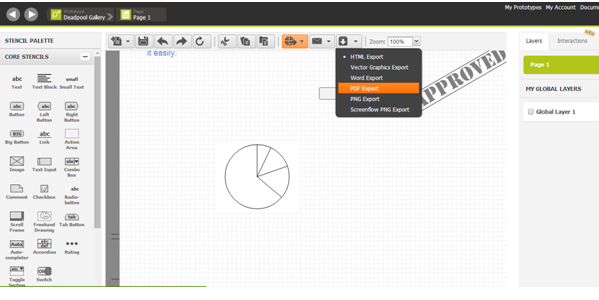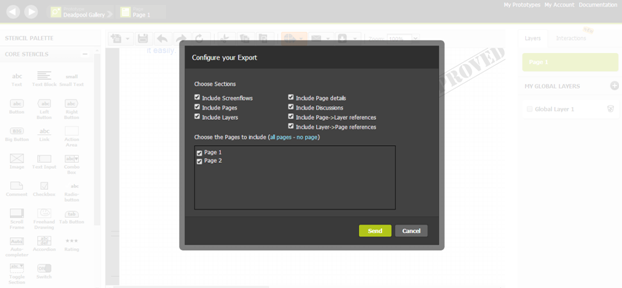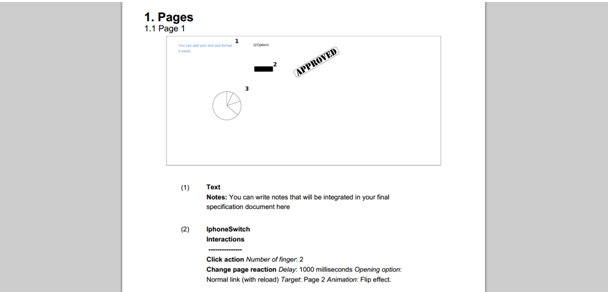 Conclusion
To sum up, Pidoco is an easy and entertaining wireframe and UI prototype creating tool. All the screens are intuitive and run smoothly, providing you with all the features you need in order to start creating your wireframe right now. In addition to this, their newest feature, Interactions, will make your life even easier by allowing you to simulate types of interactions specific to mobile or tabs. All you have to do now, is go to Pidoco's home page, create your project, invite your team to view, review or collaborate and set off.