Four Most Useful macOS Features
At the end of March, we celebrated the 20th anniversary of the first OS X, which today goes by macOS. In the light of this event, in this post, we go over macOS features, which make this operating system such a unique experience that it is.
Control Center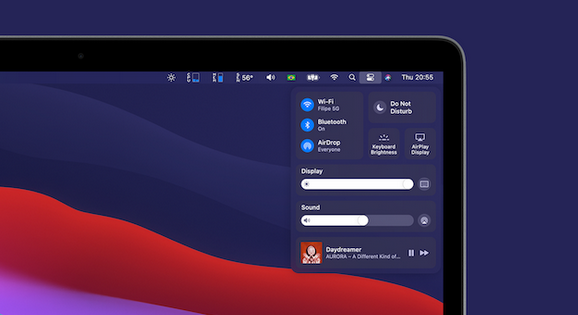 Out of all features, Control Center is probably the most awaited one. It's an area designed to take a user to a wealth of Mac's basic features from a single place, such as screen brightness and sound configurations, Wi-Fi, Bluetooth, AirDrop, to name a few.
If it sounds familiar, well, it's because Control Center isn't a novelty. It was inherited by macOS from iOS and first introduced by Big Sur, the newest macOS version.
Not only can you adjust the Control Center to your liking by adding your most used amenities, but also easily move them to the menu bar as well. Thus, if you want to move the AirDrop feature on your menu bar, you can just drag it from Control Center. It really brings your iPhone experience closer to the Mac.
Screenshots
Mac has a built-in feature for taking screenshots, and it only takes the right kind of key combination to get a photo of your screen. You can capture your entire screen or just one section on your Mac and have it automatically saved to your desktop. Below are the shortcuts to capture a screen on your Mac:
Command + Shift + 3 for a full page screenshot;
Command + Shift + 4 and outline the portion of the screen you want to copy;
Command + Shift + 4 to take a screenshot of one window and click Space and pick the window to capture.
For your convenience, you can consider choosing your own keyword combination by going System Preferences – Shortcuts – Screenshots. There you can generate your own shortcut for taking screenshots you want to go with.
Optimize Storage
We stock up lots of files over the years, so it's only natural that the storage goes overboard after a certain amount of time. We do use some files from time to time, while others just keep adding up. Eventually, your Mac will show you the notorious "Disk is almost full" message.
It means that your laptop could do with some cleaning, and this is where Optimized Storage comes in handy. With this feature, you can access your files and remove the unneeded ones in one fell swoop. Optimize Storage comes with four essential features, such as Store in iCloud, Optimize Storage, Empty Bin and Reduce Clutter.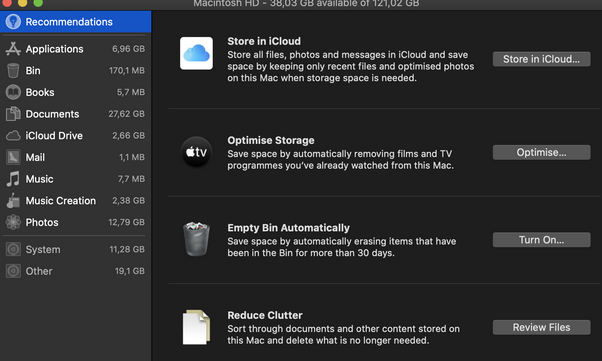 Store in iCloud lets you keep your files in the Cloud so that you can free up some room on your disk space;
Optimize Storage is a way to sort out the files you need from ones you're unlikely to use in the future, such as already watched movies and old email attachments;
Empty Bin Automatically enables you to erase the files in your Bin that's been sitting there for more than 30 days;
Reduce Clutter helps you clear unneeded files on your Mac with your bare hands by reviewing them individually.
These features are straightforward, and it shouldn't be a problem to get a handle on any of them. In case you need more information on cleaning your Mac, you can go now and see a detailed guide on how to free up disk space.
Spotlight
Spotlight is heaven-sent when you need to find a file, an app, or even a setting on your Mac. But its capabilities actually go beyond mere search. Below is a list of less-known Spotlight features:
Preview files: After you've found a file, you can click on it to preview its contents without opening the file. That applies to text files as well as music files;
Additional results: Spotlight allows you to review all search results, not just ones it deems relevant;
Mac App Store and iTunes files: Spotlight can also find apps on the Mac App Store and iTunes. All you need to do is look for the Spotlight Suggestions and even purchase an item without leaving Spotlight;
Browser history: Spotlight can quickly find your bookmarks and take you to the website you've previously visited.
This list is far from being exhaustive, given that Mac has a load of amazing features under its hood. To find out what else is in store for you, especially if you're new to the Apple ecosystem, don't hesitate to visit Apple's official guide on Mac's essentials.