Easy Online Appointment Using Acuity Scheduling
The world and our daily commitments keep us busy all day long. With such routines, it is very important to schedule things and then follow the schedule. For businessmen, doctors and other professional belonging to service industry or various walks of life; it is very important to manage their schedules.  Also, with the evolvement in technology, scheduling is no longer done through pen and paper because it is not a very reliable way to do it. People then turned towards Excel files however, that was just one step ahead from the pen/paper thing.
Since internet has become an integral part of our daily lives, online scheduling tools were introduced to make things convenient for busy professionals. Acuity scheduling is a great appointment scheduling software, which will put your scheduling difficulties to a rest. Acuity scheduling can also be considered online booking software because it offers a facility of booking appointments online as well. This cuts the cost of having a coordinator or a receptionist. Also, it will save you from the hassle of making multiple phone calls or manage diaries in order to get an appointment fixed. Online appointment booking has never been easier and you will consider yourself to be a fortunate one after using this software, wondering why you didn't opt for it earlier.

Acuity scheduling has a lot to offer however, the best features of this software are considered to be its user friendliness and of course the fact that it is scalable. You have an option to make custom fields according to your professional field. If you have clients' who are looking for your appointment, they can confirm your availability through Acuity scheduling software and book an appointment for themselves as per your schedule.
Also, if you want, you can receive the appointment's payment beforehand with the help of this software. Acuity scheduling does not allow multiple scheduling because it displays the available times only, leaving no room for confusion. Also, this software sends a confirmation email for the booking of an appointment and also a reminder to both, you and your client.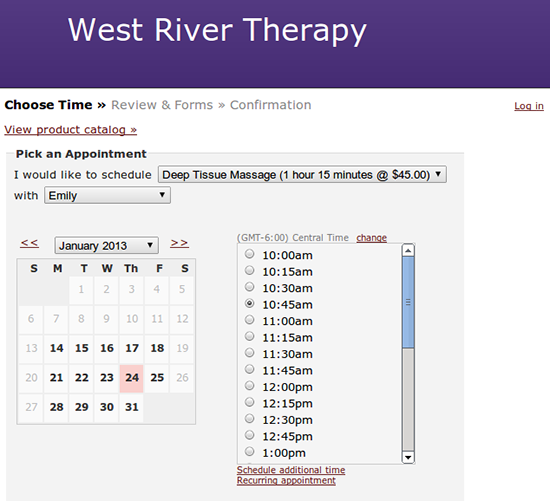 Appointment schedule can be easily linked to your homepage of word press. It allows you to 2-way syncwith Google and you can also create customizable intake forms. Some of other great features of Acuity scheduling are mentioned below:
Online Booking 24/7:
Your clients have an option to book appointment anytime as per their time zone.
Book Classes Online:
This feature allows you to book group appointments
Multiple staff & locations:
You can easily manage multiple appointments and schedules for multiple locations.
Time Zones:
Acuity scheduling software displays local time zone for everyone hence, avoiding all sort of confusions.
Customization of your site:
You can add your company's logo or customize color scheme.
Acceptance of credit card:
Since it allows clients' to pay online, it offers the facility of accepting payments via credit card.
Notifications:
It displays instant notifications for any new appointments.
Client Management:
By keeping a record of client's history, client management gets easier.
Free Trial:
You will pay for it only if you like it. This is exactly why Acuity scheduling software offers you a free trial. Premium versions are available on very reasonable prices.
Other features include Mobile support, exporting to your favorite calendar and many more.
Conclusion:
If you are a professional who is always juggling between meetings and appointments, this software if perfect for you.