5 Networking tips for web designers
As web designers, we get stuck in ruts where we sit behind our computer screens and tirelessly work on endless projects. And while there's nothing wrong with this – after all, these projects pay the bills – there's something to be said for getting out and networking with others in your industry.
5 Important Networking Tips
It's important to note that there are two different ways to network. "The first is to network for clients. If you're looking to build your client base, you'll want to attend the types of conferences your clients would attend. So, if you're in the business of developing niche websites, you'll want to target conferences around this niche," says Andy Sowards, freelance developer and designer.
"The second way to network is within your field with your peers, superiors, and experts in web development," Sowards continues. This allows you to learn new trends, meet potential employees or partners, and build valuable working relationships with other like-minded designers.
Regardless of which type of networking you're conducting, the following tips should help you extract maximum value from your time investment.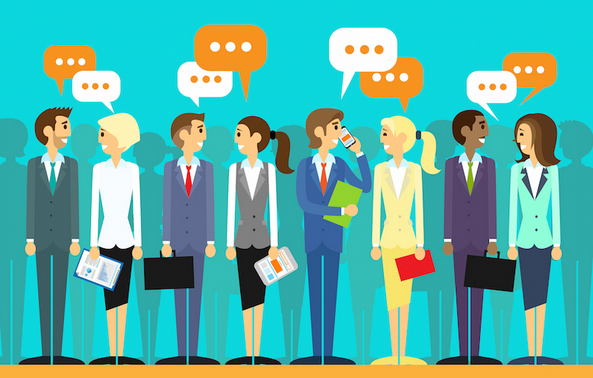 #1: Attend Formal Events
If you aren't a natural networker, then you'll benefit more from formal events and groups than you will from impromptu, organic marketing. Try searching a website like Meetup to find web design groups and events near you. Groups designed for the purpose of networking are always easy-going and less stressful.
#2: Give Personalized Gifts
Think about the size of your networking circles and try to remember everyone. Chances are, you're forgetting someone. Well, have you ever considered that you could be that forgotten person in someone else's mind? One way to avoid this is by giving personalized gifts during the holiday season or after major events or accomplishments. For example, something as simple as a desktop award commemorating a career milestone can go a long way.
#3: Use Social Media the Right Way
Since web design is intrinsically connected to the web, it makes sense that a lot of networking can be done online. In our industry, LinkedIn and Twitter are the two major platforms. Joining these social networking sites and building out your profiles will go a long way towards establishing a strong reputation. On LinkedIn, you should look for local and industry groups to join.
#4: Know How to Follow Up
The biggest mistake people make when networking is failing to follow up with contacts after meeting. Unfortunately, the more time that passes after meeting, the less likely that you'll develop a future relationship. Always try to follow up within a week after meeting someone. This can be something as simple as an email or LinkedIn connection request. Then, a couple weeks after meeting, try to schedule a one-on-one meet up if you believe the relationship could be mutually beneficial.
#5: Invest in Personal Branding
One of the best long-term networking strategies involves investing in personal brand building. This means building a website, publishing original content, growing your portfolio, and interacting with other designers online. Over time, your name recognition will grow and you'll find that it's much easier to reach out to people and build meaningful relationships. You'll also naturally build your client base.
Get Out of the Office and Network
 If you're spending 100 percent of your time in the office, then you're missing out on opportunities to stabilize and improve your career. Ask any super successful web designer about their weekly routine and they'll tell you that networking – organic and formal – is a key component. It should be an important part of your regular routine, too.