Understanding the Role of Design for Website Localization 
When you utilize website localization, you can adapt your site to the local language and culture of a target market. That means going way beyond simply translating the text of your content.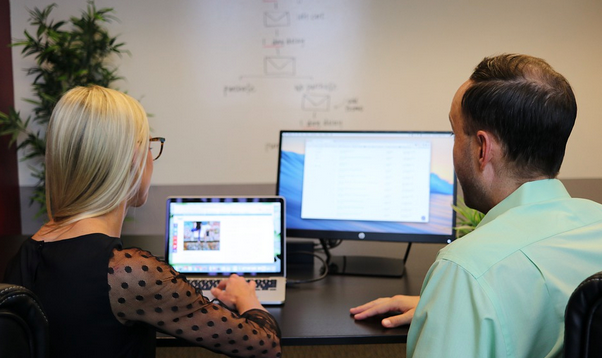 You need to consider things like the kind of wording you use, the imagery you use, and the overall design to ensure that it's optimized for a specific foreign market.
To understand the role of website localization better and adapt your website in the relevant ways, take a look at the following key design features that you should always localize.
The Positioning of Your Content
In the west, people read content on websites from left to right, just like they read sentences and paragraphs. And because they begin on the left, they focus more on the content on the left side than on the right side.
Therefore, images on the left, for instance, could get more attention than pictures on the right.
But in Arabic countries, people read from right to left.
Therefore, it's crucial that you adapt the layout of your entire site for a localized version of your website by following the cultural code of going from right to left if you're targeting Arab countries.
The Types of Visuals You Use
You not only need to change the visual elements of your website based on how your target market reads content. You also may need to adapt your imagery based on the cultural differences of different countries.
For instance, in many Arab countries, it's offensive to show a woman with little clothing. Even a woman in a pair of shorts will be disrespectful. So, such images could work well for a western audience but could set you up to fail in other countries.
There are lots of other cultural differences you need to think about when posting pictures and photos on your website.
For instance, many brides in China wear red wedding dresses. So, you would not want to post a picture of a bride in a white dress as you would do for a U.S. or U.K. audience, for instance.
Make sure you thoroughly research cultural differences for the market you're tailoring your website to.
Fonts and Characters
You also need to understand which fonts and characters to use in your website content when adapting your site to an international market.
For example, you should avoid using Unicode fonts like Times New Roman and Arial because they are more difficult to translate into other languages.
You need to carefully think about any special characters you use in your written content, too. For instance, you could need to add things like accents to letters in words depending on which market you're targeting.
Utilize Analytics Tools
Once you have developed your site with localization in mind, it's important that you get feedback from users to discover if there are any issues and whether you have overlooked anything.
You can also use behavior analytics tools to help you understand your users and adapt things as necessary.
For instance, when you use FullStory or Smartlook, you can see the entire journey of a user and understand the context behind his or her actions. Hotjar doesn't offer that, though. So, it's important that you compare different analytics tools to find the best one for your specific needs.
To get started, check this comparison of Hotjar vs FullStory vs Smartlook.
Final Thoughts
In premise, website localization is easy. You simply need to look at every linguistic and cultural difference for the international market you're targeting and adapt your website accordingly.
But you'll need to spend time looking at every element of your website design to consider whether it's appropriate and researching the countries that you're planning to market to.