Going paperless? 3 key features in your document management software you need to know
Digitizing your home office or business documents just makes sense in 2014. Everything is going digital anyway, and converting your overstuffed bookshelves into a nice compact hard drive gives you plenty of extra room. And if you backup your documents to a cloud server, they're protected in case disaster strikes your home or office and damages your records.
Digitizing your documents also allows you to search and share them more easily. Instead of combing through file boxes to find a document, then copying it to mail it off to someone, you can simply search your files with a few keystrokes and then instantly email it to an associate.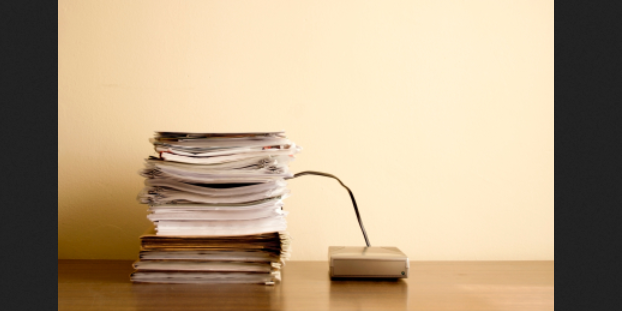 Before you start scanning madly to get everything digitized, consider what kind of document management software you should use for your project. Document management software is designed to help organize your documents beyond the standard filename and folder conventions. By choosing the correct type of software, you can completely change the way you organize and find documents for your home or business. There are a lot of options to choose from. Make sure your chosen software includes these key features.
Document management software should be easily searchable
Being able to quickly find the right document is kind of the point of the whole endeavor, right? Make sure the software system you use is able to find documents from a number of possible sources, not just the filename. Consider what type of documents you're going to be digitizing.
If you have a lot of white papers and reports that you're going to be storing, make sure that you are able to perform a full text search for all documents so that you don't need to remember the filename to find one particular passage. Are you going to be primarily storing photos? Make sure the software is able to attach appropriate metadata to the photos such as date taken, location, and camera settings.
Importance of workflow automation
If you're planning on digitizing a huge paper archive, you know that you have some repetitive work ahead of you. Your document management software should be intuitive to minimize this pain for you, check out Konica Minolta for more on this.
The more your software automates the input process, the less time you and your employees need to spend trying to train it to do so. And less time means more money saved. Take the platform out for a test drive before you commit to it and make sure that the software is flexible enough to adapt to your business processes. Make sure that the process is simple enough to change as your business does, too.
Verify that your document management software can integrate with your current systems
Your software should be able to integrate with existing legacy systems without hitting a snag. Points of communication such as company email should be easily accessed as well, providing for a seamless way to search, locate, and send documents to the clients and colleagues who need them.