MacOS Big Sur: Key Takeaways for UI Designers
This year's macOS Big Sur unveiling has ushered in new UI design trends, stirring heated discussions in the designer community. You might be eager to learn how to upgrade your macOS and experience the new UI first-hand. Apple is a design trendsetter, so chances are it will have an impact on your work. Hopefully, this post will help you stay ahead of the upcoming changes.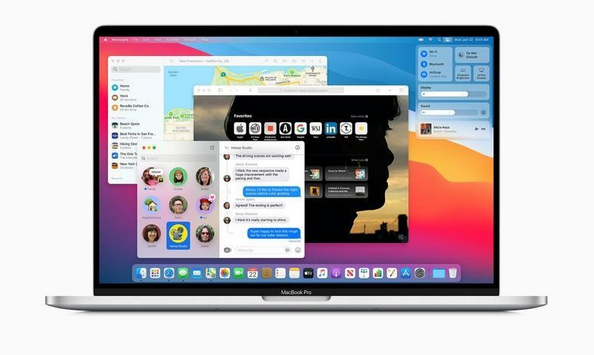 image via Macworld UK
Trend 1. A new look at minimalism
Big Sur has been redesigned with more shadows, textures, and shapes. Apple dials down on the visual complexity and makes design as minimalistic as possible. Visual elements look flatter, but thanks to 3D dimensional icons, the feel is quite the opposite.
Designer takeaway: Minimalist design can be spacious. Follow Apple's lead and play with shadows and textures. That is how Big Sur has got such a pleasant visual hierarchy.
Trend 2. A new word in UI Affordances
Our brain is good at recognizing objects when there's a clue. We perceive buttons as clickable when they have a hint, such as shadows. Another way to convey "look, you can click on it" is motion. For the sake of decreasing visual complexity, designers at Apple removed shadows on buttons. Instead, they added background highlights, so when you move the cursor, the icons are highlighted, hinting that they are clickable.
Finally, colors. Active elements get more accent colors in Big Sur. Keeping a brand color in mind is an excellent way to create a connection between a company and an app.
Designer takeaway: Highlighting all options isn't necessary, and not many buttons need to be 3D. Try to dial down on visual complexity by experimenting with accents.
Trend 3. Richer experience using subtle effects
Apple adds slight details to enrich the user experience, such as motion and sounds – something we cannot spot at first glance. But they impress when we start using the product. One example here is the Blur effect. Rather than using a shadow, the Blur effect relies on the blur palette, which creates subtle depth and translucency.
Designer takeaway: This technique is called Progressive Blur. MacOS Big Sur applies it in many places, so keep an eye out for it and think about how you can use it to enhance your visuals.
Trend 4. The new Skeuomorphism in icons
MacOS users got used to rich, detailed icons with a hint of depth. In Big Sur, there will be more details, richness, and realism. Big Sur icons resemble iOS icons, minus the flatness. Clearly, that's a nod towards Skeuomorphism. We should also mention that Apple's unified language of symbols isn't forgotten, and we still can see those monochrome 2D icons.
Designer takeaway: If you take a good look at the refreshed icons, you will notice how the flat iOS icons' shadows and gradients are suitable for the new OS icon style. Maybe it's worth using 3D for your icons as well?
Trend 5. It's all about the Ecosystem
Undoubtedly, there's a massive shift going on towards the convergence with iOS and iPad. The operating systems already let us do the same things on our smartphones and desktops. That has directly impacted design. One example to back up this point can be a unified set of icons in Big Sur, which are iOS equivalents' likenesses.
Designer takeaway: Consider the movement towards a unified experience across platforms. Perhaps, UI designers can expect to create a single design for an entire ecosystem somewhere down the road. Any thoughts on what it would look like?