How to increase app ranking in App Store and Google Play?
The age of mobile has come upon us making our daily routines unimaginable without smartphones. Also, this has developed into a perfect channel for brands to engage with their customers. It allows reaching people almost everywhere and anytime. So, developing a mobile app became a must almost for every business. However, building a mobile app is only a half of the work that needs to be done. Another part is making sure that people could find your application and download it. Every business wants to reach as many people as possible. That's why ranking high on App Store and Google Play is critical to be successful. According to Head of Search and Discovery for Google Play, about 50% of daily active users are using search at least once a week to find apps they need.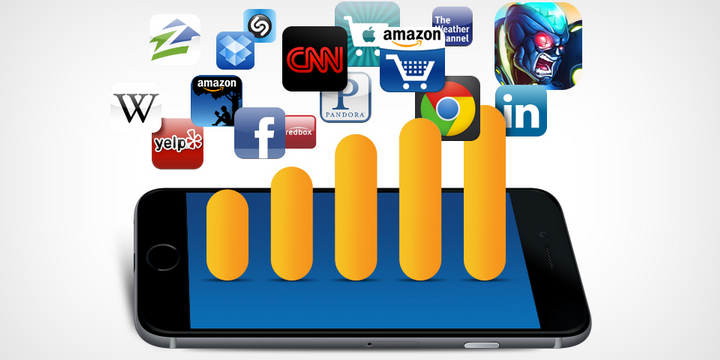 Google Play ranking factors and tips
Ranking high on these stores should be every business' main priority because it could provide a vast amount of organic downloads. However, both Google and Apple are hiding their search algorithms from the public, and no one knows exactly what impacts your ranking. Some key factors were found through testing and observing. So here is a list of things that might influence your rankings:
-Keyword density
-Downloads and installs
-Growth trends (comparing how daily downloads and ratings have changed over time)
-Uninstalls
-Ratings and reviews
-Backlinks
These are the main factors that impact your ranking on Google Play and App Store. To make the best of it and increase your app ranking, here are some tips to optimize your listing:
1. Put your main keyword in the title. A well-optimized app name could significantly increase your ranking. Do a keyword research to find out which keywords related to your product are the most popular in your niche and then try to come up with an unforgettable name including that word.
2. Use relevant keywords in your app description. Make a list of keywords you would like to rank for and incorporate them into the description.
3. Get positive reviews. Good ratings are a very important part of your ranking, so make sure you are doing everything in your power to receive good reviews about your app. Also, you can try to partner with a company that might provide you quality reviews and high ratings from real people. It will help you raise your rankings much faster.
4. Get backlinks to your app description page. It is especially loved by Google Play. Incoming links tell Google that your app is popular outside the store. The more popular you get, the higher you will rank in Google Play store.
5. Try to keep your app size below 5MB as it might result in better conversions signaling Google your application is really good.
6. Use paid ads. This is the most expensive option to increase your app ranking. Usually, it is used by large companies which could afford spending thousands of dollars in advertising. But if you have a decent budget you should definitely try it.
Working with platforms that provide quality reviews and high ratings
It could be a really painful experience when it comes to getting high ratings and good reviews in the early stages of your business. Positive reviews and high ratings could have a significant impact on your rankings. But what to do, when you are totally new in the niche? You are getting only a very small number of downloads, and the number of reviews is even lower? One of the solutions is to work with platforms that could provide you with positive reviews from real people for money.
When it comes to working with a platform that offers quality reviews and high ratings, Best App Review is recommended because of its instant improvements, low prices, and expert support. You will instantly get lots of positive reviews which will significantly improve your search rankings. So, if you are not getting any reviews at the moment, you should definitely consider working with this platform.
Conclusion
That's how you can optimize your apps for Google Play and App Store. Because of a very high competition, it is becoming more and more difficult to rank high in the search results. However, these tips should make your life easier. Make sure you did all the steps from the checklist above.
Also, do not be afraid to experiment. If you do not see any changes in your app ranking, try to change something and observe how it has impacted your application positions. Testing is one of the best strategies to achieve great results.