How to experiment with eye color in your photos without Photoshop
Eyes are the most important feature in most portraits, and invariably draw attention to themselves. Striking eyes can mesmerize viewers, and leave them feeling entranced while holding their attention for longer.
Considering the impact that eyes can have, what do you think will happen if you experiment with their color? It could transform your portraits from bland to captivating, and make them feel more immersive.
One of the easiest ways for you to experiment with new and exciting eye colors is by using PhotoWorks to do it. It isn't the only option, but it is easier than Photoshop, and yet far more effective than most other photo editors for a PC or mobile editors.
How to Edit Eye Colors in PhotoWorks
The intuitive interface and features in PhotoWorks will let you change the color of your eyes to practically any shade you want to – quickly and easily. At the same time it will give you a lot of control over how the effect turns out, which may come as a bit of a surprise.
To get started and change eye color in pictures, just launch PhotoWorks and follow the steps below: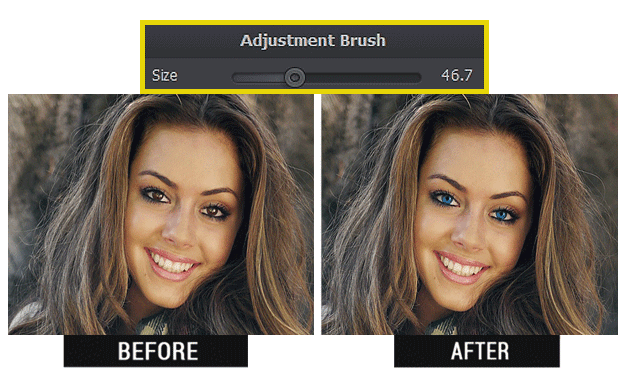 Select the Adjustment Brush tool in the Retouch section of PhotoWorks.
Paint over the eyes using the Adjustment Brush to select them. The size slider will let you control the brush side so that your selection is as precise as possible.
Adjust the Hue slider to change the color of the eyes.
Adjust the Saturation slider to make the color look more vivid and make them 'pop'.
Adjust the Tone sliders such as the Exposure, Highlights, Shadows, Whites, and Blacks to apply the final touches and brighten or darken the eyes.
Keep in mind that if you're editing each eye individually you should take note of the settings that you use for the Hue, Saturation, and Tone. Eventually you will want to apply them to the other eye in the pair.
If you follow each of the steps as described, you should be able to experiment with new colors and make them really stand out and look great. While it is true that other editors can achieve a similar result, few make it as easy and straightforward as PhotoWorks does.
…But Don't Stop There
It should be said that there are a lot of other features in PhotoWorks that are just waiting for you to take advantage of them as well. It will let you improve the composition by cropping the frame or removing unwanted elements, apply artistic visual effects, or even fix any issues that are present.
In most cases you should be able to edit your photo in any way you see fit using PhotoWorks. More to the point it won't be any more difficult than it was to experiment with eye colors due to the editor's intuitive approach.
All it will take on your part is a few minutes spent exploring PhotoWorks and trying out its features for you to get a sense of what they can do and how to apply them. If you do that, the sky will be the limit and you'll find doors open to you that you may not even have realized existed in the first place.