The Site Slinger – Ordering PSD to HTML Just Got easier
If you are a designer or a developer who is working on a website and is looking for easy ways to get it coded, The Site Slinger is just right for you. Now getting your project from design to code can be done in a fast and easy manner with the help of The Site Slinger. They turn your designs into code and help save you hours of time that you spend coding HTML. All you need to do is send a Photoshop design file of your website to the developers at The Site Slinger and their team will take care of everything from there. You can even converse with the real developers in the US to explain your requirements.
Thanks to The Site Slinger, PSD to HTML has been simplified in such a way that it makes things way too convenient for anyone who has been looking to develop a website. Based in Austin, Texas and operating since 2009, The Site Slinger was founded by Connor Hood. They have coded thousands of sites with premium service only to big companies but also to freelancers.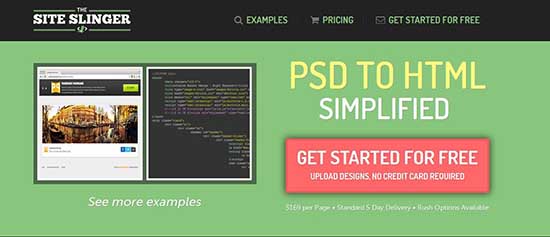 The best thing about The Site Slinger is their reliability – they can deliver code to on the next day, if it is urgent. Their standard delivery is 5 days!
Services:
Their major services include PSD to HTML, PSD to Responsive and PSD to WordPress sites.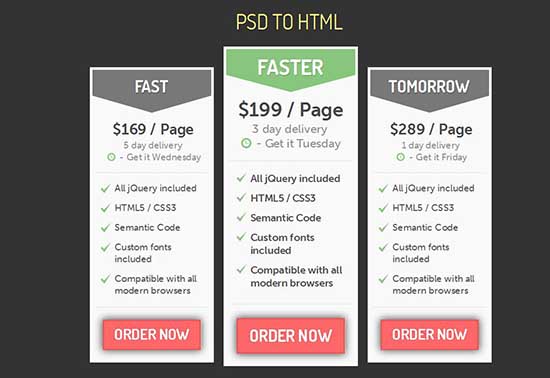 The thing that makes The Site Slinger stand out among the lot of competitors is flat per page pricing that includes all basic jQuery animations.  They also have lots of experience with Responsive and Twitter Bootstrap conversions.
Now that you know the advantages of The Site Slinger, let me tell you that ordering for the services is an easy task.
How to Order:
For ordering purposes, you need to upload your design at http://thesiteslinger.com/quote. It is recommended that you provide them with a layered, organized PSD design however, they do accommodate Fireworks or Indesign files as long as they are properly organized. Once you have provided them with a file, they will get back to you with your quote within just 2 business hours. Yes, only 2 business hours and that too from a real developer.
The quote will also contain a development brief in order to ensure documentation of all your requirements. You can communicate with the developer during business hours whenever you want.
Payment Method:
Payment procedure is also way too simple. They accept all credit cards and accommodate all sorts of electronic payments. Once you approve your quote an invoice will be automatically sent to you.
Delivery of your work:
The team of The Site Slinger makes sure to deliver you always on time and sometimes earlier. You should never expect a delay in their work. Also, in order to continually improve themselves, they request a review on the work on every project they have provided you. This is very professional of them.
Work Showcases:
Their code is clean and well organized. They will only use the latest in web standards for your PSD to HTML code conversion, from HTML5 boilerplate to Twitter Bootstrap. Apart from all this, they will show you the live working code plus working examples on their site.
Famous Projects delivered by The Site Slinger: http://thesiteslinger.com/examples
PanoramicPanoramic.com
Onespot.com
WPEngine User Portal
Capital Factory
Conclusion
We strongly recommend The Site Slinger to anyone who is looking to turn their PSD designs into HTML and CSS code. There should be no delays in contacting them, if you place an order of 2 or more pages, your first page will be coded for free.