Boost Your Design Skills with These 205 Killer Photoshop Actions
Photoshop is the most important tool from any respectable designer's toolbox and without it, your chances to create a stunning design is very limited. I think we all know how powerful this photo editing software really is and if you add on top of it all the plugins, filters, actions and so on, you will have the Swiss knife of design editors.
Known by few but loved by many, Photoshop actions help you do a lot of things on an illustration with pretty much just a single click. In case you never tried a Photoshop action, I guess you don't really know what it is. Well, an action simply means to record all the commands which are used to generate a certain effect, with the purpose of re-application later on. For example if you want to modify 30 different types of banners using the same effect, in the classic way it you take you hours or days to complete this task, but if you had an action script, this will be done in as little as 30 minutes or even less.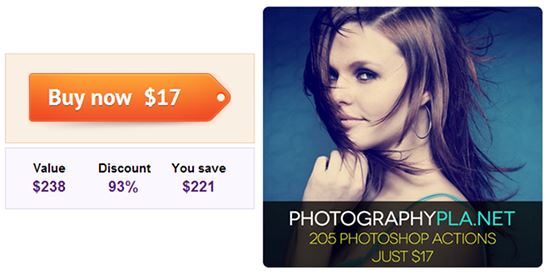 So, if you are looking to add more creativity to your Photoshop toolbox, then this killer deal is what you are looking for. For only $17 you can get 205 killer Photoshop Actions which actually worth $238. This means you'll get a 93% discount! How cool is this?
Here are the highlights of this pack:
200+ Photoshop Actions
you'll get 14 premium Photoshop action sets for a total of 205 individual actions! Just think of the huge variety of photos you can create, all from a single image.
Great Assortment
With 14 different action sets, you're bound to find more than just a few that you'll enjoy. This bundle includes the following actions: Fashion, Autumn, Vintage, Sunset & Sunrise, Black & White, Faded & Hazy, Light Leaks, Monochromatic, and more!
Non-Destructive
Don't worry about ruining your original image. Every one of these actions leaves the original photo layer untouched, so you can simply undo any actions you don't like.
Easily Customizable
since each action's effects are put into their own layers, it couldn't be simpler to customize all of the actions to your specific needs.
Photoshop Versions
The actions in this bundle require Photoshop CS4, CS5, or CS6.
Here's an example: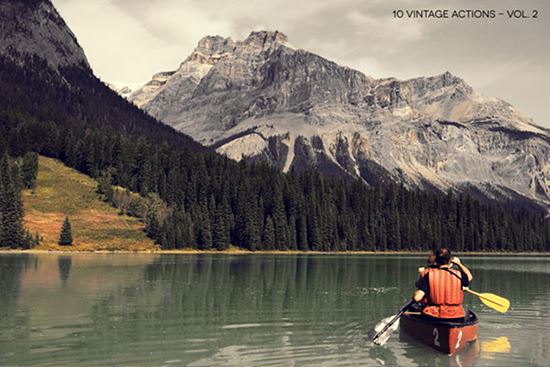 So, don't waste your time and grab this offer while it's hot because it will help you a lot in your design projects.