Reducing machining costs using on-demand CNC machining
3D Hubs is the category leader in on-demand CNC machining services. With a CAD file and a single click, engineers can receive a free Design for Manufacturing analysis and generate an instant production quote; other manufacturing methods like 3D printing and injection molding are also available. Use the world's best online CNC manufacturing and 3D printing service to source parts for the lowest price possible.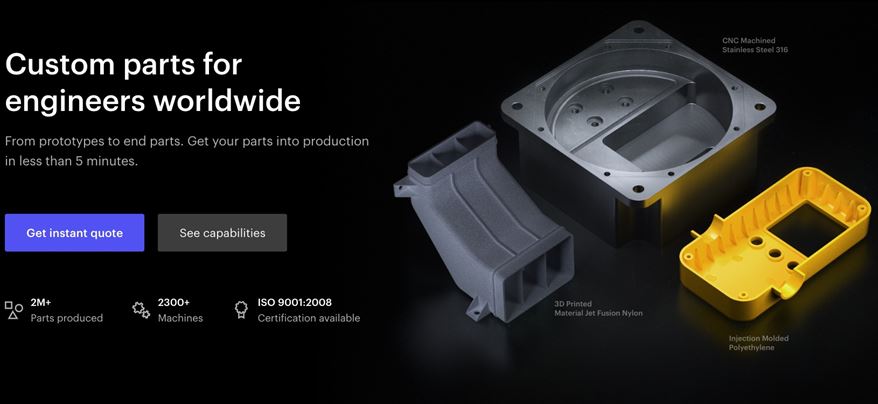 CNC machining is a digital manufacturing technology: it produces high-accuracy parts with excellent physical properties directly from a CAD file. Due to the high level of automation, CNC is price-competitive for both one-off custom parts and medium-volume productions.
Almost every material can be CNC machined. The most common examples include metals (aluminum and steel alloys, brass etc) and plastics (ABS, Delrin, Nylon etc). Foam, composites, and wood can also be machined.
The basic CNC process can be broken down into 3 steps. The engineer first designs the CAD model of the part. The machinist then turns the CAD file into a CNC program (G-code) and sets up the machine. Finally, the CNC system executes all machining operations with little supervision, removing material and creating the part.
Reducing machining costs
There are many ways in which this type of machinery makes projects more cost-efficient. One way is by reducing the amount of time needed to create deep internal cavities in a product. Another is to scale back the use of the tight tolerances that are often necessary. A numerical value is assigned to each of a product's features. Less crucial features don't need to have a numerical value assigned to them.
In the case of products that require a thin wall, the wall must be the ideal thickness to make the creation process efficient. Using this machining, mosy walls can be created easily. Those that need to be extremely thin will require a different manufacturing process than CNC machining.
CNC machining vs. 3D printing
Both CNC machining and 3D printing are exceptional tools in the arsenal of an engineer. Their unique benefits make each more suitable for different situations though. When choosing between CNC machining and 3D printing, there are a few simple guidelines that you can apply to the decision making the process.
As a general rule of thumb parts with relatively simple geometries, that can be manufactured with limited effort through a subtractive process, it should generally be CNC machined, especially when producing metal parts.
Choosing 3D printing over CNC machining makes sense when you need:
A low-cost plastic prototype
Parts with very complex geometry
A turnaround time of 2-5 days
Speciality materials
To summarize:
CNC offers greater dimensional accuracy and produces parts with better mechanical properties than 3D printing, but this usually comes at a higher cost for low volumes and with more design restrictions.