How to Remove/Disable Admin Bar from WordPress 3.1
Shukhrat Of Boynazar Forex

http://simonblog.com/?p=Forex-Free-Live-Chart Forex Free Live Chart
Tokyo Stock Exchange Public Holidays
http://bmwcoop.com/?option=U7-Binary-Options-Trading-Charts U7 Binary Options Trading Charts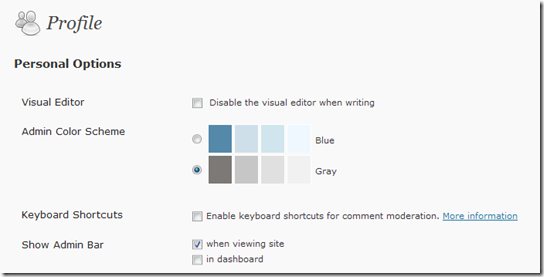 3) Save a Setting
4) Done
You can also Remove this via WordPress Plugins (3.1+)
Minimize WordPress Admin Bar
Admin Bar Minimiser – an easy way to minimise the new WordPress 3.1 admin bar at the click of a button! The Plugin works by allowing you to minimise the admin bar from view via a single click! And you can bring it back just as easily. This also works for the admin bar displayed on the WordPress back end too.
Relocate WordPress Admin Bar
Stick Admin Bar To Bottom – Annoyed by the new Admin Bar that is covering the top 28 pixels of your website, but you don't want it completely gone? This plugin sticks the Admin Bar to the bottom of your screen!
These plugins slow down your wordpress. Thanks
Please feel free to join us and you are always welcome to share your thoughts that our readers may like.
Don't forget to

subscribe to our RSS-feed and

follow us on Twitter — for recent updates.