35 Best Photo Gallery WordPress Themes
WordPress Photography Themes
http://eefi.de/?p=As-It-Is-Possible-To-Earn-Money-On-The-Kamaz As It Is Possible To Earn Money On The Kamaz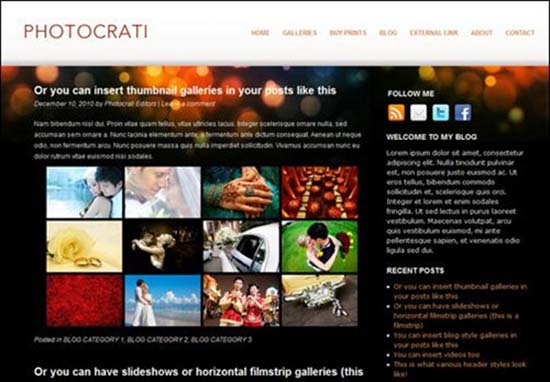 http://adelaidedivewreck.com/?option=Forex-At-Par-Stavropol Forex At Par Stavropol
Envisioned WordPress Theme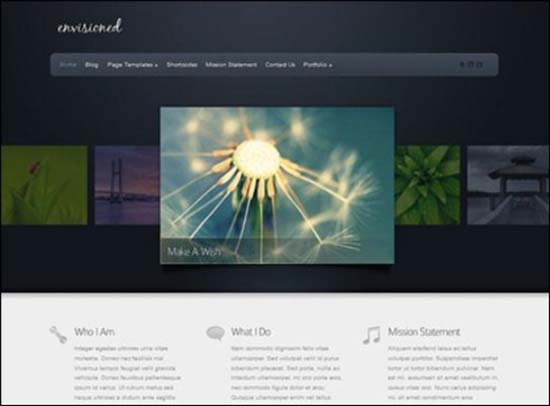 Envisioned is a beautiful and powerful portfolio theme that enables you to easily create professional, multi-media galleries. Envisioned has the most powerful gallery features of any of our themes, allowing you to produce versatile layouts of various sizes and aspect ratios.
Auzora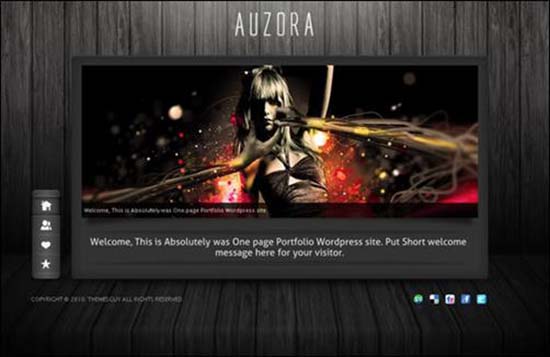 Auzora is One Page Portfolio WordPress Theme. Comes with massive admin features. Are you tired to see a lot of one page wordpress theme use scrollable effect when change the page? Then check the auzora live preview.. Auzora has extremely different effect when change the page.
Light Box WordPress Gallery Theme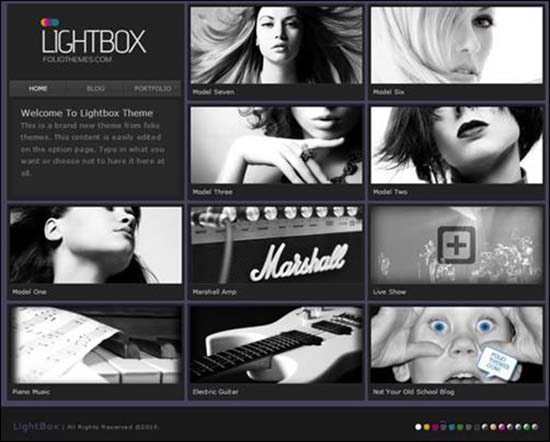 LightBox Photos, Movie and Image Showcase by foliothemes.com is a Portfolio Blog with an elastic grid for ALL portfolio categories. Stretch your window and the image items fall into place. Easy to maintain and has numerouse php and jquery enhancements. Theme Switcher, Option Page, 5 Widget Areas, Jquery Enhanced. Image and Video Handling.
Boxed – Responsive Full Background Portfolio Theme
Boxed is an elegant responsive portfolio/photo WordPress theme that was created so you can show off your work beautifully on the web. The theme has a unique left-sided navigation while keeping the site centered in the browser, an optional (you can have a normal static image instead) full-screen background image slider which can be set to show different images on the homepage, portfolio pages, blog pages, regular pages and even on a per post/page basis and overall a very clean and modern design that looks great no matter your browser size.
Photorific WordPress Gallery Theme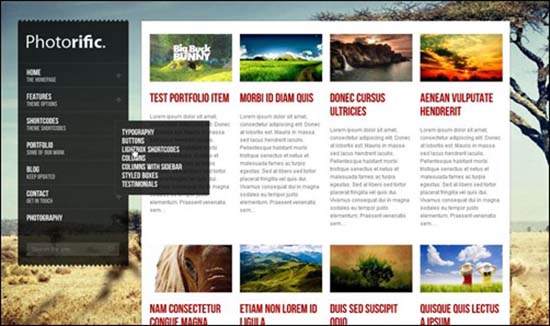 This premium WordPress photo theme is one of many great photography website templates. It has good features for your photography and portfolio website, and it can also be used for other projects. It has 30+ shortcodes and you visitors will like that images automatically will be stretched to fit the browser. Another nice feature is that there is no limitation on how many background images as you can use in a page, post, & portfolio item
Duotive Three – Complete WordPress photo theme
This is the ultimate portfolio theme with a very easy and powerful administration tool and one of the more modern look and feels among the WordPress Gallery Themes.
Gleam WordPress Theme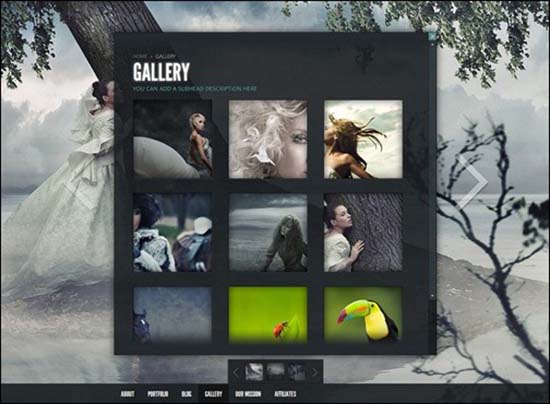 Gleam was built to dazzle. With its flashy effects and smooth ajax loading techniques, this theme creates a truly unique experience that is sure to grab your visitor's attention. Allowing for custom full BG photos for each page, Gleam makes it easy to create a custom stunning appearance for each section of your website. The theme also comes with a full-screen portfolio section, giving you a new way to display your work.
Trim Business and Portfolio Template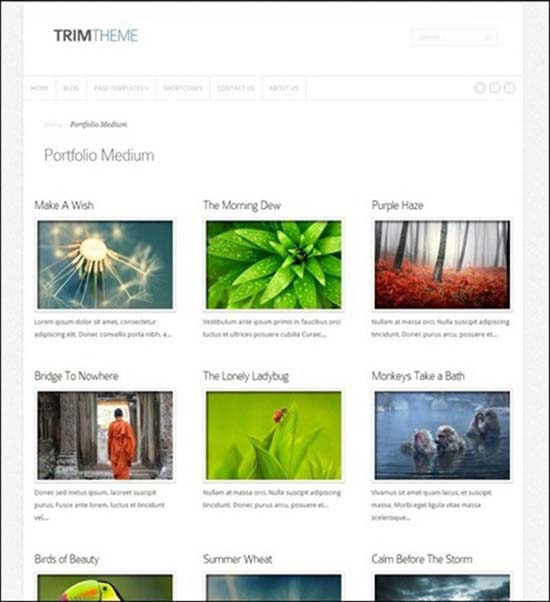 Trim is simple, professional, versatile and fast. Trim might be simple, but with that simplicity comes a sense of balance and crispness that is quite refreshing. Coupled with a bunch of great features, Trim is a great theme that will prove useful for a variety of different websites. Trim is a fully responsive design that adapts to your user's variable screen size.
Square: Responsive WordPress Theme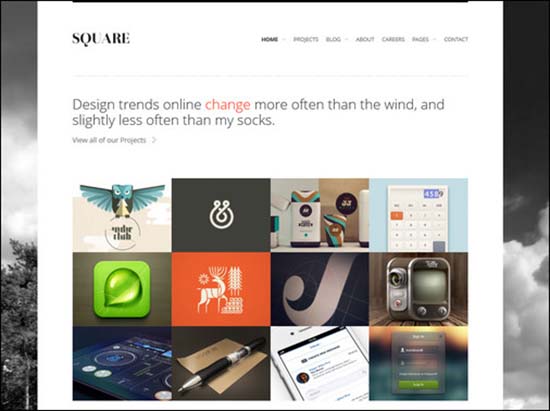 Square is a clean, minimal yet powerful wordpress theme. Square has a compatible layout with mobile devices. We have tested it in iPhone, iPad and many other mobile devices. It contains two homepage types one for portfolio, and another for business purposes.
Daisho – Flexible WordPress Portfolio Theme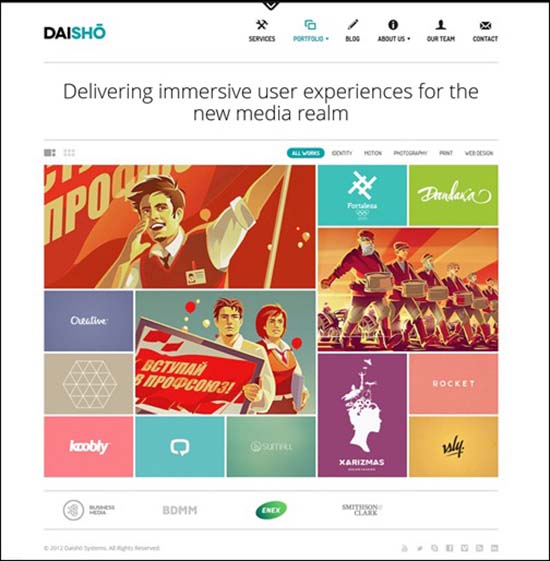 Daisho is a portfolio solution for creative professionals and companies looking for a minimal and professional look. Flexible and responsive presentation, smooth navigational flow and clutter-free approach. Put your works in focus.
Expression Photography Responsive WordPress Theme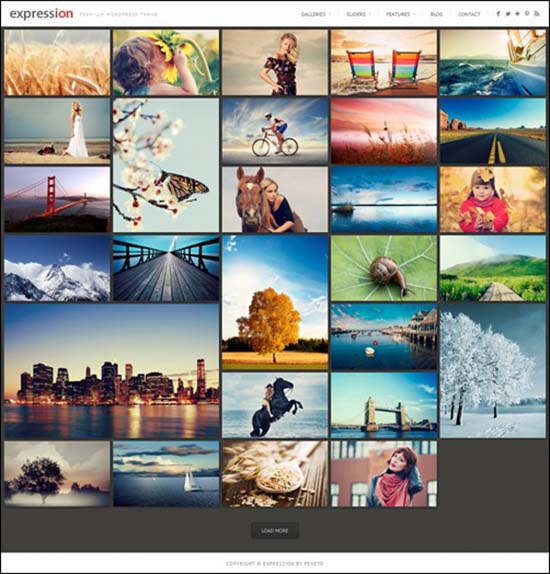 Expression is a cool responsive WordPress photo theme, best suited for photographers and creatives who use portfolios to effectively present their work. Expression theme is powered by the advanced Pexeto Panel, which provides tons of options to manage and modify any aspect of the theme. With all the styling options provided you can easily customize the appearance of the theme and build you own custom skin.
Chocolate WP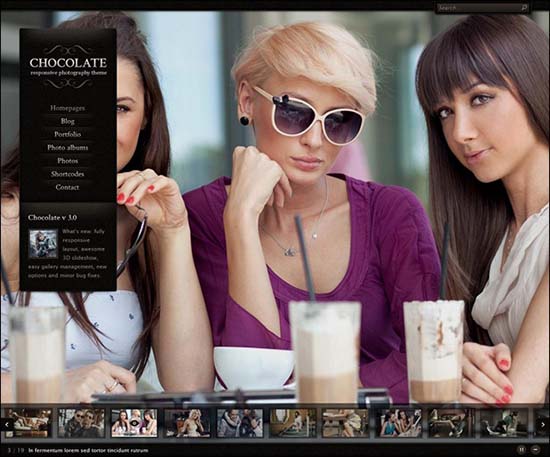 It is refined and elegant template with complex and precise combination of light gradients, shadows and rich functionality. It was created to serve you as unique showcase of your works with strong blogging component powered by Woo Tumblog (for Tumblr-like posts) and Express App (for simple posting from your iOS-device). The latest version 3.0 (Dark Chocolate) is now 100% responsive and features a new unique 3D slider.
Core Minimalist Photography Portfolio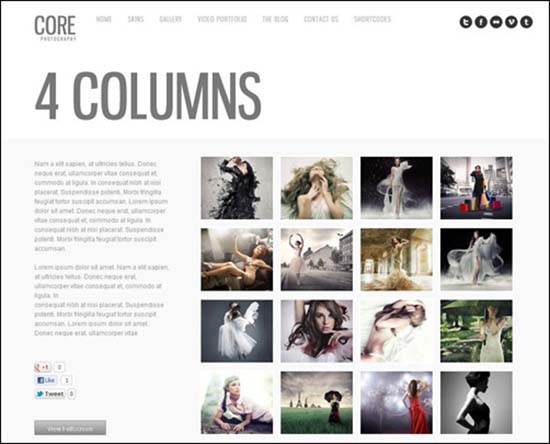 Core is the Minimalist Gallery Photography, Portfolio, Personal website Template built with latest WordPress features. A top pick among the many WordPress Gallery Themes. It has lot's of features like Custom Post Type and Image Uploader, tons of shortcodes etc.
AREA53 – A Responsive HTML5 WordPress Theme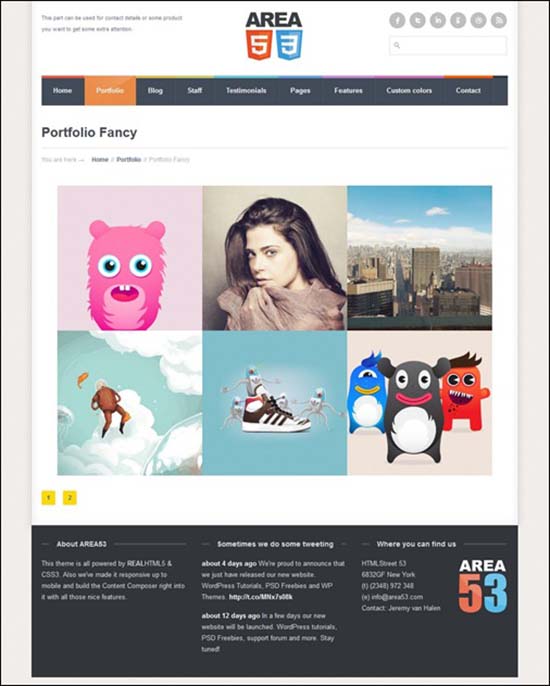 AREA53 is a Responsive (full) HTML5 with a cool responsive slider. It's full featured with the Content Composer to create professional pages in minutes, filterable portfolio and much more.
Photoshot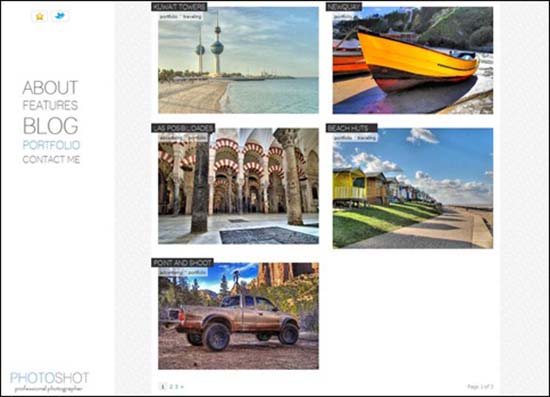 Photoshot is an unique theme! Designed for photographers to showcase your photos with style and simplicity.
Galeria
Galeria is a single page theme, suitable for anyone that wants to showcase his work. Photographers, Graphic and Web Designers will find it very useful. Again a cool pick among the many WordPress Gallery Themes.
Evolution Gallery Theme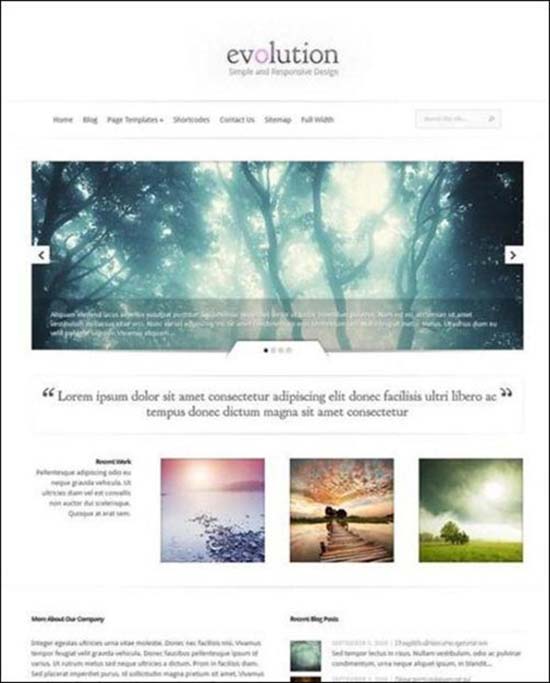 Evolution is our first fully responsive design. What makes the theme so special is its ability to adapt to various screen sizes. Evolution come with 4 distinct layouts, each meant to improve your user's experience when browsing on mobile phones and tablets. No longer will they need to zoom and scroll to view your site, as the theme's layout will adapt to the small screen and serve your content in an intuitive way automatically. Just try reducing your browser's window size when preview the theme to see the magic in action!
Angular – Responsive Portfolio
Angular is a responsive WordPress Theme (try resizing your browser), suited for users who want to showcase their work on a neat portfolio site. The Theme is built on top of the fabulous Avia Framework and comes with support for the bbPress Forum plugin, just in case you need it!
Bigbang – Responsive WordPress Template
Bigbang is a feature-rich portfolio template with a fully table less design. It's 100% responsive adapting to whatever device you can throw at it and it's aesthetically and simple design is very unique showing that a minimalistic design can be powerful. It features several page templates including 2 different layout templates, 6 portfolio post formats, single page portfolio, 6 blog page and 6 single page layouts. Add to that a jQuery flexslider, socialize icons widget, photostream widget supporting the most popular social media pages.
Helm Responsive Portfolio for WordPress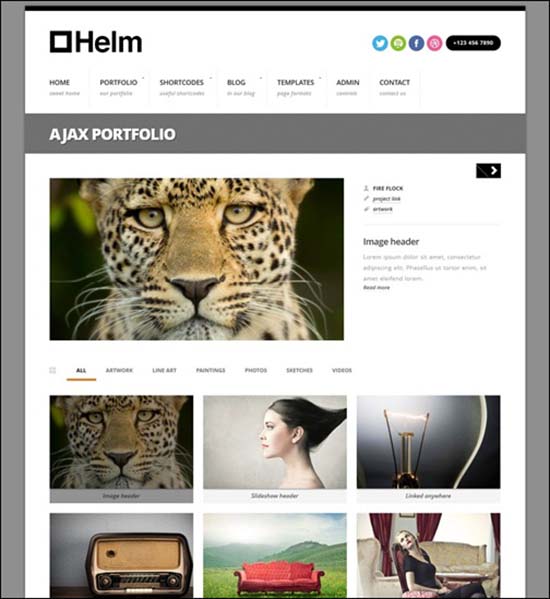 Helm is a responsive portfolio theme for creative professionals. Theme is capable of displaying blog list and posts in fullwidth and 2 column layouts.
Responsive Fullscreen Studio for WordPress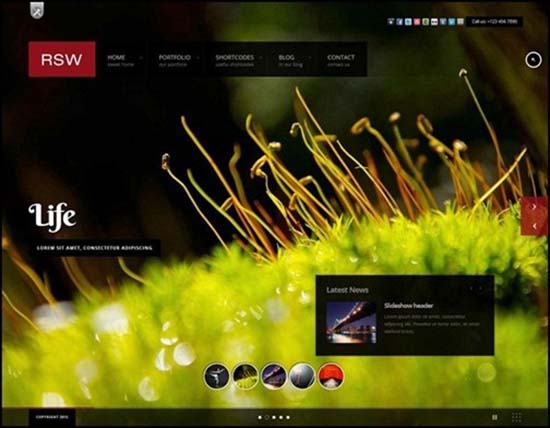 RSW ( Responsive Fullscreen Studio for WordPress ) is a powerful theme for photographers and creative artists and comes with Light and Dark with theme options supporting multicolor customization of theme elements using color pickers. Creative artists can easily display their products using unlimited portfolio and post formats supporting Aside, Quote, Audio, Video, Link, Image and Gallery. The fonts can be changed using 400+ Google Web fonts choices in theme options.
BigFormat – Responsive Fullscreen WordPress Theme
BigFormat is a fullscreen responsive portfolio theme for freelancers, web designers, photographers and videographers alike, built to showcase your work at a large scale.
King Size – fullscreen background
King Size WP is a WordPress version of the top-selling HTML template on Themeforest and it is a really different and interesting pick among the many WordPress Gallery Themes. It is perfect for a variety of purposes, although focused towards Photographers and those using Portfolios to display their past and present work collections. It's another great example of photography website templates.
Viewfinder WordPress gallery theme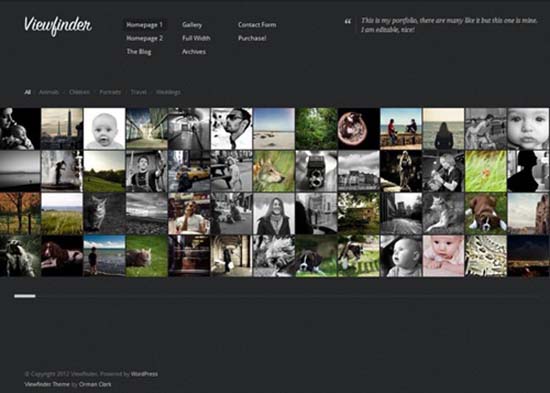 Viewfinder is a photography theme which provides the perfect showcase for your art. There are no gimmicks, nothing that will fall out out fashion, just a timeless design that focuses user's attention on you and your talent – this is how it should be. Coming in two different flavours, light or dark, and with the ability to add an unlimited number of galleries, there's plenty of scope to set this up just the way you want it.
Village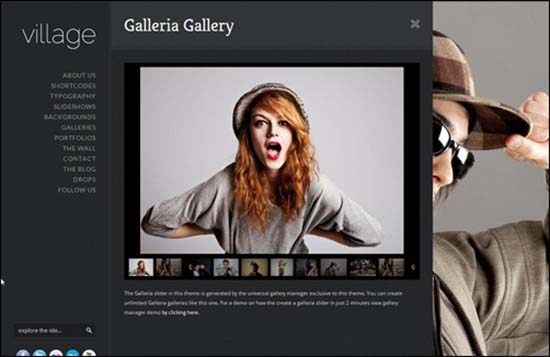 If you love photography or general creativeness and want new interesting ways to display your work then this could be the theme for you. They have WordPress video tutorials that can guide you through how to create everything you need. The theme also has helpful hints throughout to let you know what everything does. If you want to create a unique look you will like that they have included many different modules that are unique to Themeforest, like the interactive query wall, and the floating slideshow navigation with automatic scroll.
Sabuy WordPress Gallery Theme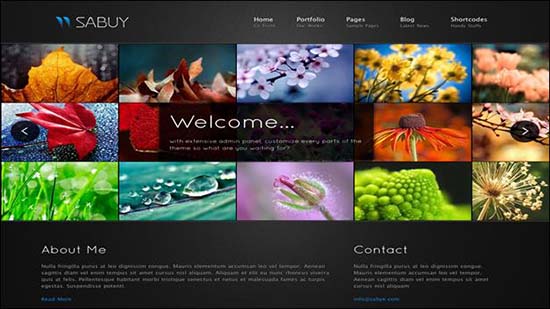 Sabuy is the Premium Portfolio, Photography Template built with latest WordPress features. Custom Post Type, Unlimited Colors and Image Uploader etc.
Flex for WordPress – A WordPress photo theme
Flex is a premium WordPress portfolio theme that's designed specifically for photographers, designers, motion artists, and all creatives to display their work in a slick, grid-based interface. The VGrid plugin used flexes as the browser-size changes, and all projects can be launched via a lightbox (images, galleries, videos, etc.) or a full post-template! With 12 professionally designed styles, and the ability to create your own in mere minutes, the Flex theme is perfect for anyone seeking an image gallery website implemented as a WordPress Gallery Theme.
Expose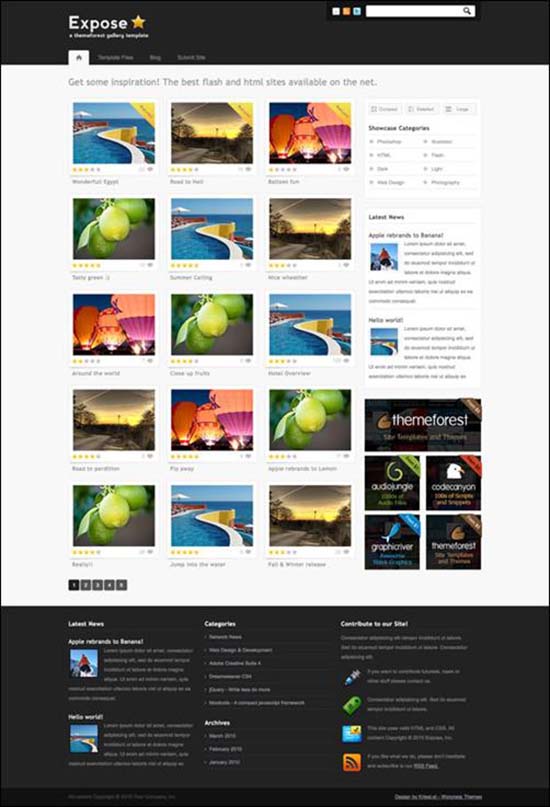 Expose is a CSS and Showcase Gallery WordPress Template best suited for Gallery Sites and personal Portfolios. It comes with 3 Skins, uses custom widgets and shortcodes as well as plugins.
ANAN – For Photography Creative Portfolio
ANAN is a premium portfolio, personal, photography website Templates built with latest WordPress features. Custom Post Type, Unlimited Colors and Image Uploader etc.
PicTree WordPress Gallery Theme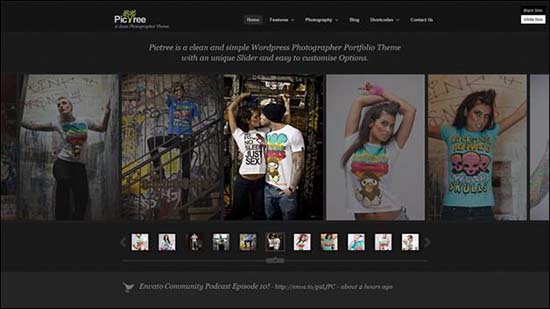 PicTree is a WordPress photo theme with a clean and simple look and feel with focus on your work and talent. It allows you to present your images in a unique and custom Photo Scroller as in the other photography website templates show here. Pictree brings you two different Color Schemes (Black & White), nice shortcodes, easy to use theme options, a custom post type for your Photos and more.
NOVA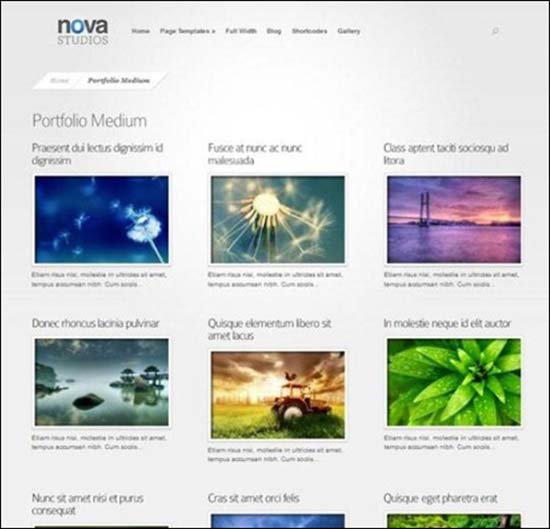 Nova is a sharp, simplistic design that makes for an intuitive user experience. Nova's biggest strength is its homepage, which allows you to organize your content into two areas. The Featured Slider is perhaps the most versatile slider we have built, and comes with multiple slider variations that breath new life into the design.
Locus One Page – WordPress Gallery theme
This is as the name indicates an one page theme and it really stands out visually. It is a single page theme that scrolls when a menu item is clicked. A really unique and interesting WordPress Gallery Theme.
ELIST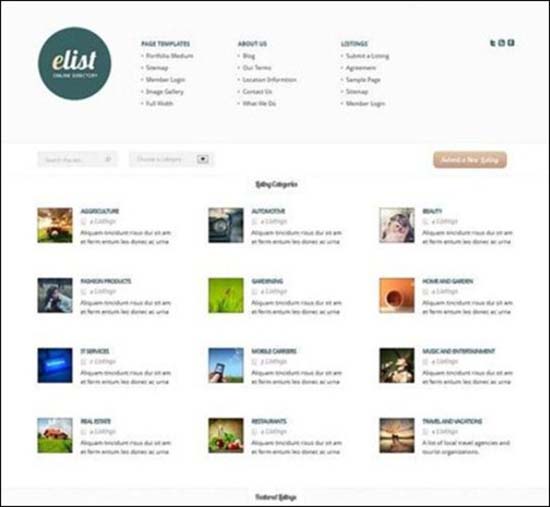 eList is a verstile clean and simple Directory WordPress Theme. Using eList, you can create an online directory of any type, and allow your visitors to submit new listings from the front end. The theme also comes with eCommerce integration, allowing you to charge your visitors for new or featured listings.
Chameleon WordPress Portfolio Theme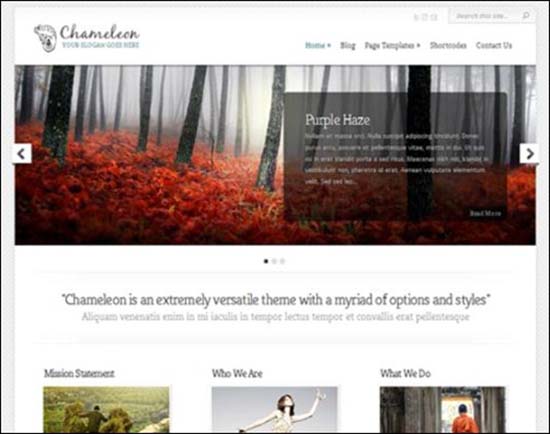 Chameleons are known for their ability to change the color of their skin. The patterns and color combinations you find in chameleons are almost endless, and our new theme is no different! Chameleon was created to be a simple and professional theme with loads of customization options that do not require web development experience to utilize.