9 Awesome jQuery Plugins That You May Not Know About
http://tapahont.info/?p=كيفية-الفوز-في-الخيارات-الثنائية-الآن-أخبار-التداول كيفية الفوز في الخيارات الثنائية الآن أخبار التداول
http://tapahont.info/?p=The-Best-Online-Stock-Trading The Best Online Stock Trading
go Hedge Forex Ea Robot
http://fromvalskitchen.com/?p=What-Is-A-Binary-Option-Trading-Software-Review What Is A Binary Option Trading Software Review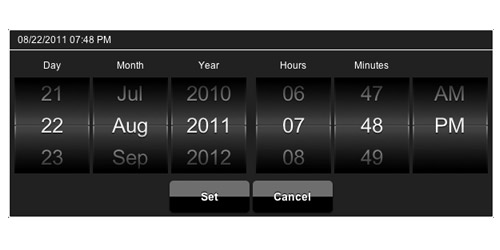 To Download The Obvzigzag2 Indicator Forex
Tested on iOS4, Android 2.2, Android 2.3, Chrome, Safari, Firefox, IE9
Themable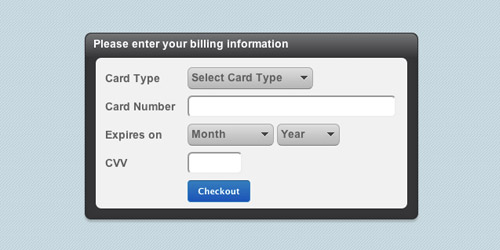 Do you want simple credit card format validation? If so, then use Smart Validate. It is a jQuery credit card validation plugin that makes sure that the user has inputted a valid credit card number before going through the actual transaction.
It supports the following credit cards:
American Express
Master Card
Visa Card
Diners Club
Discover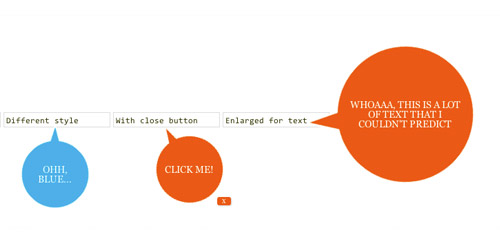 This plugin gives special tooltips without the usual limitations of north/east/south/west positioning. It allows a grumble to be made to rotate around a provided element at any angle, all 360 degrees. Any distance can be determined and any style of CSS can be used. It also boasts an auto-magic size adjustment for using with localised text and FX queues for creating animations of multiple grumbles. It works in IE6+, and modern browsers.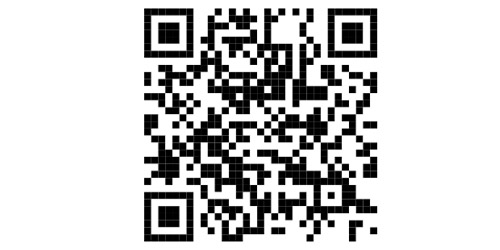 This plugin is for a pure browser qrcode generation. Adding qrcode to your webpages using it is very easy. It's standalone, smaller than 4k after minify+gzip, no picture download. It does not depend on external services that go on/off, or add latency whilst loading. It bases on a library that creates qrcode in various language. jquery.qrcode.js wraps it to make its inclusion in your own code easy and handy.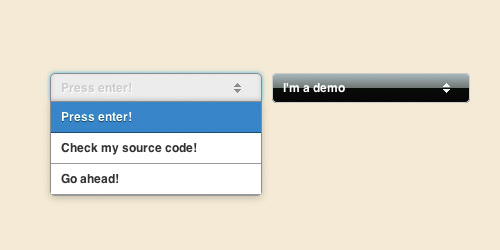 Making custom dropdowns is an irksome and time consuming process that need a lot of extra setup time. Most of the times it lacks amenities that common dropdowns have like keyboard navigation. DropKick makes this task very handy and allows you to focus on making s@#t look good. Degrade back to SELECT list on unsupported browser.
It works on IE7-9, firefox, safari and chrome.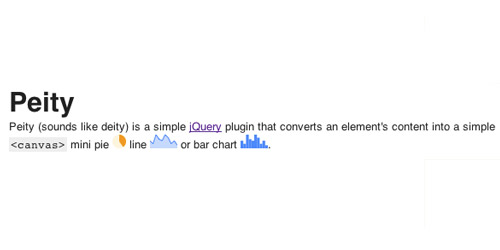 This one is a handy plugin which changes an element's content into a simple < canvas > mini pie, line or bar chart.
Pie Chart, Lie Charts, Bar Charts
Support event
Custom Chart Types
Browser that supports < canvas > only: Chrome, Firefox, IE9, Opera, Safari.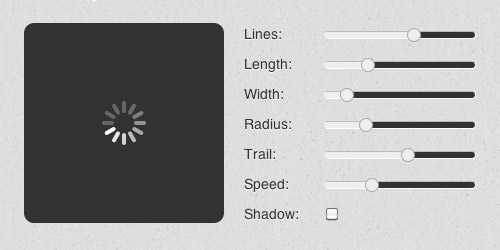 Spin.js utilises the CSS3 to render the UI, falling back to VML Internet Explorer. When a browser supports it, @keyframe rules are applied to animate the spinner.
No pictures, no external CSS
No dependencies
Greatly configurable
Resolution independent
Works in all major browsers, including IE6
Smaller than an animated GIF (3K minified,, 1.7 gzipped)
MIT License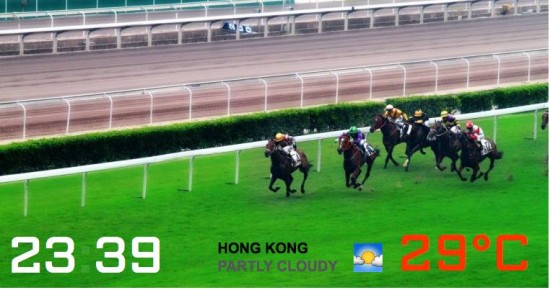 This plugin adds weather for any city in the world. Sometimes you may want to show the weather information of your local city in your page. It makes your page look young and dynamic.