Website visuals: should you use stock photos?
The images you use on your website offer users their first impression of your business, so what you choose is important, even if you choose stock photography. But can stock photos ever give your website the personality that it needs? Only if you choose wisely and build your site strategically. Here are 4 things to consider before putting stock photos on your website.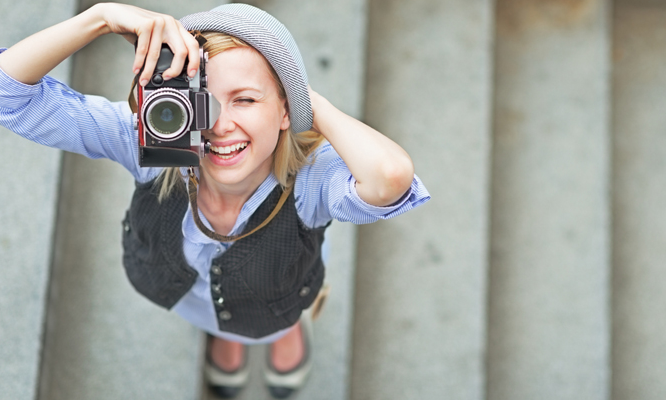 Understand Your Brand
Whether you're building visual content or text, it's important that you approach all of your decisions with a clear understanding of your brand. Do you run an art and design website or another site with a heavy focus on creativity? If your brand is all about the artistic side of things then you can't justify using stock photos on your page – commit the time and create images that are unique to your page. If your site is focused on business strategy or e-learning, on the other hand, stock photos won't hurt or contradict your brand. It's all about knowing who you are.
Work With Variety
Sometimes brands turn to stock photos for generic content. This is completely okay –sometimes generic content is called for. But if your website is going to call on the standard "man holding clipboard" image or "couple in front of menu board," a good strategy is to combine different types of visual media. For example, Start Jobs combines color blocking and illustration alongside stock photos so that those stock visuals can do their job without dominating the page.
You can also add basic features like having a picture fade out when you scroll over it to make your stock photos have more impact. A fade is especially good for stock photos because it draws some of the emphasis away from generic images, rather than towards them.
Consider Skill Gaps
Is there anyone on your team who already has the skills and the technology to produce really striking photos for your website? Depending on your photo subject, this can take a lot of skill and you may need to hire out if you want your images to live up to your expectations. A restaurant site, for example, might need to hire a food stylist in addition to any other photography expenses to take great photos of their food.
When deciding whether to use stock photos, consider what your budget constraints are. If creating pictures you can be proud of is going to put you way over budget, stock photos may be the way to go. Your webpage photos shouldn't put your company in debt.
Know When Specifics Matter
People are important and more than just important, people are unique. This means that you can't just plug a stock photo in when you should be representing actual people who work at your company or live in the community. This is especially important for brick and mortar businesses where your customers will expect to meet the people on your website when they come in for a visit.
Instead, when real people matter, hire a professional photographer to take staff photos, including candid shots or ask staff for their favorite photos of themselves. The diverse and personal pictures on the Astraea Foundation's staff page demonstrate the value of using real images –it's clear from these photos that these are really the people behind the scenes. Help customers build a relationship with your business and spend money to represent real people rather than to license fake ones.
The Place For Stock Photos
Some designers will tell you there's no place on your website for stock photography, but this isn't always the case. Instead of ruling out stock photos from the start, assess your business and determine how stock photos can benefit you and where they're more likely to harm your business' image. But remember – your website is an investment, and that includes the photographs. Invest wisely to gain the greatest benefit from your images, both stock photos and originals.