20 Best Web Services For Monitor Your Websites uptime
As you know that you cannot monitor your website all the time but still for webmasters who are generating revenue from their websites you should to be there as soon as possible to fix things up when there's a downtime. For those who are not making money from their website, there's still a hit on reputation if the site has gone down for hours (or days) and the owner wasn't aware. You could lose visitors, or worst, loyal followers.Fortunately, there are web services that check your website from time to time (whether it's free or paid services). Here is list of various Web Services and Tools to Monitor Website Uptime and Downtime. which could help you a lot to get you revenue raise to a new level.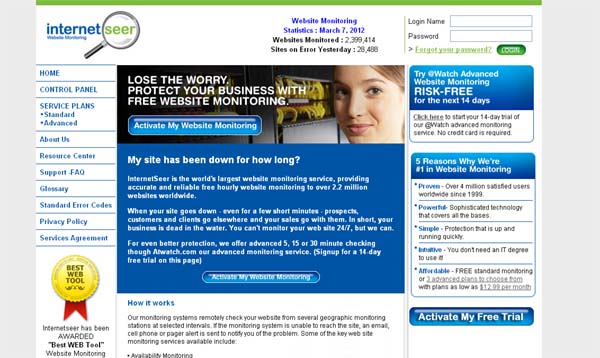 InternetSeer is the world's largest website monitoring service.
When your site goes down – even for a few short minutes – prospects, customers and clients go elsewhere and your sales go with them. In short, your business is dead in the water. You can't monitor your web site 24/7 but this tool could be a help for you.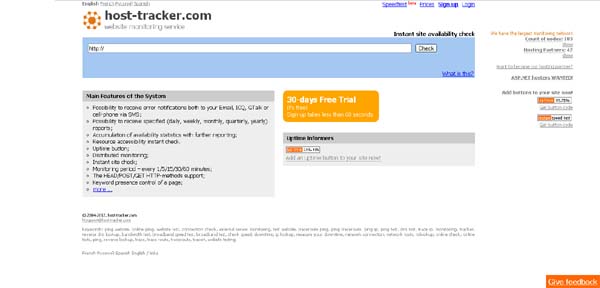 Main Features of the System
Possibility to receive error notifications both to your Email, ICQ, GTalk or cell-phone via SMS
Possibility to receive specified (daily, weekly, monthly, quarterly, yearly) reports
Accumulation of availability statistics with further reporting
Resource accessibility instant check.
For more information click Here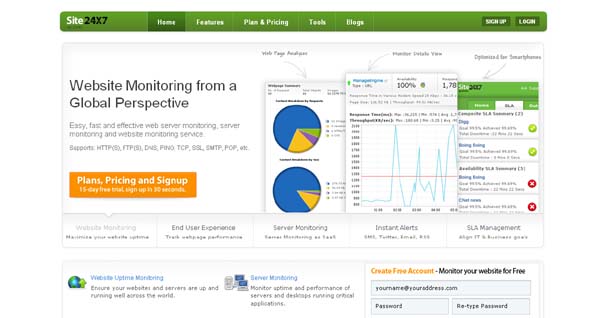 Site24x7 is the easier, faster and more effective way to monitor the uptime and performance of your web sites, online services and servers.
Supports: HTTP(S), FTP(S), DNS, PING, TCP, SSL, SMTP, POP, etc.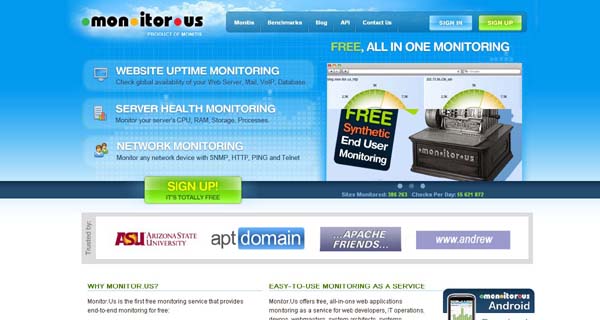 Monitor.Us offers free, all-in-one web applications monitoring as a service for web developers, IT operations, devops, webmasters, system architects, systems administrators, IT managers and small business owners. Since it is a Cloud service, you don't need to maintain an in-house monitoring server, install and configure complex software, or spend your valuable time on maintenance. All together from signup to setup it may take just 3 mins.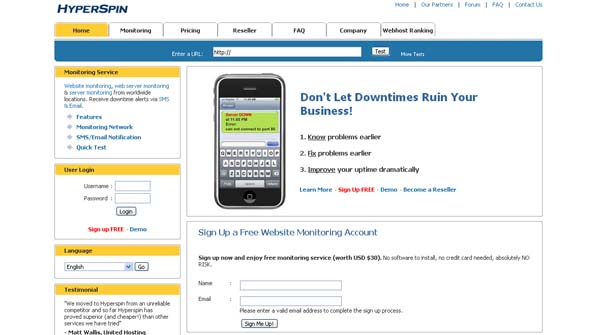 Website monitoring, web server monitoring& server monitoring from worldwide locations. Receive downtime alerts via SMS & Email.
It Features:
24 x 7 x 365 Non-Stop Monitoring
Multi-Protocol Support
Downtime Notification
Add "Live Status Report" to Your Site
And many more .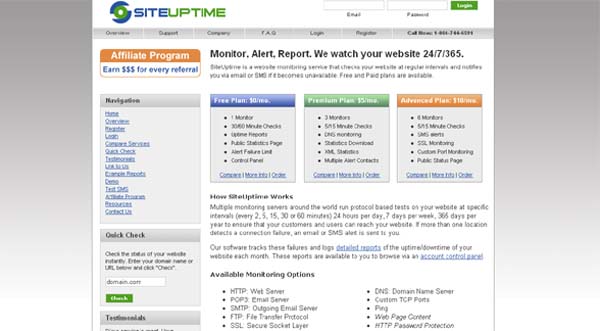 SiteUptime is a website monitoring service that checks your website at regular intervals and notifies you via email or SMS if it becomes unavailable. Free and Paid plans are available.To know about those plans click here
This software tracks these failures and logs detailed reports of the uptime/downtime of your website each month.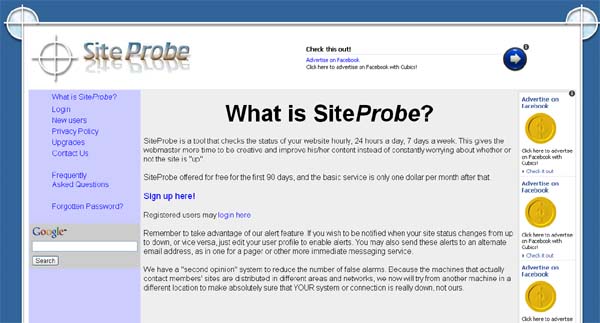 SiteProbe is a tool that checks the status of your website hourly, 24 hours a day, 7 days a week. This gives the webmaster more time to be creative and improve his/her content instead of constantly worrying about whether or not the site is "up".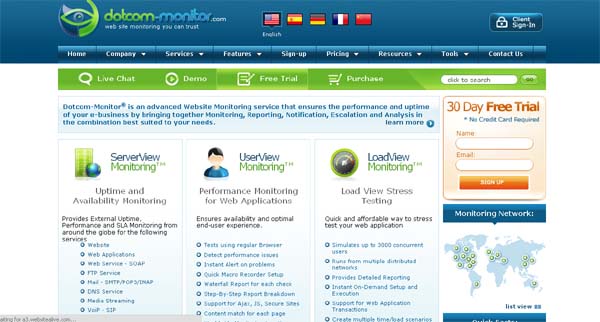 Dotcom-Monitor  ensures you avoid downtime losses and ensure your website performance and uptime with services including:
by bringing together Monitoring, Reports, Alerts, Diagnosis, and in the combination best suited to your needs speeding your Time-to-Repair, which reduces your loss do to downtime.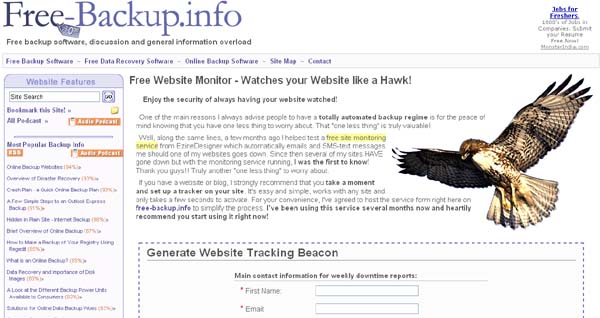 Enjoy the security of always having your website watched! The Protocol Supported is HTTP and this tool gives you alert via SMS, E-Mail.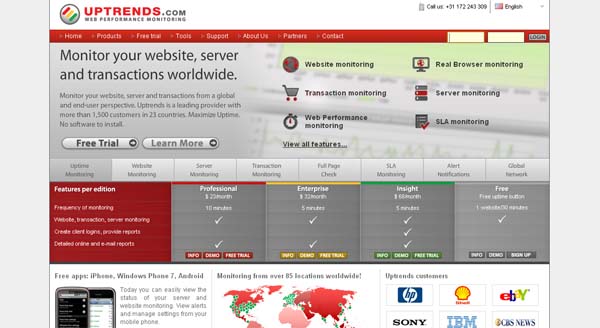 Uptrend Monitor your website, server and transactions from a global and end-user perspective. Uptrends is a leading provider with more than 1,500 customers in 23 countries. Also the good thing is it needs no software to install.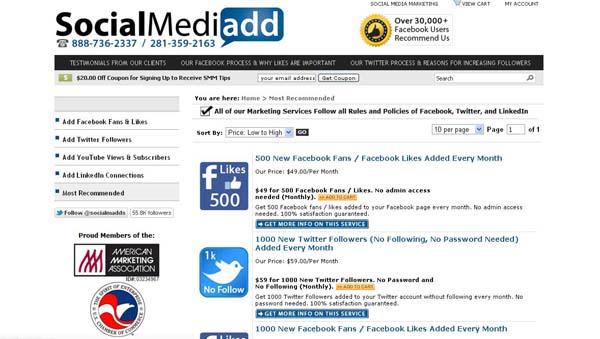 The Killer Web site Monitor is FREE and easy to set up – you can be up and running in less than a minute!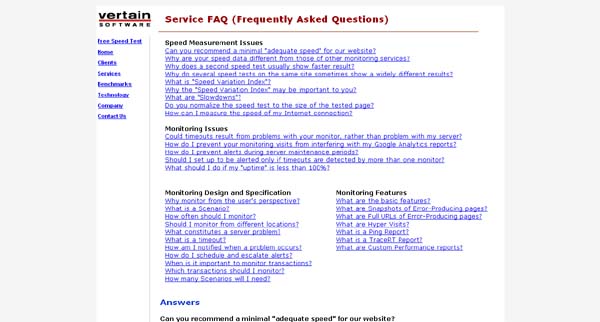 Test your server's speed, and compare it to industry benchmarks.
Set up automatic, repetitive speed tests to track your server's performance over time.
Set up instantly a speed monitor that will show you and/or your users the recent speed performance of your website.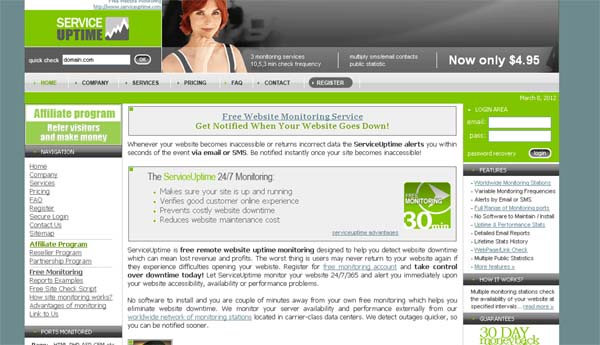 ServiceUptime is free remote website uptime monitoring designed to help you detect website downtime which can mean lost revenue and profits. The worst thing is users may never return to your website again if they experience difficulties opening your webiste. You Can Register here for free monitoring account and take control over downtime.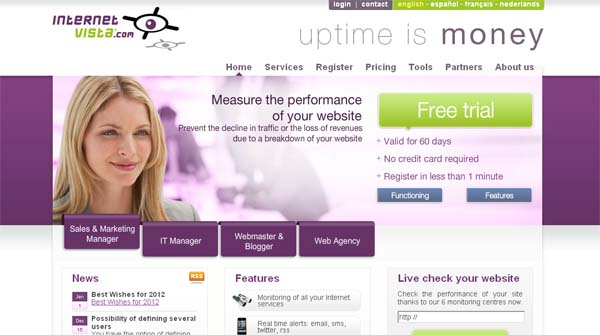 Your website or Internet services may break down, your website may be slow and may thus drive you to competitors services. It is important to be warned of a break down at the earliest possible and have the "metrics" to assess the performance of your web infrastructure.
That is why InternetVista provides you a service, which makes it possible to make your Internet investments profitable and reliable.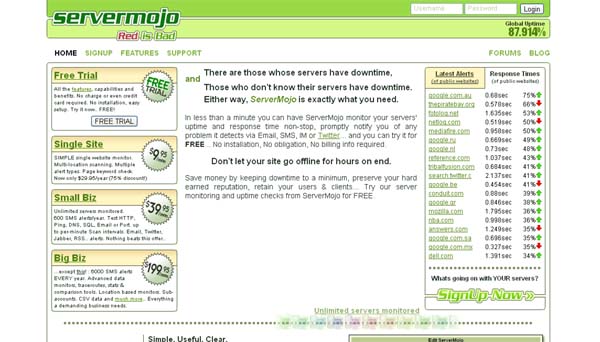 In less than a minute you can have ServerMojo monitor your servers' uptime and response time non-stop. It notifies you of any problem it detects via Email, SMS, IM.
———————————————————————————————————————————————————————————————————–
All the services and Tools above were Categorized as Free. Although There are also some PAID services and tools which can Provide your more features than free . A small List of paid services are given Below with their Links :
AlertSite – Get a comprehensive view of your web site's performance and availability, with detailed breakdowns of DNS resolution, TCP connect, content download, redirect times and more.
WatchMouse – WatchMouse performs all server checks from a customer perspective, thus ensuring that your customers don't experience problems accessing your servers or services.
Pingdom – Monitor your website and servers and let you know right away when anything goes wrong. Get the facts and stay on top of things with Pingdom.
Wormly – Trusted by notable clients like Nokia, SitePoints, etc. Wormly gets you started in less than 10 minutes with price as low as 9.00 monthly.
OpenTracker – Opentracker is a web site tracking tool built for website analysis. Analyze website statistics and monitor visitors online & 'real time'.