10 Useful WordPress Chat Plugins
WordPress is steadily becoming one of the most improving social media platforms in the world today. It started as a humble blog management site, but is now introducing several applications and plugins which are rivaling the features of other social media sites, such as Facebook, YouTube, and Twitter. The most famous WordPress apps are chat plugins. WordPress chat plugins are easy and fun to use. Here is a list of the 10 most useful WP chat plugins available today:

The BumpIn WordPress chat plugin is a special chat widget available to WordPress bloggers. Most experts say that the best feature of the BumpIn plugin is its Multi IM chat capabilities, which allows users to chat using other platforms such as Google Talk, MSN Messenger, Yahoo Messenger, and others more. This great feature can help WordPress users direct traffic into their blogs and sites.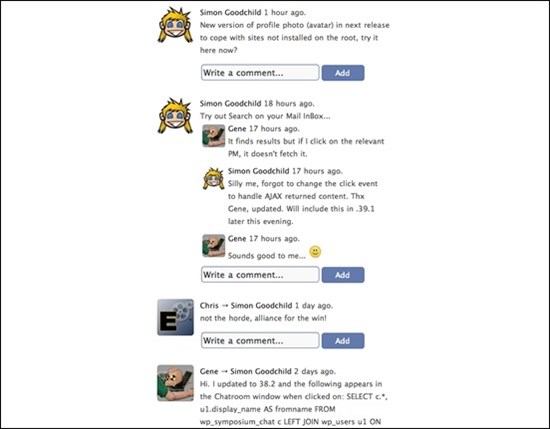 One of the most popular WordPress chat plugins in the world today, the WordPress Symposium turns a regular WordPress website in to a full- featured social networking site. This unique plugin provides a forum, activity wall, member directory, private email, notification panel, chat windows, social widgets, activity alerts, profile page, RSS activity feeds, groups, gallery, events, and mobile support.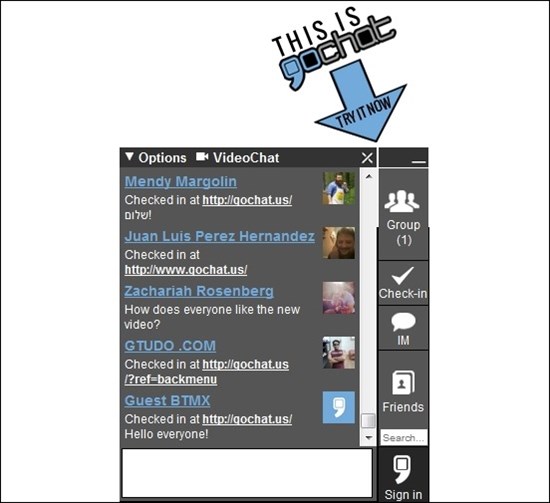 The Go Chat plugin is a simple yet effective plugin available for WordPress users. It simply adds chat, instant messaging, and video chatting to a blog. This is a great app for those bloggers who wish to build a social community among his or her followers and blog visitors.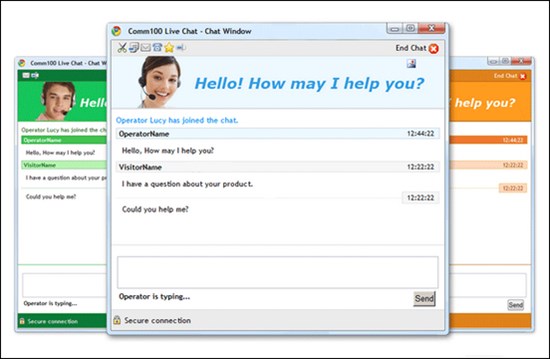 Any list that wishes to feature the best chat plugins will not be complete without having the Comm100 Live Chat on it. This plugin is enterprise- grade live chat software. It enables a great viewing experience for blog visitors. It also has a great live support feature. Through the Comm100 Live Chat app, bloggers can hold live chat sessions through their sites. The system also provides a live chat monitoring code and a live chat button. This is a great chat plugin for professional bloggers who market their products or services via the Internet.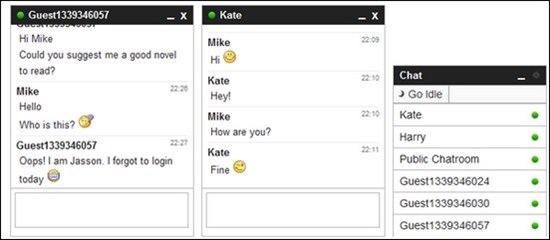 The iFlyChat is another WordPress chat plugin. This sweet app allows visitors to WordPress sites to chat with each other privately or in chat rooms. This is great plugin to use for bloggers who wish to provide online support for the products and services which the site features. The iFlyChat can boost user engagement and activity, as well as visitor activities.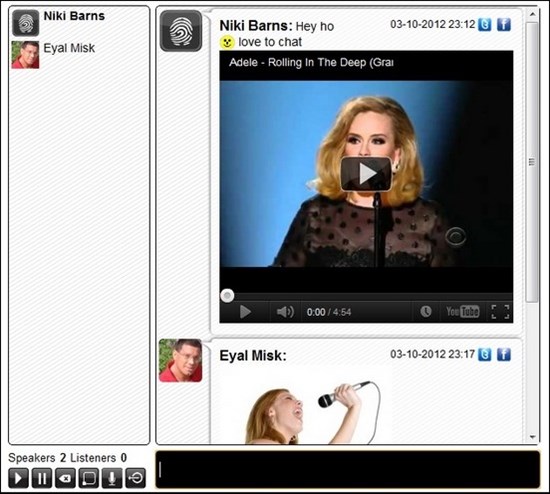 The HTML 5 Online Chat Room Widget is another of the most popular and most useful WP chat plugins. It is a simple chat plugin which does not lack in style and usefulness. Just like the other apps in this list, the HTML 5 Online Chat Room Widget connects the WordPress blog to a chat room, where real-time event visitors can engage in. The HTML 5 is integrated with Facebook and Twitter, providing a quick reference to the accounts of the owner of the blog.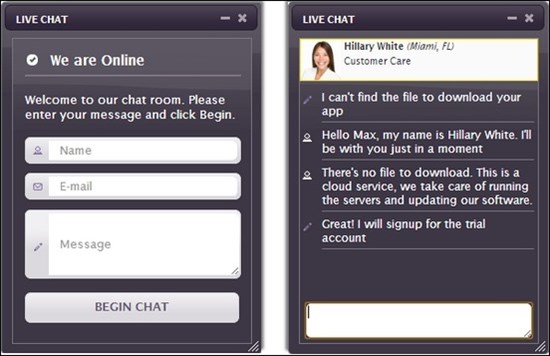 Bloggers can use the FlexyTalk Live Chat to improve the overall appearance and performance of a WP blog site. Many professional bloggers have used the FlexyTalk Live Chat to impress visitors. It also allows a better integration of instant messaging applications and mobile capabilities. This app also does not need any software downloads. Just click it and use it.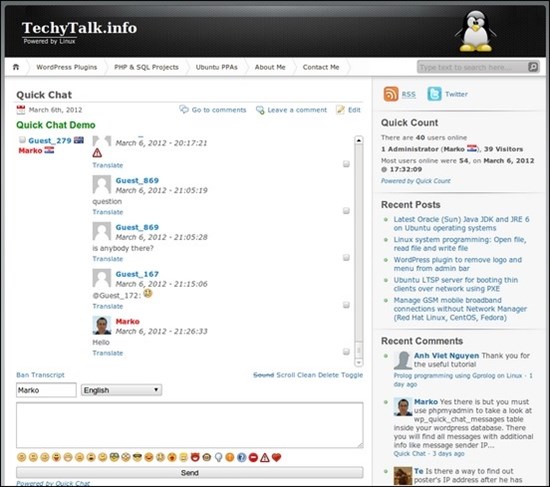 Just like what the name suggests, the Quick Chat plugin is a quick and convenient way to communicate with visitors and integrate other new media platforms with a WordPress account. The Quick Chat is self- hosted by WordPress itself, and supports caching plugins, user list, avatars, chat rooms, emoticons, word filtering, and instant messaging. Because of it being hosted by WP itself, Quick Chat can store chat message into the database of a WordPress account.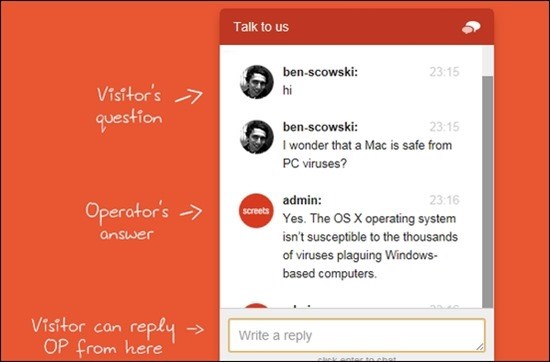 The WordPress Quack Live Chat plugin is like the jack- of- all- trades of the chat- plugin world. It contains most of the available features from other chat apps, but it is the only plugin which supports direct transmission and diversion of chat texts into a smartphone. It also integrates easily into any website and mobile system provider. A personal Quack Chat account can be accessed anywhere as long as there is an Internet connection.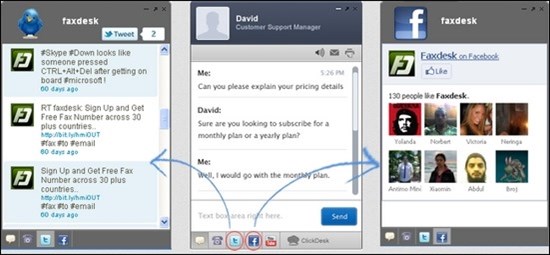 We are definitely saving the best for last! The Clickdesk Live Support is considered by many WordPress bloggers as the best and most useful chat plugin available in the WordPress platform. It has many titles and recognition under its name. Makeuseof.com named it one of the best 40 plugins of all- time, and WPmayor.com stated that this is the best live chat plugin for WordPress. The Clickdesk Live Support plugin is like an extension of your favorite social media platform in the WP world. It is easy to use and simple to configure and operate. It features ton of options which make it the most flexible and best- packaged plugin among its peers and rivals. It can do all things that other plugins can use, and at the same time, simplifying its configurations.