Web Hosting Hub Provides Easy Way To Create Websites Plus Hosting Online
Blogs have grown since I started blogging. It has continues to grow at a very strong pace. In recent times, Blogs has been creating on daily basis. There are a lot of ideas for your small business or personal experience. Putting them online and being discovered by more people.

Is it simple to make a website or blog? Yes and there are free blogging websites platforms like WordPress and bloggers which let you setup a blog or website in 5 minutes or less. There are many limitations to make your blog them in those free services, You can make as professional even I had a bad experience in terms of SEO. You cannot best to choose keywords in blogger interface. However, what if you are looking for a professionally created website on your own domain? Asking this question to people always evoke mixed reactions because they are often worried about hosting their own site and creating their own pages along with bandwidth and web space which are required to run a website.
There would be a problem for many people to create or run their own personal or business website because of the cost concerned in setting it up and maintaining it. However, the world has moved advance and there are services which give users with reasonable hosting services and domain.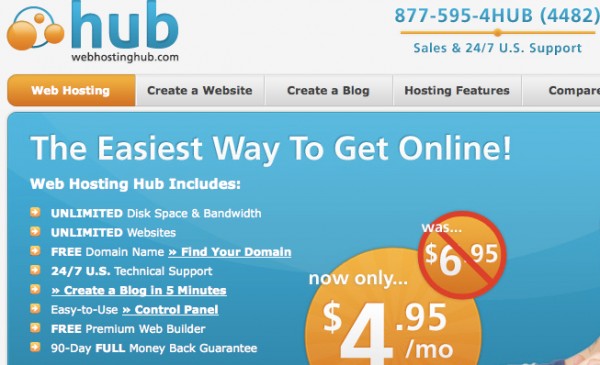 I have seen many hosting + blogs website around internet. I found Web Hosting Hub one of the qualities US based company that provide amazing features for clients. If you are looking to set up a personal- or small online business website, then this host might be the ideal choice for you. Worth mentioning is their WordPress best hosting and cPanel hosting. It's all being offered at a very reasonably priced.
Features of WebHostingHub
Unlimited Disk Space
Unlimited Bandwidth
Unlimited Websites
Free Domain Registration or Transfer
Free Blogging Software
Free Premium Website Builder
Easy-to-Use Control Panel
24/7 Top U.S. Technical Support
90 Day Full Money Back Guarantee
Unlimited MYSQL Databases
Try Web Hosting Hub