TryMyApps launched its android app for making money with Android devices
Are you looking for a quick way to easily earn extra money? Have you heard that you can get paid only by downloading and installing various applications on your phones? Yes, it's true and all you need to have is a smartphone. One of the companies offering such possibility is TryMyApps. Last year they launched an application for iOS users and this year they finally delighted and Android fans as well.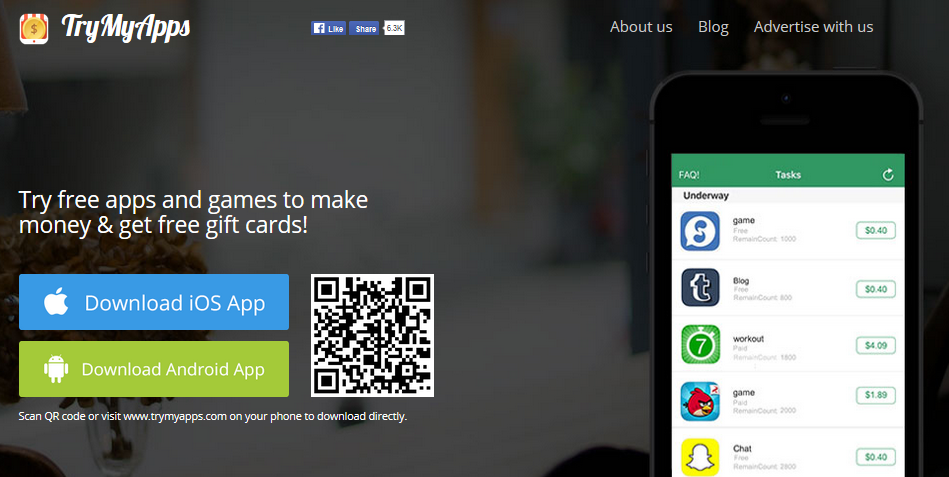 If you haven't heard about them yet, TryMyApps is a company dedicated offering people a chance to make money online and get paid apps for free. The application is very popular among iOS users, so developers decided to offer the ability to earn money for Android users as well. If you were using TryMyApps on your iPhone, then you might find it quite different from Android version, but all the differences are just to make the user experience even better. This new version has some new improvements, which allows you to earn even more money:
-Android version provides you with more offers
-You'll get your first reward as soon as you download TryMyApps and open it
-After completing the task, you will get a certain amount of points which later could be used to buy various gift cards or just receive a money transfer to your Paypal
-You can choose from more than 14 kinds of different gift cards (Google Play, Xbox, Amazon, Skype, etc)
How the app works
Are you already getting interested into this app? Let's get you through the steps of using this TryMyApps Android version:
1. Take your phone and open internet browser. Visit www.trymyapps.com and download an Android version of the app.
2. After that, install the application to your phone and open it. As soon as you open TryMyApps app you will automatically receive 100 points reward.
3. If you have an invitation code, then go to 'Share' section and enter that code to get another 100 points as a reward.
4. Once you are finished, you can start earning money. Go to 'EARN' page where you will see a list of free apps and a number of points you can get from each of them. Select the one you like and download. Install the application on your phone and open it. After that, return to TryMyApps where you will see a pop-up and the reward points will be added to your account.
5. Once you have enough points, go to 'REDEEM' page where you can order various types of gift cards or just ask for money transfer through Paypal or Alipay.
6. Do you want to earn even more points? Share your invitation code with your friends. You will get extra 100 points for each person that will register with your invite code.
So, as you see TryMyApps is a very simple application to use. And what is even better, you have access to use many paid Android apps for free. And, by doing that you also earn money. How cool is that? So, do not hesitate and give it a try for yourself.