Samsung Galaxy S7 transfer tool – Wondershare MobileGo
Looking at the characteristics of Samsung Galaxy S7 Transfer tool, and it is safe to say that the manufacturers of Samsung have now openly challenged the dominance of iPhone in the world market. In the shape of S7, they have introduced a phone that has a better battery time, good overall performance, and a better design than any of its predecessors and most of its competitors.
Therefore, if we compare it with the likes of iPhone 6S, LG G5, and Google Nexus 6P, Samsung Galaxy S7 comes out on the first spot in all the aspects.
Looking at the features which give the S7 an edge over its competitors and its camera brilliance comes to the fore. While you might tell me that it has fewer MP than S6 – which is a fact, the Camera of S7 gives clearer and better photos even in low light scenes. The Autofocus mode which takes brilliant pictures of moving objects is also a winner.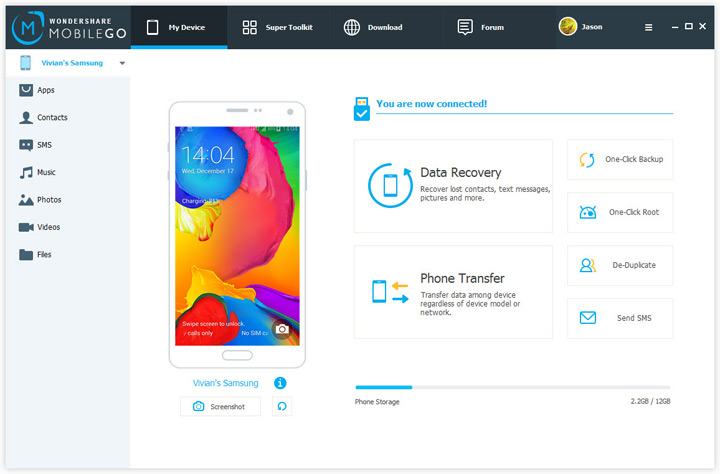 In addition, while the photos taken by the S7 Camera stand out in its own gallery, they also remain brilliant even in an enlarged version on your PC. Thus, no matter what the resolution, the Camera photos of S7 stand out.
What is Wondershare MobileGo
In case you're an android user, it is more than likely that you would have heard about this app. With more than a million downloads under its belt, the Wondershare MobileGo is a darling of Android phones.
Although it performs many functions i.e. optimizing your phone, cleaning the junk files, and boosting its speed, the function that is the most important in the case of Samsung Galaxy S7 is the phone transfer function.
Now that we have seen what Wondershare MobileGo is, let's move a step forward and take a look at some of the important functions of this app. While this app is available for all types of Android, our main focus is on the Samsung Galaxy S7.
Let's take a look at some of the functions of the Wondershare MobileGo Application that makes it a darling for every S7.
Rooting and Wondershare MobileGo – a match made in heaven
Before I tell you the necessary steps for rooting, please take under consideration some of the prerequisites for rooting. First, as long as you're using the MobileGo App for rooting, make sure that you have prepared a backup of your android, secondly, make sure that the battery is fully charged.
Now, make sure that your device is connected to the PC. There, a window of MobileGo will appear with all the necessary credentials. There, you will get an option of "One Click Root". Simply click on it and the rooting process will begin. Make sure that as long as this process of rooting isn't complete; don't disconnect your device from the PC.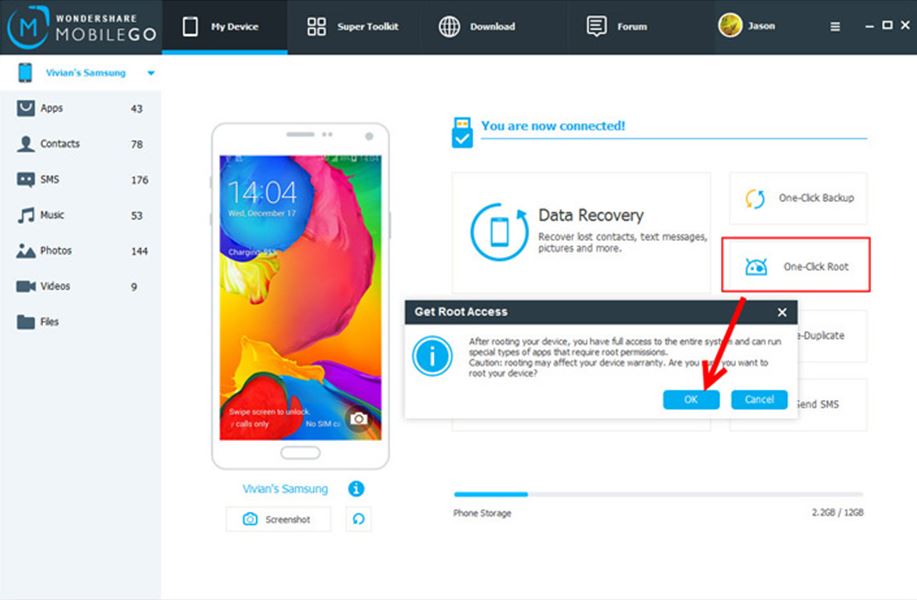 If you want to know in details about how to root your Galaxy S7, click here for the video tutorial.
How to transfer Music from Computer to S7 using Wondershare MobileGo
While there are  numerous apps that will give you this utility, only a few of them will allow you the freedom which is given to you by the Wondershare MobileGo.
As you will see yourself, this app not only transfers music from your computer to Samsung Galaxy S7 – in addition to doing the same from one phone to another, this app also has an inbuilt Compatibility checker. As suggested by its name, the compatibility checker will check whether the music will play on your phone or not. If the answer to the above question is not in affirmative, it will transform the Music to Mp3 format.
Below mentioned are the steps that you need to follow in order to transfer the music …
–          Click on the "Music" menu that is evident in the left column
–          Click on "Add" menu after which you'll be asked whether you want to "Add file" or "Add folder". Make your choice as per your requirement
–          The aforementioned step will lead you to a browser window. Here, select the songs that you want to transfer by right clicking on the "Music To Save".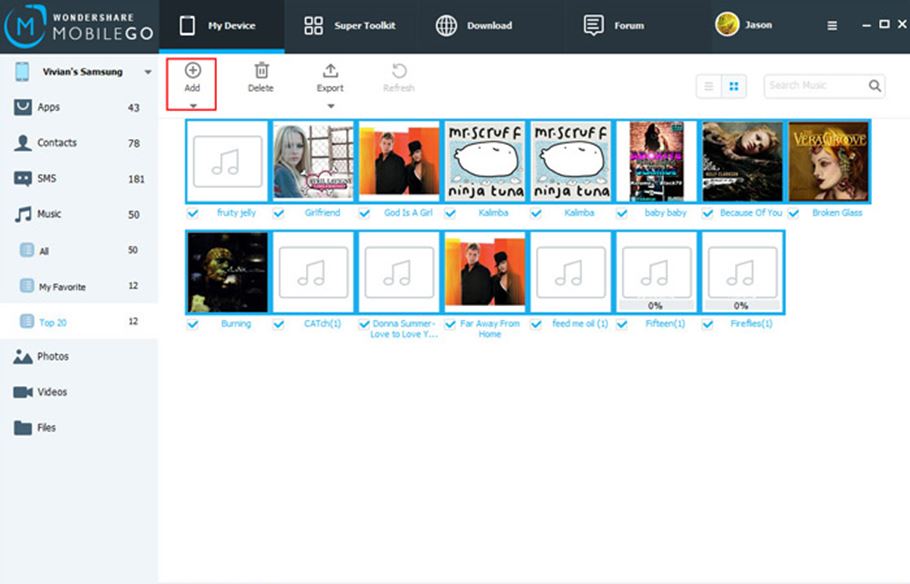 We all know that, not all music files that are present on our computer cannot be played on our Android. However, if you come across such a situation while using a Wondershare MobileGo App, don't worry as this app has got you covered.
During the process of transferring music from your computer, this app will detect whether it is compatible or not.
In case, if the music isn't compatible, this app will give you the option of converting that into the MP3 Format that is optimized for S7. Click "convert" and you are good to go.
How to transfer Data from One Phone to Another via MobileGo App
In case that you aren't satisfied with the Music transfer function of MobileGo, allow me to present you another brilliant function of this app. This function of data transfer won't only transfer the files and folders, but the likes of Videos, Contacts, Saved Emails will be also under its jurisdiction. In other words, you could transfer all of them via the MobileGo App.
It is an inbuilt function of MobileGo that every time its devices are connected to a nearby computer, there appears a window in the center of the screen. In that window, your contacts, messages, videos, photos and every other file will be displayed.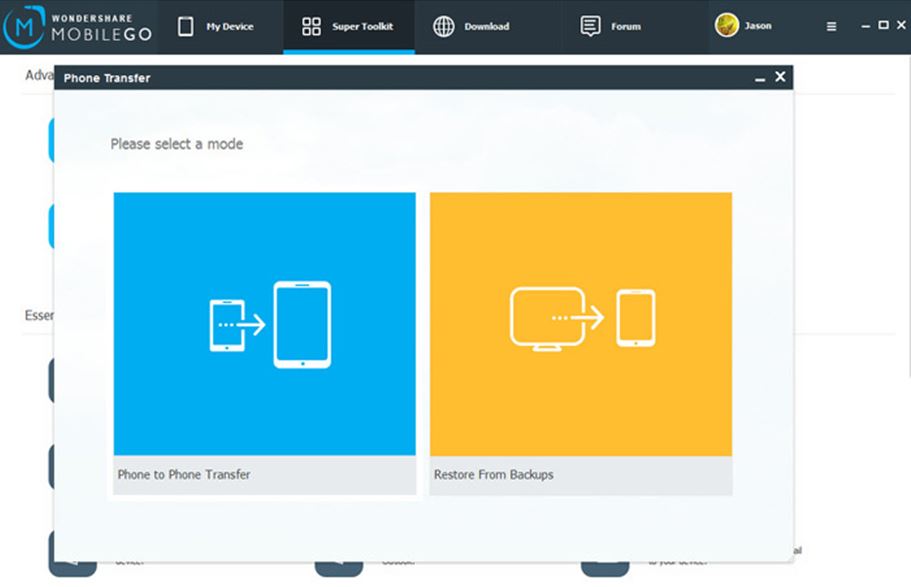 Now, as you do in your phone while transferring an app from an SD card to the Internal Memory, you need to tick all the boxes that you want to transfer.
Once you have made sure that nothing is left behind, simply click "Start Copy" and let MobileGo take care of the rest.
One thing which you shouldn't do during the transfer is to disconnect your phone from the PC. The only disconnect after the data is transferred – it will be indicated by MobileGo.
If you believe that several of your important files are located in an Online Cloud, you need to connect with that cloud before transferring those files to the destination.
How to Restore Data from Backups
Even after you have imported in your computer the data and the music, there is no guarantee that it will remain safe. As in this time and age, the malware attacks have ruined our privacy. The most feasible step of protecting your important files from such malware attacks is through backup.
Even if you have made the backup on a different device, the MobileGo App lets you recall your important files in just a few clicks. Thus, be it the files, folders or Necessary Documents, you could restore data from all of your backups with the MobileGo App.
In transferring the data, the first step is to launch the Wondershare MobileGo on your PC. There, click on the "Super Toolkit tab". Under the menu bar of the advanced section, click on the "phone transfer" and then on "Restore on Backups".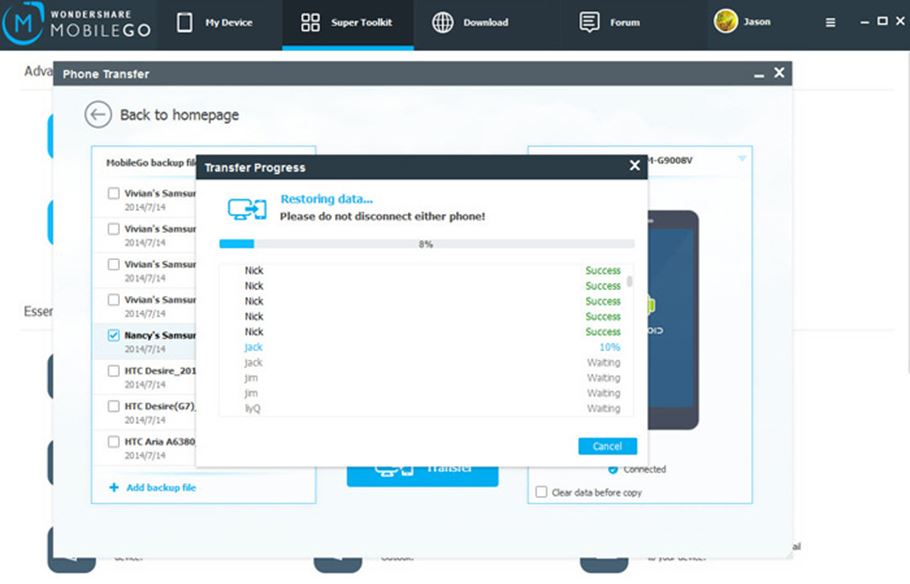 Here, you'll be asked to specify the backup type. After making sure that you have ticked the box of your backup, connect your phone and then follow the steps to copy the backup to your Samsung S7 Galaxy.
Conclusion
As evident from the aforementioned arguments, it is easy to suggest that the Wondershare MobileGo App is a must-have for your Samsung Galaxy S7.