Invoicera Giveaway: Win 5 Classic Subscriptions To Enjoy Painless Invoicing
For this week's giveaway, the team at Invoicera is going to make invoicing a lot easier for 5 lucky winners.  Smashinghub.com is collaboration with Invoicera is giving away 6-months classic plan subscription valued at $56.12 for free to each of 5 lucky winners. So, hurry up and grab this exciting offer now by simply participating in this contest.
Get To Know More about Invoicera
For those who are not familiar with Invoicera, we would like to provide you the information that would help you to make a decision. Invoicera is an online Invoicing and billing application designed exclusively to make online invoicing a simple and uncomplicated process. Invoicera is an effortless and incredibly easy to use invoicing app that is well priced and offers a splendid interface with a solid collection of most hunted features by all businesses. It's definitely an application you should give a try if you are in the market for a web-based invoicing and billing application.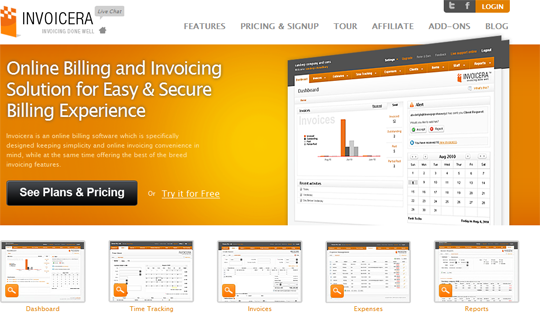 Some of its Brilliant Features are:
Multiple languages and currency support: It helps in creating and sending invoices to your clients in their respective currency and language. Invoices in 11 languages can be created for your individual clients from all across the world. This will make your clients comfortable with meaningful and accurate invoices.
Multiple payment gateways: With Invoicera, this will let your clients pay through PayPal, Authorize.net, Google Checkout and various other popular online payment gateways giving you convenient options. There are 20 global payment gateways supported by Invoicera, which gives the customers a privilege to select their compatible way of payment.
Time tracking: Time tracking solution is amazing. It helps you to keep a track of time spent on each specific project and lets you keep a frequent check on every task performed. This ensures how your work is progressing regardless of time boundaries.
Expense tracking: To keep a track of all your projects expenses effortlessly and accurately, Invoicera provides expense tracking .In invoice, the entire expenses of your specific project will be added to allow you to get paid in full. By importing your expenses in your Invoicera's account, you will be able to know about your business profitability and whether it is up to date or not.
Customized Invoice Template: To make sure your business identity is reflected and represented through the invoices received by your clients, professionally multiple designed templates have been provided. For those who are not that much technically sound to customize their template, for those Invoicera has come up with a Template Customization Service, with which you can get your invoice/estimate template customized by their experts as per your requirements.
Invoicera with Google apps: If you are a user of Google apps, then using Invoicera will create many benefits here. The application can easily be accessed through Google apps with single sign in process and further utilizing Invoicera with single Google sub-domain.
Invoice Scheduling: Scheduling of your invoice to be sent on specific date and time can be carved out. It would be sent automatically on the set date & time without any complexity. This will make your workload lighter.
Late fees Payment: Invoicera gives you the option to charge late fees from the defaulters. It is just one click away and you can add late fee charges in the invoice and get paid in either percentage terms or in a fixed amount
Customer Support: This is another advantage of using Invoicera for an Invoicing service. Invoicera provides proper support and backup wherever their client requires. You also know the importance of providing efficient backup to your clients so as to make a long-term relation with them and Invoicera is best at this thing.
Referral Program: With Invoicera's Referral Program, you can earn 25% recurring commission  for life time by simply getting your friends or to your business contacts to sign up for the Invoicera's paid subscription.
Try Out Invoicera
You can demo Invoicera by signing up for their 30-day free trial. No sign up fees and no credit card required.30-Day Money back Guarantee on All Accounts
Join this Contest by Following These Simple Steps:
Simply leave a comment answering at least one of the two questions:
1. What features of Invoicera are you most excited about?
2. Why would you recommend Invoicera to others?
Tweet about this contest or share about it in your Facebook wall. Also mention the link of your twitter or Facebook share in the comment
Share our Facebook page and Twitter Account among your friends and community.
This giveaway contest will commence from 23th May 2011 and will end on 28th May 2011
5 Lucky Winners will be selected randomly and will be announced on 30th May 2011