Instant Searching Domains with PCNames.com
There are many factors that go into your success. If you're finding to formulate any kind of impact online, one of these serious factors is having the right domain name. It is very important to choose right idea and directly reflective of your brand. From my experience, choosing a right domain is vital of first step of success. It has to be available. That last part can be principally challenging.
Let me introduce you the remarkably and simply online PCNames.com that could prove to be one of the most useful utilities among your online arsenal.
How you save your time with PCName.com
When you have planned to choose domain for registers, you will find a search box. You need to enter your desire domain name and, hit for key and wait for the results. Time is money and the more time you can save the better.
Why should you prefer the PCNames.com one of the feature is the domain name search, the results are actually shown to you immediately. I like PCName.com search pattern. Its works like same way of Google introduce recently. You don't hit enter to get your results. After a two-second pause, the results are displays to you on the same screen. This can assist to save you some costly time. After that two-second pause, it would shown results whether your preferred domain name is available with a series of different TLDs, including .com, .net, info, .biz, .us, .org, ., .mobi, and .name.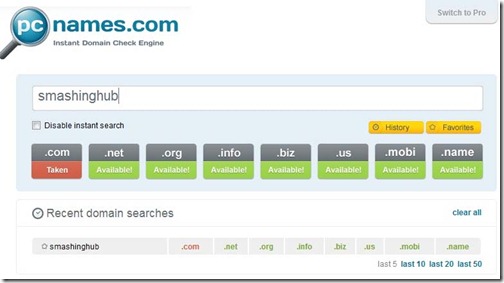 Results shown in color-coded tell you whether the domain is available for regular registration, available for purchase, or not available. Like, I searched my own domain smashinghub. You can see the colors and different with an instant searching feature. PCNames also maintains your history and allows you to save favorites.
Another feature of Domain Generator, that is there to help you generate domain names. You enter the idea of keyword that you'd like to use and it will display a few alternatives that make use of your keyword, each of which shown with the different TLD possibilities and availability.
I like an another feature of , "Your domain search results are not shared with 3-rd parties. However, we keep history of your recent domain searches and favorite domain picks so you can easily follow up on all the important search results".