Get an Online Shop Instantly At Wazala
A lot of open source and free Ecommerce solutions are present out there. Some self-hosted solutions compete with some famous remotely hosted cloud based solutions. So there are a lot of them to choose from, and once established you can also earn good money by selling digital and physical goods.
The thing that every not very tech friendly person should do is to refrain from such an eCommerce solution that requires a lot of coding to customize the store. Now that is where Wazala comes to help.
Wazala gives any site/blog an online storefront and shopping cart in only 15 minutes!
Overview
Wazala is a web app that lets you make easy to use online stores that you can integrate into your website/blog written in any language or hosted in any platform.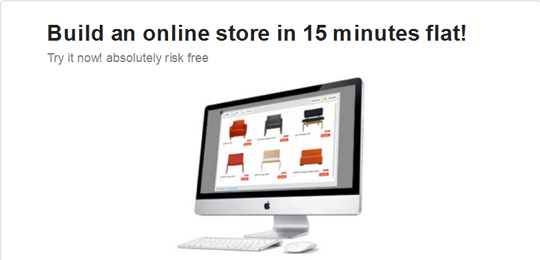 Getting an online store is easier than ever — without being a programmer or knowing HTML or CSS!
Hosting of the shop and products will done on Wazala servers for fast access and simple integration with any kind of site. Signing up options couldn't be easier and you can even sign up with your Facebook, Yahoo or Gmail accounts
Pricing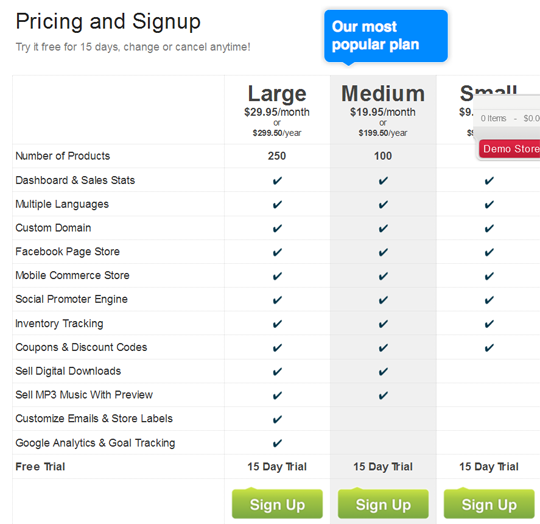 It boasts a free plan and three premium plans too. In the free plan you can have maximum five products in the store. In the premium plan you have the choice to keep more products in the store in a variety of categories, support for digital downloads and inventory tracking etc.
No additional charges are there and you have to pay only the monthly subscription fee. But remember one thing that you will still need to pay the transaction fee to the payment processor like Paypal.
Although you can sign up for a 15 day full featured trial for the premium plans, but for that, submitting your credit card information is a must. You will not have to pay anything for that trial and canceling the account before the free trial period ends is possible.
Store Manager
While signing up you will be required to pick a domain name and the kind of the store based on the products you want to sell online. After you are done with all this and link emailed is activated, you will be taken to the account details page. On this page you will see basic information like the account access URL, integration intio Yahoo and Facebook accounts and integration with the Facebook app etc.
Customizing the store is possible from the Store tab. Customization of the company logo, the background picture, an color profile of your choice and left and right labels can be done from here. It also provides you with option to choose a royalty free Creative Commons picture from Flickr that can be used as the background. All you have to do is to just choose a picture from the Flickr widget in this page and voila, you have a custom background!
Adding a Product
You can add products from a sign up page like form. After you are done with adding the products with their description, you can then add keywords for SEO, pictures of the product, price, tax structure and shipping information etc. Free account gives you the options to add a upto 9 pictures per product.
If you have a paid account then you can enable digital downloads, create coupons and track inventory from this same page.
Store Options
Store options tab is very important to maintain the online shop viable. Adding ways of payment can be done from here. It also has the store currency options. Many international currencies are supported but keep in mind that selecting some currencies can disable access to some payment gateways.
You also have options of limiting the geographical locations to where shipping of the goods is done. If the country you live in has rules like charging customers for VAT or sales tax, then you can set those from this tab too. You can also set up custom pages to show the Terms & Conditions or a disclaimer.
Store Widget
After you are done with adding the goods, now you are on the stage where you can integrate the cart to your site/blog. Wazala will provide you with a code and easy directions of pasting the code at the right place to get the shop online. You can also preview the shop with all the goods before it goes online from here.
Once you have pasted the code right, a red tab named Store will be displayed on top of the page. This tab is a really good move from Wazala, because it never clashes with the site design and does not alter the file structure that may cause some problems to the site.
When you click on the tab, it will open up a window that displays all the goods with pictures and price information.
If you don't have a site/blog you can still have an online store! That is possible as you can use the Wazala URL made in the first step as a full fledged online store. Awesome, right?
Final Thoughts
Wazala is a great web app as it is really handy and making an online store is really easy. Just add a simple code snippet to your site/blog and your store is ready! One of the best feature of Wazala is that it does not redirect customers to pages for completion of the purchase. Wazala becomes and works as a part of your site/blog.
Wazala displays the online shop as an overlay, but some customers may not like this. Customers are accustomed to see the traditional online store page and this hovering window may be mistaken for a pop up. But one thing that is clear is that Wazala is one of the easiest way of creating an online store that look amazing.