Dreamhost giveaway – 10 lucky winners to go away with one year hosting
Smashinghub is proud to partner with Dreamhost to bring this terrfic free hosting giveaway. We are giving away 10 free accounts with 1 year hosting worth $8.95 per month. It is the best way to save some money off your hosting so do participate and spread the word!  Dreamhost has grown in the past 10 years from strength to strength. Do you know that it was first started by a group of four Computer Science undergraduates at Harvey Mudd College in Claremont with no capital? It is a classic startup story that you should read on if you are not familar with Dreamhost's history.
Currently, Dreamhost is a major player in the hosting space and are servicing a million domains. That is quite an achievement. In fact, we have featured Dreamhost as one of the top ten web hosting companies in our past article.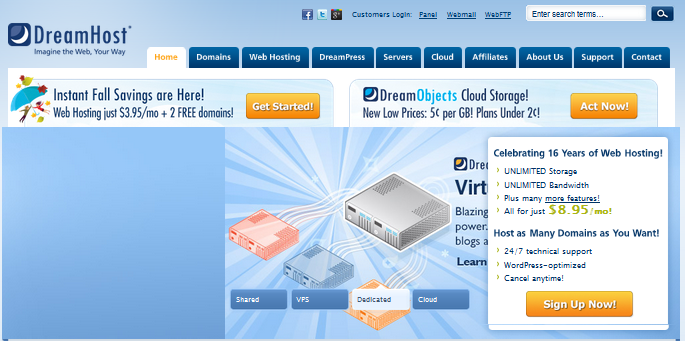 Go green with dreamhost
One of the distinguish feature of Dreamhost is its commitment to protecting the environment. The company has taken steps to improve its energy usage so as to reduce the carbon emission of its data servers. It has also purchase energy credits to offset its own carbon emission. If you care about the environment, you can do your part by supporting a company that is committed to such a cause.
Excellent customer communications
One of the reasons we picked Dreamhost as one of the top ten web hosting companies is its customer support. It has a range of channels where you can articulate your problems or simply voiced your feedback. Be it through twitter or email or facebook or even forums, Dreamhost wants to hear from every customer so make sure that it delivers what is needed. This is one of the most important feature for a web hosting company and Dreamhost has it in spades.
Prize Details
Win 10 DreamHost yearly hosting accounts.
How to join the giveaway
Simply join the widget below to participate in the giveaway.
Good luck to all!
Note – This campaign runs across 5 blogs and winners will be selected across the campaign with equal number of odds for each blog.