Dolphin 7 — The World's Most Advanced Free Community Software
Dolphin 7 is a software package for creating social networks and niche communities. It is open-source, downloadable, scalable, customizable, full-featured and independent! It is the one and only 'all-in-one' package of PHP community scripts, Flash plugins, Adobe AIR and Mobile apps that give you complete control, freedom and tractability. All you have to do is launch your website, customize it and then lay back and watch it grow!
What is its price?
Free!
All the software tools/features you require to create the community site of your dreams.
Dolphin 7 has all in one package of networking scripts.  Facebook, YouTube, Flickr, Plentyoffish, Match, WordPress and Twitter all there in one package and under your full control! Worried about apps and modules? Then don't be, as it provides you Video chat, video messenger, players, iPhone app, Android App, Adobe AIR desktop app, groups, events, blogs, files, media sharing, store and a lot more.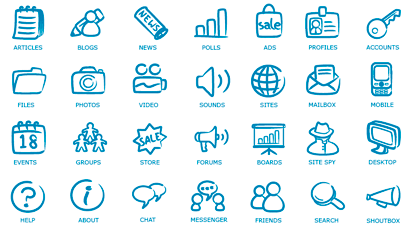 An open source code. Full freedom of building.
Who likes limits? Well, no one. So Dolphin 7 understands what you need and provides you the best way to add or integrate custom designs and features as it has unencrypted PHP source code! So do whatever you want to do with your site.
Software that grows with your site.
Now the big question. What will happen when your site grows to millions of member? Will BoonEx Dolphin be able to handle it? Well here are the answers:
1. Dolphin is scalable, quick and tried on tens of thousands of online communities and Create a social networks.
2. BoonEx has specialized exclusively in social networking and online dating software for over 10 years!
3. You are backed up by a selection of hundreds of extensions and a community of over hundred thousand webmasters.
4. We keep updating constantly Dolphin, being a few steps ahead of the competition.
"In the past, I've tried and worked with several social Web app projects. When I saw what Boonex was doing, it took me only a few hours to realize that I had found the foundation framework, not only for my own work but also for my clients. Think about it – Dolphin is a killer combination, and it's all automatic baby! It is awesome. But most of all, I think BoonEx product are so far ahead of the ones I've tried. To date, there is nothing that I've seen that comes close to what BoonEx has done. (James Tadeo)"
Customizable database fields and forms. Drag-n-drop system.
BoonEx initiated the easy to use administration and modification interface for you. It believes in handy modification as it lets you arrange content, customize profiles, make whole new custom pages and blocks. Now everything is possible with Dolphin 7.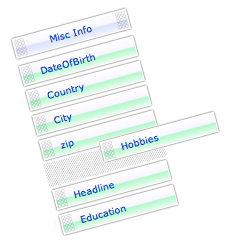 Memberships and access levels.
Different community sites require different features for members. That's exactly what Dolphin 7 lets you do.
1. Create many membership levels with configurable permissions.
2. Make different access levels to all components of your site like particluar pages and even separate page blocks.
3. Charge membership fees and join with specific payment providers.
Extensions, Plugins, Add-ons
Dolphin 7 provides you hundreds of extensions, design templates, mods, plugins, language packs and third party software integrations sold and freely shared at BoonEx Market.
A fast and secure community software
Yes! it is a very very fast and secure community software. We know how important speed and security is. It lets you have mobile community apps, social sharing, status updates, AJAX, Facebook Connect, tagging, page builders, geolocation features and so much more. And remember that everything new that comes out, we integrate it to give you better features and ease.
Make a social networking site! Quick and easy!
Now making a social networking  is not at all difficult. Just get Dolphin 7 and get started! It is the best social website functionality tool that is as handy as a PHP web script can be. So make your dream social networking site today!
"First of all, I read a lot of reviews online – some were good and some were bad about the script, but when I finally used it, I was happy. I am very happy with this software.  It was easy to install once I got the right type of hosting environment.  Could it be true!!!???!?  I usually use php and mySQL to develop stuff, but installing this software was pretty easy and self explanatory.  I love it! The next challenge was to design the thing.  It had all this great functionality, but I wasn't sure how I was going to design it.  I wanted something beautiful! (not just functional). While the software looks pretty decent out of the box, I wanted something more. The template system was pretty easy to understand and navigate.  Finally I came up with my first pretty social networking website. Now if only I could get members.  Wonder if there is a script out there for that??!?  lol. Thanks to everyone who created this software.  I am very grateful (Ramonaworks)"