30,000 Guaranteed Facebook Fan Invites Giveaway
Facebook is one most world most visited website after Google as for status. There is no one claim this statistics and popularity of Facebook in recent times. Now, this is an important, you should take an advantage of Facebook services along with its value added on your online business growth. Many of you buy facebook fans from people their Facebook page popularity overnight through guaranteed facebook fans services.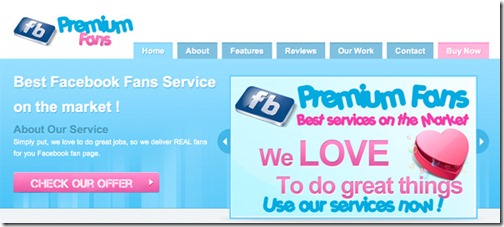 Premiumsfans.net is offering SmashingHub visitors the opportunity to Win 2 Impressive Unlimited – 30.000 Guaranteed Invites. This package is ideal for those who appreciate the value of the facebook fans. You get 30,000 Real Facebook fans sent to your fan page with Guaranteed Results. You can save your money and cash out Facebook visitors in your business. Premiumsfans.net growing your fan base overnight and reach a larger audience in few clicks.
Two lucky winners will receive the Impressive Unlimited – 30.000 Guaranteed Facebook Invites from Premiumfans.net.
Enter to win one of two – 30,000 Facebook Invite Packages
- Retweet and Facebook share this giveaway
- Post a comment
Entries start on December 13, 2010,and close on 23rd December. Winners will be announced and contacted directly via email on Saturday, December 25, 2010.
Follow us on Facebook Fan Page, Subscribe via an Email and Twitter page for latest Updates :
Note 10 January 2011
A friends…. All of you are waiting for the results… Actually, i really disppointed with the annoucment….The Company who given me the giveaway, that was fake,, he traced many popular blogs for getting backlinks and traffic.. Kindly do not place an order on this Premiumsfans.net site, total fraud and fake.. thanks . Once again sorry for this …..