10 Top notch web hosting companies
Time is money, and the more time your website spends being offline, the worse prospects appear for your finances. This is exactly why you need a hosting partner that you can truly rely on to keep your website online. The following list may help in choosing the perfect match, as it highlights today's most promising web hosting companies.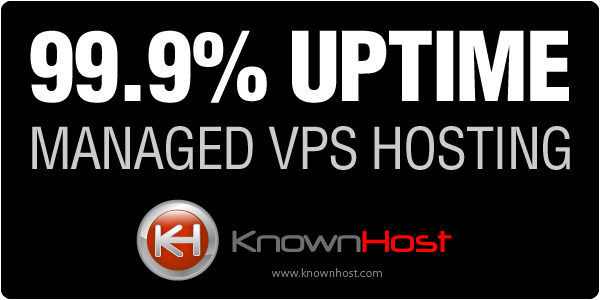 KnownHost ranks highest in my preferences, mostly due to its outstanding reliability. The company's 250 servers promise a 99.9% Network Uptime Guarantee, and all clients become eligible for an SLA credit whenever the company falls short of these expectations in any given month. All they need to do is submit a ticket to the helpdesk within 5 days of the recorded offline episode. As such, the value of the Service Level Agreement credit depends on the downtime magnitude, and a drop of more than 0.9% can never happen.
KnownHost offers VPS hosting with fully Managed Services, and it comes with a power, scalability and resources that shared hosting simply cannot provide, and for an affordable price. In fact, going the route of Managed SSD VPS will empower your websites with amazing performance, insomuch as you won't believe you're paying just $25/month.  Backups and migrations are entirely cost-free. The KnownHost email/ticket support team is highly appreciated. Apart from hardware and network monitoring, the company ensures initial account migration and protection, together with providing free installation and initial optimization of control panel, and managing all aspects pertaining to the OS.
Fresh users can ask for their money back in a time frame of 30 days after activating any hosting package except for Dedicated Servers. In addition, inserting the coupon code KH15LIFE will instate a 15% lifetime discount when placing the order for a VPS-2 or larger version, and the percentage scales along with all future upgrades.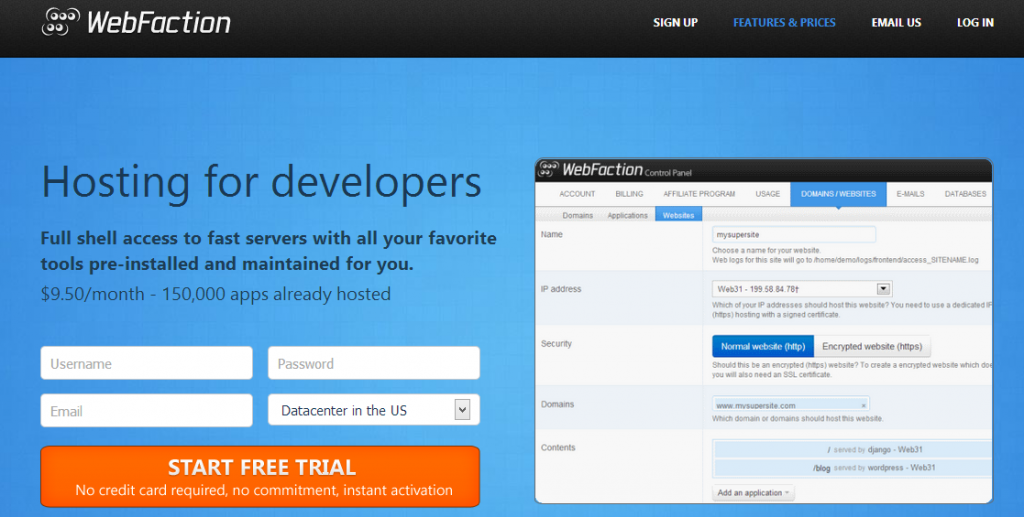 WebFaction is one of the best hosting companies. The company claims that its mission is to provide hosting which is particularly tailored for web developers, and in my view, they excel at accomplishing it. WebFaction's profile is grounded in providing a shared web hosting service which retains many of the advantages commonly associated with a VPS or Dedicated service.
The system administrators take full charge of configuring, monitoring and backing up servers, applying security patches, and updating tools. The WebFaction setting is ideal for meddling developer, with full SSH access, and pre-installed developer tools such as Python, Django, and PHP. In addition, it's worth mentioning that more than 50 applications are ready for 1-Click installation, because WebFaction knows that time is money. And after installation, the applications work really fast. What is more, users are in good hands with WebFaction's responsive 24/7 support team, who stands put to assist in any problem or uncertainty that appears.
In terms of pricing, WebFaction is really affordable, seeing as signing up for a whole year from the start is $8.50-a-month, and going from month to month is $9.50 per month. Go on and give WebFaction a go with its free 48-hour trial, and you'll have a first-hand experience with its excellent services. You should definitely go with them if you're a developer who needs to host small to medium sized websites, because it doesn't get any better than this. Moreover, you can put your mind at rest knowing that there's a 60-day money back guarantee to claim if WebFaction's hosting isn't what you expected it to be.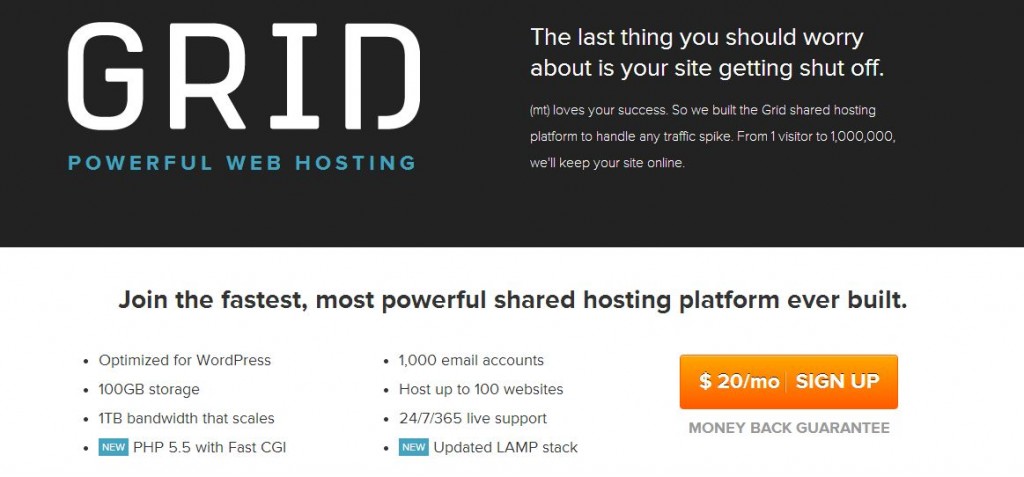 (mt) Media Temple is a preeminent company among web hosting providers. The company's stellar experience is self-explanatory, with the company celebrating this year its 15-year anniversary. Since its inception in 1998, 125,000 clients have relied on (mt) Media Temple to host over 1.5 million websites throughout 100 countries.
(mt) Media Temple is more than the go-to web host for web developers and designers; it's also a great hosting partner for small- and medium-sized businesses. In fact, even global brands such as Volkswagen, Adidas, Sony, and Red Bull have chosen (mt) Media Temple.
It looks like (mt) Media Temple is stopping at nothing to keep its clients delighted by constantly adapting to (and anticipating) their needs – not to mention their 24/7 technical support and customer service teams. Most recently, the company upgraded its flagship shared hosting plan, the GRID, which now makes websites up to 6 times faster. In addition to the GRID, the Managed VPS and Developer VPS services are equally appealing hosting solutions for web developers and web designers alike.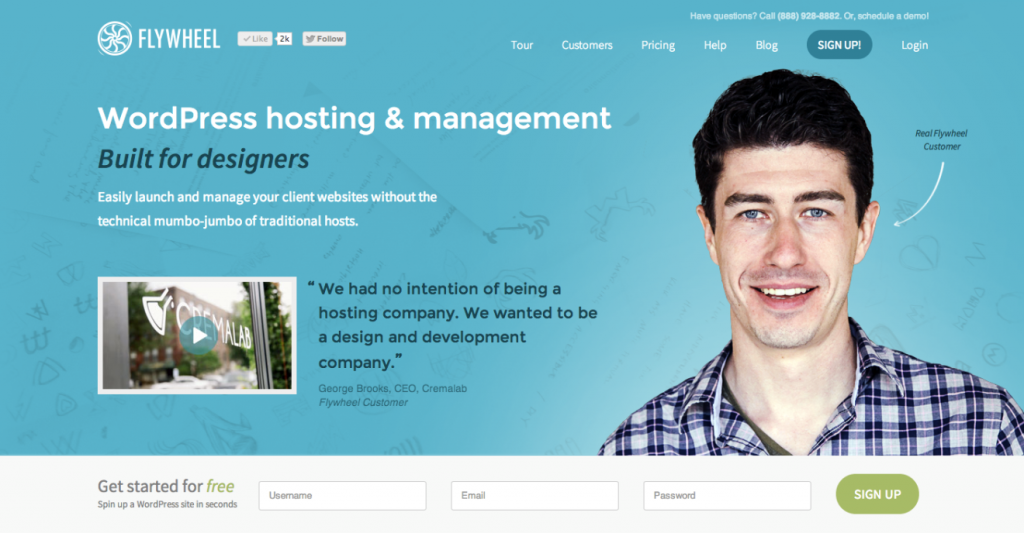 Flywheel is yet another top-grade hosting company, ideal for designers, freelancers and creative agencies. I suggest you take Flywheel for a spin by setting up a free demo site in a split second. Flywheel's focus is to take the pain of launching and managing multiple sites for creative professionals, so they can devote their energy to what they love doing best. Flywheel ensures that the WordPress sites run incredibly fast, are always safe and secure, fully backed up and updated. Flywheel also makes it dead simple for resellers to manage multiple sites for third-party clients, and also for team-playing developers and designers to interact as collaborators without the need of countless usernames and passwords.

DreamHost prides of over 16 years of experience in web hosting. Try their 30-day free Shared Hosting trail. One of its Shared Web Hosting services is only $8.95 per month, and has much to offer to web designers and bloggers. Moreover, the VPS hosting automatically brings about unlimited bandwidth and storage, and opting for 600 MB of RAM is just $30/month. DreamHost has a 100% uptime guarantee, which sustains that, for each and every hour of downtime, a day of hosting is offered freely and deducted out of the user's next prepaid fee. When you take up one of DreamHost's hosting plans, you may rest assured knowing that you can turn back and receive full refunds during the first 97 days.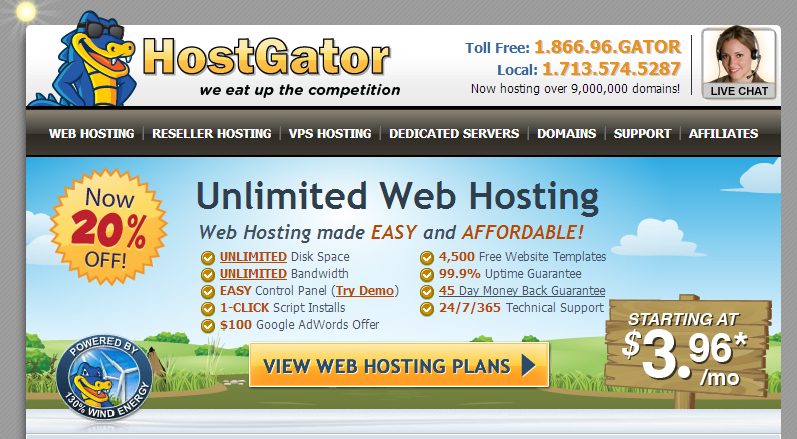 HostGator is yet another notable host for websites. It originally launched in 2002 and currently it commands approximately 12.000 servers, which are powered by wind energy. Their palette of services includes Shared, Reseller, VPS, and Dedicated hosting, which are altogether designed to be accessible for beginners, as well as liberating for developers. As far as their Shared Hosting packages are concerned, you can count on the fact that each comes with a responsive 24/7 support, a reliable 99.9% uptime, and a 45-day money-back guarantee in case you change your mind. If you seal the deal with HostGator now, you receive 20% off the first invoice for either of three Shared Hosting options: Hatchling, Baby, or Business.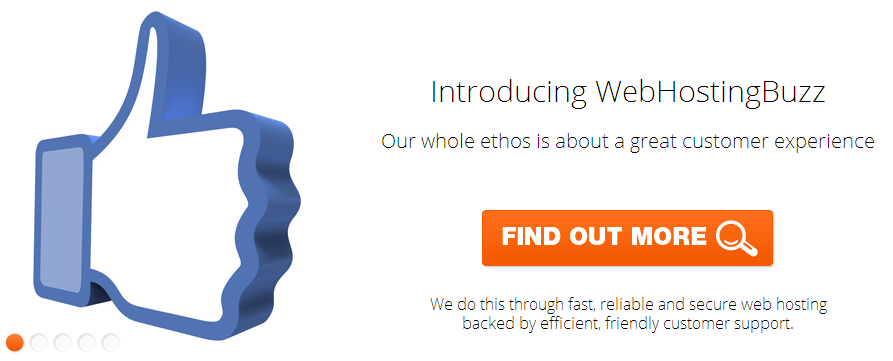 WebHostingBuzz grants a 50% discount for the first ever invoice of a Dedicated plan, but what I'd like to highlight most of all is the small cost of only $1 of the first month for a Reseller service using the code "resellerdeal". So, as regards the company's affordability, I'd say that it has an overall great prospect: Shared Hosting starts from $4.95 per month, Reseller from $9.95, and VPS from as little as $14.95/month. I also need to point out the fact that WebHostingBuzz has an effective technical support service, which registered no complaints so far. All in all, hosting with WebHostingBuzz seems like a valid option.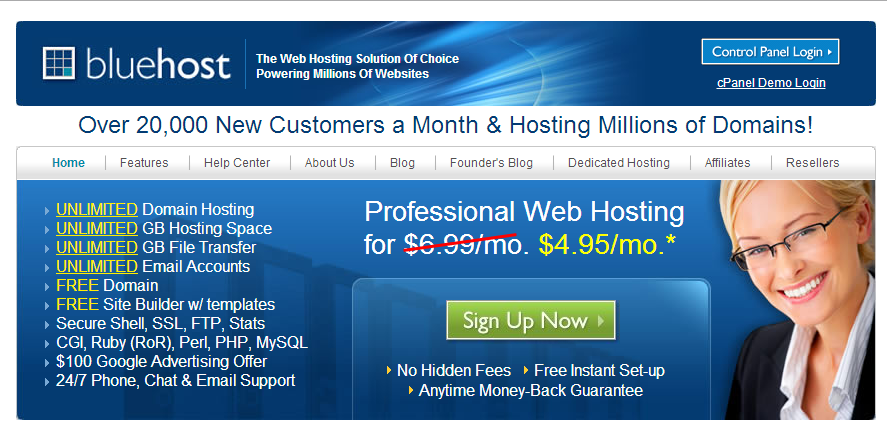 Bluehost first embarked on a web hosting quest back in 1996, and they boast of a dashing 24/7 support team, which is reachable by many channels (mobile, email, or chat). Try the live demo to get a clear idea of what Bluehost has to offer. A Professional Web Hosting plan comes with a serious discount for the first month (it's only $4.95). On the same note, the VPS Standard, Enhanced, Premium, and Ultimate services are accompanied by sizable one-time discounts. Over the course of the first 30 days of partnering up with Bluehost, customers can claim full refunds if they're unhappy with this hosting, and they will receive all of their investments. Even if the first month is exceeded, Bluehost still pays you back the exact value of the existing prepaid term.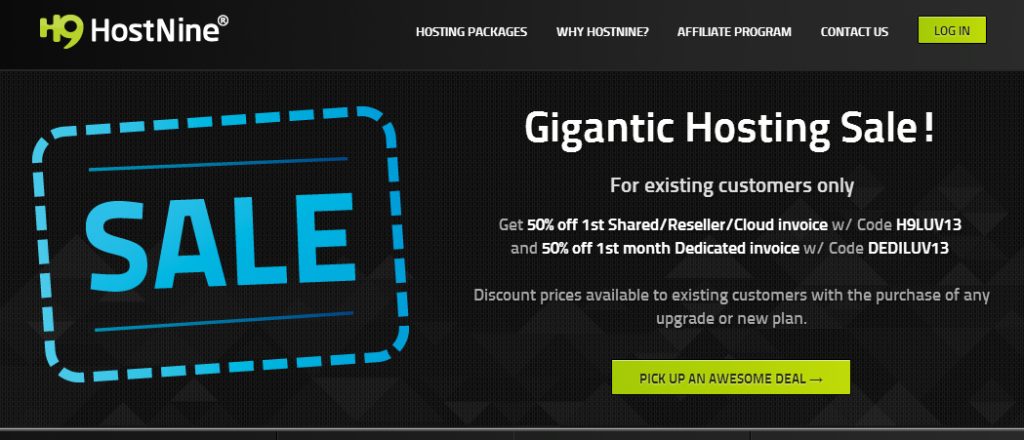 HostNine has a 99.9% uptime guarantee which stands true for its Reseller, Shared, Cloud VPS and Dedicated hosting, and if the customer records any amount of downtime, the company's policy stipulates that one day of free service is assigned in order to compensate for each hour of your website's not being online. In addition, if doubts about hosting with HostNine start to arise during the first 45 days of usage, customers are guaranteed full refunds. In terms of sales, a handsome offer is presently displayed across the company's homepage, and it favors existing clients who are considering upgrading their services. According to this, a 50% discount to the first invoice is applied to shared/reseller/cloud variants via code H9LUV13, and to Dedicated Hosting with code DEDILUV13.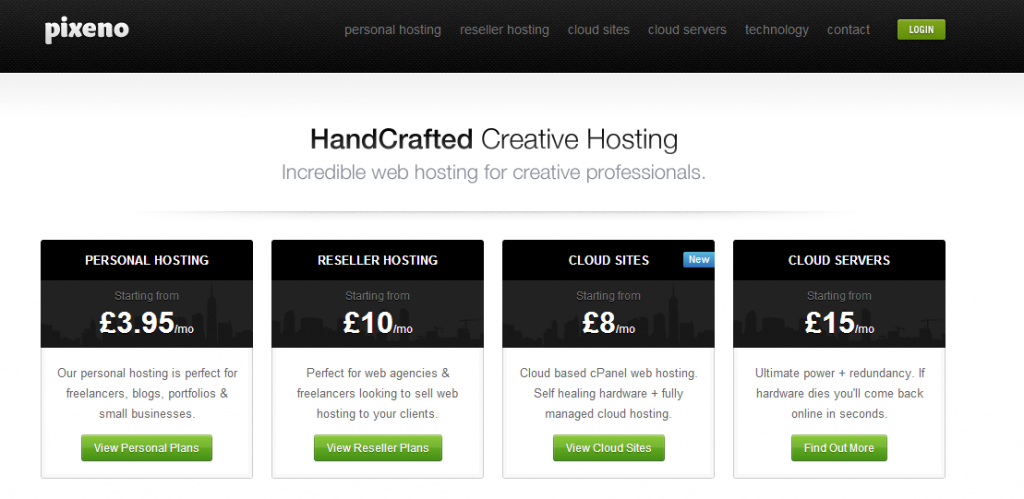 Pixeno is a wonderful provider of Personal Hosting, Reseller Hosting, Cloud Sites, and Cloud servers, crafted by web designers, and specifically engineered to meet the hosting needs of fellow web designers & developers. Try the company's free one-month trial. Regardless which hosting service is for you, it goes without saying that none has limits to subdomains, email addresses and MySQL databases. A very noteworthy feature is that Pixeno conducts 4 external account backups each and every day, and the information is kept for 2 weeks, which means that there are 56 possible restore points at all times. Finally, Pixeno's infrastructure is derived from the latest technology, and it's meant to ensure an invincible uptime for websites.